Upcoming Health Education and Cooking Classes
Are you looking for more recipes, cooking tips, and health information? Has cooking without oil still eluded you (it took me a while to wrap my head around how to do it too!)? Then sign up for one or more of my upcoming online classes. Not only will you get the latest evidence-based health and nutrition information, but you'll get cooking demos and recipes for all the things I make in classes.
Here's what coming up:
August
August is a great time to take a Trimazing! Food for Life class, because just by taking one of my classes through August 31st, you could enter to win $700 worth of Vitamix products, including a Vitamix blender, exclusive Vitamix cookbook, blender bowls and blender cups! There are five of these packages to be given away for participants of Food for Life classes, and I'd love for you to be one of them!

Are you or someone you love struggling with thyroid issues, or did your doctor tell you your thyroid levels are climbing/falling and you may need medication for it? Has all the information on what you should and shouldn't eat while taking thyroid medication got you confused and frustrated? What about soy, gluten, coffee, and broccoli?
If this is you, then A Healthy Thyroid is what you're looking for! This class will set you on the right foot for following a healthful diet to support your thyroid if you have a diagnosed thyroid disorder and reducing your risk of developing one.
Sign up for A Healthy Thyroid!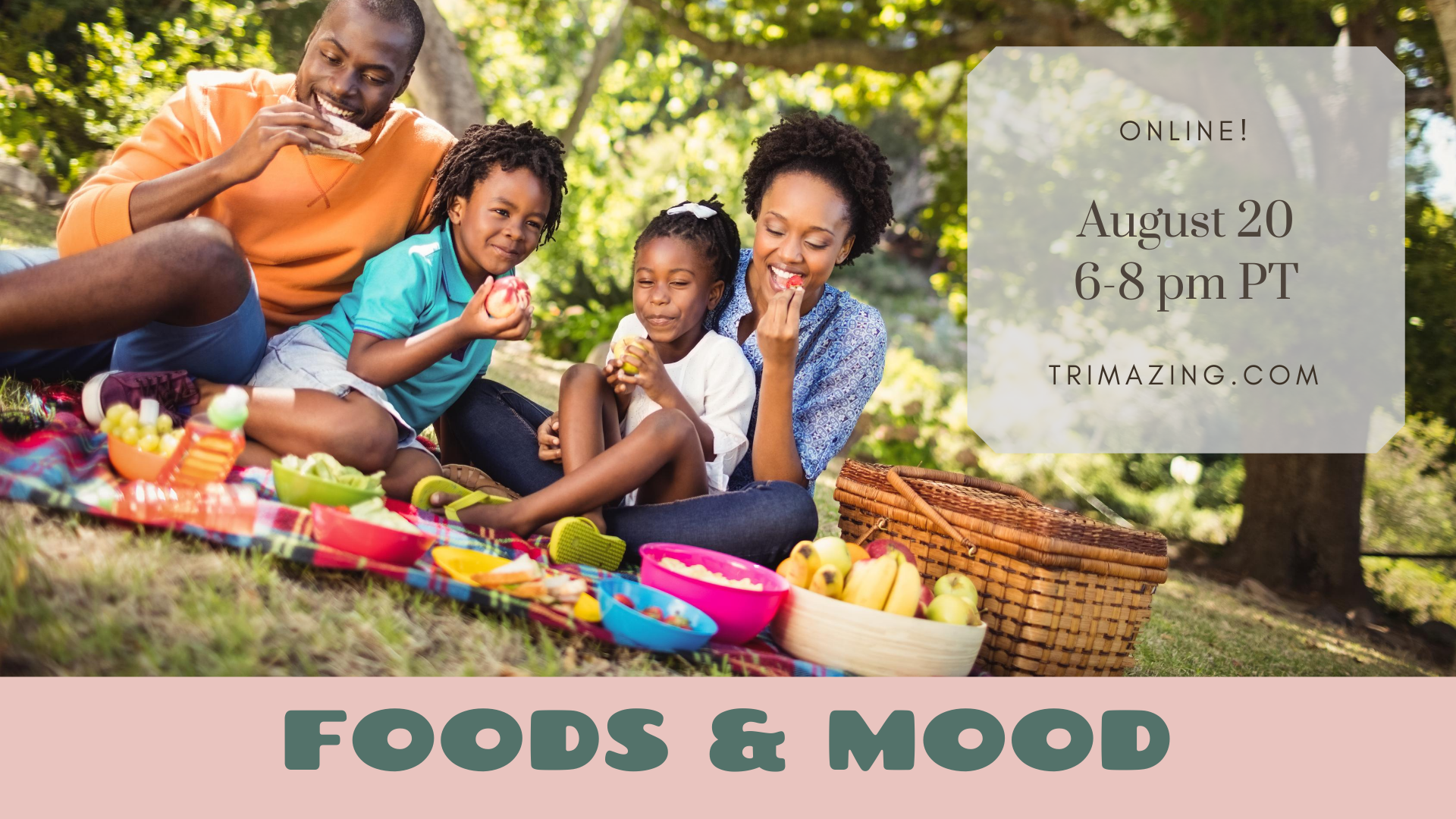 We all know that a beautiful bowl of fresh berries can instantly brighten our day. But can food, like berries, do more for our overall mental health? Evidence is mounting that foods can help conquer moodiness and more serious problems such as anxiety and depression. Inflammatory foods can trigger chemical changes in our gut and brain and lead to stress and effect mood. But what are those inflammatory foods and how can we counteract them? We'll discuss mood-boosting foods and create delicious meals to support your mind and body.
In this time of constant stress and anxiety from COVID, the political climate, and general unrest, there may be no better time to learn how to support ourselves and our families through nutritious food.
Get the Foods and Mood details here!
This class builds off of all of the zero waste and environmental information I share in my weekly blog posts. Do you wonder if organic food matters and if it's worth the cost to your grocery bill? What is the big deal with BPA? Phthalates? What are those, what's the problem, and where are they found? We'll cover all of these chemical exposures and how to avoid them. And like the other classes, we'll have cooking demonstrations with the recipes, all of which avoid environmental chemicals.
This class can have a positively profound impact on the health of you and your family, especially kids.
Get Avoiding Environmental Chemicals tickets here!
September
September 21st is Alzheimer's Awareness Day. If you've witnessed a love one suffer from dementia or Alzheimer's disease, like we have, then you know just how devastating these brain conditions are. Did you know these conditions don't have to be your destiny, even if you have a family history of dementia or Alzheimer's disease? Food and lifestyle can help us stay sharp into old age and protect us from mental decline.
In Power Foods for the Brain, you'll learn strategies for maintaining memory and improving brain function, including how to prepare brain health-promoting meals, including berries and foods rich in vitamin E, including nuts, seeds, leafy greens, and whole grains—and get the recipes too.
Learn more about Power Foods for the Brain here!
Are you a runner, do Zumba or other fitness programs? A swimmer, lift weights, or a weekend warrior? Are you looking for optimal food to support your fitness and reach your athletic goals? Can a plant-based diet even support optimal fitness? Professional athletes, including Tom Brady, Venus Williams, Carl Lewis, Hannah Teter, Nate Diaz, and more follow a plant-based diet for a competitive advantage. A low-fat diet comprised of whole grains, legumes, fruits, and vegetables provides the ideal fuel for any physical activity, from dancing, running, swimming, or any athletic activity you do! Even better, you'll experience enhanced recovery with this way of eating, ready to hit the track, gym, or water with renewed strength and energy.
This was a gamechanger for me, taking me from an overweight, slow, and achy fire captain to an adult-onset athlete, fit enough to participate in Ironman triathlons! It completely changed my life. Learn how to make this happen and enjoy great food at the same time!
Sign up for Food for Fitness here!
I'm looking forward to seeing you! The classes are so much fun, we cook and visit and laugh, all while getting great information that can improve your health, improve the health of the ones you love, and even save lives! Who doesn't like that?
And if you're looking for a little more incentive, use discount code BLOGFAN to get a 10% discount on my September classes. This gives you 10% off the Power Foods for the Brain and Food for Fitness classes when you enter the BLOGFAN coupon code when checking out. This offer expires September 12, 2020, so don't miss out on the savings today!
Do you like this post?  Please share....

If you liked this post, you might like one of these:
[Trī-māz-ing]
Cindy wants you to be Trimazing—three times better than amazing! After improving her health and fitness through plant-based nutrition, losing 60 pounds and becoming an adult-onset athlete, she retired from her 20-year firefighting career to help people just like you. She works with people and organizations so they can reach their health and wellness goals.
Cindy Thompson is a national board-certified Health and Wellness Coach, Lifestyle Medicine Coach, Master Vegan Lifestyle Coach and Educator, Fitness Nutrition Specialist, Behavior Change Specialist, and Fit2Thrive Firefighter Peer Fitness Trainer. She is a Food for Life Instructor with the Physicians Committee for Responsible Medicine, Rouxbe Plant-Based Professional, and Harvard Medical School Culinary Coach, teaching people how to prepare delicious, satisfying, and health-promoting meals.
She provides health and lifestyle coaching at Trimazing! Health & Lifestyle Coaching. Cindy can be reached at info@trimazing.com.
Subscribe to the Trimazing Blog
Receive occasional blog posts in your email inbox.
Subscribe to the Trimazing Blog
Receive occasional blog posts in your email inbox.