Inspiring, Knowledgeable, and Approachable!
Cindy is so knowledgeable and approachable. She showed how to prepare beautiful food that is delicious and healthy. Definitely an inspiration for anyone looking to eat plant-based foods!
Positive and Helped Solved any Challenge we Faced!
Working with Cindy was a great experience! Very positive and goal oriented and she helped problem solve any challenges we faced.
So Inspiring!
Thank you so much for sharing your health/vegan journey with us. We are so happy to learn about your inspiring story!
Great with New Vegans
Thank you so much for sharing your talents with new vegans!
Your Class Made My Mom Smile and I was in Tears Over Her Excitement!
Can I just say that you are triple awesome??? My mom had me in tears over her excitement. She has been going on and on about your class and that you were so personable with everyone. She said she felt so comfortable and that you may have convinced her to even try beets again!
She appreciated all of the information and said she felt like she was talking amongst friends. Thank you so much for that beautiful experience. It's been a tough road, but your class made her smile yesterday ❤️
Daughter, who registered her Mom, a Breast Cancer Survivor, for a Trimazing! cooking class
You Changed Our Lives!
Thank you for opening my eyes to this way of eating along with zero waste and all that goes with that way of living. We are slowly making changes that promote a healthier way of living for us and the community around us. Anyway thanks again for…introducing the way you do life. It literally changed ours!
Statistics Got me Excited, But I Absolutely LOVE the Way You Cook—Will Definitely Take More Classes!
Thank you! The Cooking for COVID Weight Loss Class was exactly what I needed. I have Diabetes and Heart Disease in both sides of my family and at 63, I need to shed quite a few pounds. I consider myself an adventurous cook but learned so much from just one class! I was familiar with fat calorie info, but it was the statistics you gave us on FIBER that got me excited! And, I absolutely LOVE the way you cook, sharing advice on how to prep certain foods (like garbanzos!) ahead of time, substitute collard greens for celery or just introduce a new kitchen tool like the microplane! I will definitely be taking more classes! Thanks, again!
Encouraging at Every Step on Incorporating New Skills
Working with Cindy has really helped me to see  where I can add in plant-based food into my family's and my daily life. My girls (aged 10 and 13) have had a great time becoming involved with creating less waste in our home and environment and assisting in making non-toxic household cleaners to use in our home. I really enjoy that I am spending time with my family while encouraging positive, healthy life skills!  Cindy has been encouraging at every step of incorporating new skills and ideas and has great information to share.
A Super Fun Evening, Even Teenager-Approved!
I recently took a class with Trimazing! Vegan Lifestyle and Health Coaching and zero waste household cleaners. It was awesome and got my daughter and I working on switching our home over to natural, zero waste cleaners! 
 Super easy cleaners to make and was a super fun evening with my fav 13 year old."
20% Improvement in Cholesterol, Triglycerides, Blood Pressure, and Weight!
As an athlete and healthcare professional, I came to Trimazing to see if there were any changes I needed to make to improve my health and athletic performance. I didn't think I'd get the kind of results that I obtained and was most surprised a 20% improvement in my cholesterol, triglycerides, blood pressure, and weight. I am convinced of the positive health benefits with a plant-based diet and lifestyle have incorporated this into my everyday life.
Great to Work With and High Energy!
You were great to work with all show day, and managed to remain high energy for all of those classes, which we so much appreciate! We will definitely reach out in the future.
Corporate Wellness Retreat Program Manager
Safer, Effective, and More Economical Cleaners
This year, I'll be eliminating store bought cleaners. Attended a workshop with Trimazing! Vegan Lifestyle and Health Coaching, next step is buying my ingredients, using up the last of the cleaners I have left and starting fresh. Homemade cleaners are effective, safe, sustainable, and, as an added bonus, much more economical.
Energizing, Delicious, and Filling Recipes!
Hi Cindy!
I made three recipes from the cooking classes today, all were scrumptious! 😊
White bean dip was even more flavorful than I thought it could be. The seitan noodles and zippy yams were perfect for dinner. I subbed kale for the collards.
I love how filling but energizing these recipes are (and delicious, too!).
Thanks again!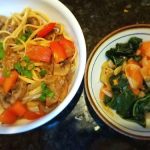 Professors Should Take Lessons from You!
Kudos for a great class yesterday—both the content and the logistics. I attended partly because my sister has been promoting the whole-foods plant-based diet for several years and partly as a voyeur to see how well an online class that wasn't just talking would work. Afterward, I talked to my daughter, who runs tons of Zoom meetings for her job and is working on an MBA that had to move to online. She said you were terrific — she wishes a couple of her professors would take lessons from you!
I particularly liked the team approach and how well it worked for getting questions answered without interrupting the flow.
Thank you.
So Professional and Engaging!
Thank you so much for the class this morning. I truly enjoyed it very much and learned new things.
It was so professional and had such an interesting structure that engaged the audience.
The Perfect Balance of Educational Information & Fun!
🌈🌱💛 Plants are amazing! 💛🌱🌈
I had the pleasure of attending the Foods and Breast Cancer Survival with @trimazingvlc tonight and I am inspired!
I believe that a WFPB lifestyle is the healthiest way to live and after being part of this class, I have no doubt it is our best chance at living a disease free life. I also learned there other things that we can do, too. 💪🏻
Check out @trimazingvlc for future classes. They are the perfect balance of educational information & fun, and by fun, I'm talking about FOOD! 😜
Part of the class was a cooking demo! Cindy showed us how to make several dishes using whole food plant based ingredients and no oil. They all looked so good and I had to make one right after class. 😆 This is Homestyle Squash & Kidney Beans.
Thank you @trimazingvlc!
Your Work is Amazing!
Thank you, thank you, ONE MILLION TIMES thank you for your management of the Power of Produce program this year. I cannot emphasize enough how amazing your work was AND how instrumental that success is in keeping the Power of Produce program going in years to come! I thoroughly enjoyed working with you!
Carnation, WA Farmers Market Manager
Not Only Did I Develop Good Eating Habits, My Skin is Clearer than Ever!
I learned so much working with Cindy. I appreciated that she really took the time to break down concepts for me with time to practice or soak in information. It allowed me to pick up one skill at a time rather than getting overwhelmed with details. For example we focused on making sure to get in enough protein one week, and focused on the benefits of eating different colors the next! My skin remains clearer than it's ever been and I've noticed little things like nails no longer breaking. It's all thanks to her helping me develop good eating habits!
Total Cholesterol Dropped 90 Points in TWO MONTHS!
Cindy, I just received my test results, my total cholesterol dropped from 217 to 127. Thanks for your help in making this diet change work!
One of the Best Decisions I Ever Made—I Lost 25 Pounds and Gained Energy!
Working with Cindy has been one of the best decisions I have ever made for myself.  Over the 16 weeks of her coaching services, I have lost 25 lbs and am more productive & energetic. It has been 20 years since I have felt this good.  Learning how to eat a Whole Foods Plant Based diet has been life changing and I never would have come this far without the amazing support and guidance from Cindy.  The personal oil-free vegan cheese cooking class and one on one grocery store shopping trip were extremely helpful and valuable. Cindy is the real deal – extremely knowledgeable, thorough, professional and really helps you achieve your goals successfully. Make the investment in yourself and work with Cindy.  You will not regret it.
Recommend Trimazing! to anyone wanting to learn WFPB lifestyle, lose weight, and gain health!
So, how much time do I have!!?? I just finished my 8 sessions with Cindy and honestly, working with her was a pure joy. I came to Trimazing very green and willing to learn the Whole Food/Plant Based way of eating and Cindy made the transition attainable and successful. At our weekly meetings we discussed gains and growth, as well as barriers or questions. Her breadth of knowledge on all things metabolic health, nutrition, and cooking for WFPB is very impressive and all questions had thoughtful answers. I have gained so much knowledge in a short time with her homework assignments of books to read, documentaries to watch, recipes to try, and a myriad of online resources to review. The hands on classes were extremely helpful as I am a visual learner (grocery shopping trip/label review, cooking vegan recipes, using household appliances to make meal prep easy, etc…) Cindy is kind and passionate about helping people and our environment. I would recommend Trimazing to anyone wanting to learn WFPB lifestyle, lose weight, and gain health. I am truly blessed to have found this program, thank you!
Educational, Informative, and Life-Changing
The coaching Trimazing provided me was educational, informative, life-changing. Her approach was to take me step-by-step on a journey to make me aware of things that I was missing. She is a great listener, asked many thought-provoking questions that helped me articulate my goals. I highly recommend Cindy to anyone that is interested in improving their health. I even learned how to cook and how to shop!
Cindy's a Real Pro and Inspiring!
Cindy's cooking class was fun, informative and delicious! She's a real pro. The class was very organized, well paced and inspiring. Afterwards we were treated to a delicious healthy plant based meal and left with easy to follow recipes and left overs. Looking forward to taking another class!
All the Flavor Without the Oil!
Jacob and I learned how to make tamales, handmade tortillas, and enchiladas today. Plant-based, squash-based, oil-free deliciousness. Instead of oil, you use winter squash. All the flavor, none of the oily-ness. So delicious! ?
Thank you Lydia at Pebble Cove Farm Inn and Cindy at Trimazing! Health & Lifestyle Coaching Community.