Virtual Event
Power Foods for the Brain
September 21, 2020 @ 4:00 pm

-

6:00 pm

Virtual Event

$25
A decline in brain health is not an inevitable part of aging. But how we eat and live can help us protect our memory and stay sharp into old age.
Plant-based foods are beneficial to the brain and may help prevent Alzheimer's disease and other forms of dementia. Research shows saturated and trans fats found in dairy products, meats, pastries, and fried foods can increase the risk for cognitive decline. Berries and foods rich in vitamin E, including nuts, seeds, leafy greens, and whole grains are especially beneficial.
But diet isn't your only line of defense, lifestyle factors such as exercise and sleep play a role as well. In Power Foods for the Brain, you'll learn strategies for maintaining memory and improving brain function including how to prepare brain health-promoting meals.
"Everyone knows good nutrition supports your overall health, but few realize that certain foods—power foods—can protect your brain and optimize its function, and even dramatically reduce your risk of Alzheimer's disease. "

Neal Barnard, MD, FACC, President, Physicians Committee
About Your Instructor: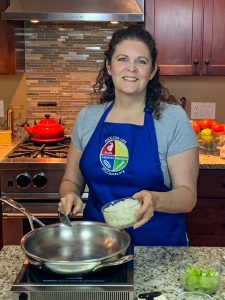 Cindy Thompson is a retired 20-year fire captain and paramedic, creator of Trimazing! Health and Lifestyle coaching. Ten years ago, she was overweight and unhealthy. After changing her way of eating, she dropped 60 lbs, seven pant sizes, and lowered her cholesterol and blood pressure in just the first year! And she's maintained this for a decade without dieting or deprivation! Cindy is now a licensed Food for Life Instructor, certified Health Coach, Harvard Medical School Culinary Coach, Fitness Nutrition Specialist, Peer Fitness Trainer, and a licensed paramedic. She loves helping people meet their health and fitness goals!
[Trī-māz-ing]
: three times better than amazing
Important note: The information provided during this program is not intended to advise or counsel individuals on nutrition, nor diagnose any disease. It is important to seek the advice of your medical doctor or other health care professional for your individual health concerns. Those who take medications for diabetes or high blood pressure may find these medications start working better than ever or even too well while participating in this program, and we encourage them to be in touch with their health care provider about evaluating their personal medication needs.
**ALL SALES ARE FINAL UNLESS OTHERWISE STATED**