Your Body in Balance: Balance Your Hormones, Regain Your Life!
**ALL SALES ARE FINAL UNLESS OTHERWISE STATED**
This set of classes addresses hormone-related issues in both men and women. Dietary choices have a surprisingly powerful effect on hormones. The information provided in these classes explains the latest research and offers a new approach to treating, preventing, and even curing many of the most common hormonal imbalances. Each class includes easy and delicious recipes and cooking demonstrations.
Register for one, two, or all the classes! Individual classes are $25 or get a discount by signing up for the whole series, $180. Classes held online via Zoom.
Class Topics & Dates:
Foods for Fertility – July 2, 2020, 6-8 PM
During reproductive years, ovaries are ready to release an egg each month. But that process is easily derailed. If hormones are out of balance, ovulation may not occur at all. In this class, we will learn how diet plays a role in fertility for both men and women. We discuss specific actions to get into better hormonal balance and tackle infertility.
Curing Cramps & Premenstrual Syndrome – July 9, 2020, 6-8 PM
Many people face conditions related to hormonal imbalance, including menstrual cramps, PMS, and endometriosis. In this class, we see how our food choices affect these conditions.
Tackling Hormone-Related Cancers – July 16, 2020, 6-8 PM
Certain cancers are significantly affected by hormones: breast, uterine, and ovarian cancer in women and prostate and testicular cancer in men. We can help regulate our hormones with the foods we eat. This class focuses on low-fat, high-fiber foods to reduce cancer risk and help enhance survival for those who have been diagnosed.
Reversing Polycystic Ovary Syndrome – July 23, 2020, 6-8 PM
Polycystic Ovary Syndrome (PCOS) is caused by a slight excess of androgens. These extra hormones can cause irregular periods, skin changes, polycystic ovaries, and infertility. They can also change body fat patterns and reduce insulin sensitivity. This leads to rising blood sugars and sometimes diabetes. We'll review the causes and symptoms of PCOS and diabetes and show how to combat them with healthful food choices.
Tackling Menopause – July 30, 2020, 6-8 PM
This class will focus on menopause as a natural part of life. We'll review how to minimize or even avoid hot flashes, unpredictable emotions, changes in sexual function, and memory fog.
Curing Erectile Dysfunction and Saving Your Life – August 6, 2020, 6-8 PM
A majority of time, erectile dysfunction (ED) is an indication of artery disease. The same narrowing of the arteries to the male genitalia that results in impotence also affects arteries to the heart, brain, and rest of the body. We'll discuss how food choices often beat the little blue pill for ED, in a revelation that may save your life, or the person you love!
A Healthy Thyroid – August 13, 2020, 6-8 PM
The thyroid gland regulates our body's use of energy. If it is not producing enough hormone, you will feel sluggish. Too much hormone and you feel revved up with a rapid heart rate and other symptoms. This class will set you on the right foot for following a healthful diet to support your thyroid if you have a diagnosed thyroid disorder and reducing your risk of developing one.
Foods and Mood – August 20, 2020, 6-8 PM
Evidence suggests that foods can help conquer moodiness and more serious problems such as anxiety and depression. Inflammatory foods can trigger chemical changes in our gut and brain and lead to stress and effect mood. We'll discuss mood-boosting foods and create delicious meals to support your mind and body.
Avoiding Environmental Chemicals – August 27, 2020, 6-8 PM
We've heard about issues with BPA, phthalates, pesticides and more, but how can you keep your family safe from them? This class reviews common chemical exposures and how to avoid them. We'll have cooking demonstrations and recipes for foods that avoid environmental chemicals.
​
About Your Instructor: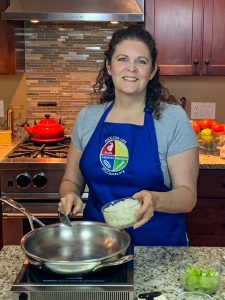 Cindy Thompson is a retired 20-year fire captain and paramedic, creator of Trimazing! Health and Lifestyle coaching. Ten years ago, she was overweight and unhealthy. After changing her way of eating, she dropped 60 lbs, seven pant sizes, and lowered her cholesterol and blood pressure in just the first year! And she's maintained this for a decade without dieting or deprivation! Cindy is now a licensed Food for Life Instructor, certified Health Coach, Fitness Nutrition Specialist, Peer Fitness Trainer, and a licensed paramedic. She loves helping people meet their health and fitness goals!
[Trī-māz-ing]
: three times better than amazing
Important note: The information provided during this program is not intended to advise or counsel individuals on nutrition, nor diagnose any disease. It is important to seek the advice of your medical doctor or other health care professional for your individual health concerns. Those who take medications for diabetes or high blood pressure may find these medications start working better than ever or even too well while participating in this program, and we encourage them to be in touch with their health care provider about evaluating their personal medication needs.