Save Your Breasts and Your Life Plus Recipe for Raspberry Mousse
October is Breast Cancer Awareness Month and I've got a brand new class and a great pink-ribbon recipe just for you, my Trimazing! friends!
Foods and Breast Cancer Survival
Did you know that 1 in 8 women will be diagnosed with breast cancer? Think of the women in your family, your circle of friends, that's one of eight of you.
And if it's not you, you and the other six will worry about it. But you don't have to feel helpless. There are things you can do to reduce your risk, like eliminating deli meats from your diet—found to be as carcinogenic as smoking a cigarette!
In this upcoming Foods and Breast Cancer Survival class, you'll learn steps you can take right now to reduce your risk of breast cancer. And if you've been diagnosed with or treated for breast cancer, the information in this class can improve your survival! Here's what you'll get:
Current research on improving breast cancer prevention and survival
A Four-Pronged Approach to Beat Breast Cancer
How your diet and exercise can significantly reduce breast cancer risk
Recipes for easy and fabulous cancer-crushing dishes
And I'm doing a live cooking demo to show you how!
Everyone who attends has a chance to win a copy of Breasts: The Owner's Manual by Dr. Kristi Funk, Sheryl Crow's awesome breast cancer doctor!
And guess what? Not only will you reduce your risk for breast cancer, but also all cancer, plus diabetes, heart disease, Alzheimer's disease, COVID-19, and other chronic illness. How's that for an all-in-one package? This class can save your life or the life of someone you love.
If you've never taken a Trimazing! online cooking class before…you're in for a real treat! It's a safe way to gather. Come play with like-minded people who enjoy cooking (and eating)! We have a blast, having fun while we learn! Past students have lost weight, lowered their cholesterol, improved their fitness, reduced their waist and waste, and come back for additional classes to learn even more! I can't wait to meet you and learn about your success after taking a Trimazing! class.
Don't miss out on this lifesaving class, sign up today!
Raspberry Mousse
In honor of Breast Cancer Awareness Month, I have a beautiful pink ribbon dessert, Raspberry Mousse. It's simply elegant, delicious, and easy to make, using silken tofu!
But What About Soy?
You may be quite surprised that I'm offering a soy-based dessert for Breast Cancer month. So many of us heard for years that soy was dangerous and would cause breast cancer. But the research shows quite the opposite—soy, including tofu, edamame, tempeh, miso, etc., is extremely protective against breast cancer, and all cancers.
The confusion came from the presence of phytoestrogen, plant estrogen, in soy. Phytoestrogens are present in many plants, including dried beans, peas, fruit, cruciferous vegetables, herbs, such as turmeric and hops, and whole grains and seeds. The highest concentration of phytoestrogen is found in flax seed, followed by soy.
When first discovered, there was concern that phytoestrogens could affect humans, so scientists started studying this using rats. In rats, phytoestrogens stimulated estrogen-positive breast cancer growth. However, it turns out that humans are not rats and phytoestrogens from soy and other plants do NOT stimulate cancer growth in humans! In fact, in humans, phytoestrogens are protective against cancer growth.
Alpha & Beta Estrogen Receptors
We have two types of estrogen receptors in our bodies, alpha- and beta-estrogen receptors. When alpha-estrogen receptors are stimulated, they cause rapid cell growth, including cancer cells. When beta-estrogen receptors are stimulated, they slow cell growth, even acting as tumor suppressors. Phytonutrients readily bind to beta-estrogen receptors, suppressing cell growth. Human and mammal estrogen binds to alpha-estrogen receptors, which signals rapid growth. If phytoestrogens do bind to alpha-estrogen receptors, their signaling power is very weak, up to 1/1,000 of human estrogen, so they don't stimulate rapid cell growth—most importantly, these phytoestrogens block human and other mammal estrogen from binding to that alpha-estrogen receptor! This blocking of alpha-estrogen receptors is how drugs like Tamoxifen work, and you can get that from eating plants!
What the Research Says
Research, looking at human response, overwhelmingly supports the consumption of soy and other foods high in phytonutrients. Soy is shown to be protective against cancer, uterine fibroids, and generally health-promoting. The key is eating whole food soy, such as edamame, tofu, tempeh, natto, miso, etc. rather than isolated soy proteins found in highly processed foods. You can learn more about the research into soy in this Soy and Health fact sheet from the Physicians Committee for Responsible Medicine.
Making Raspberry Mousse
This dessert couldn't be any simpler!
Start with fresh or frozen raspberries—you don't even have to thaw them. Put the berries into a medium saucepan with maple syrup and lemon juice and simmer over low heat. Stir them occasionally and let cook until they break down, about 5-10 minutes.
Pour the berry mixture into a fine sieve set over a bowl. Press the berries through the sieve with a rubber scraper until all that's left is seeds. Not only does this separate out the seeds, but presses natural pectin from the berries into the purée for a firmer mousse.
All that's left is seeds. Discard (compost) the seeds and pour the raspberry purée into a blender. Add silken tofu (not firm tofu, but silken or firm silken, it makes a huge difference in taste) and 1 teaspoon of fresh lemon zest (zest the lemon before you juice it to make zesting easier). You'll often find silken tofu in a shelf-stable box or you can easily make your own for a zero waste option (here's my recipe for making silken tofu). Blend on high until completely smooth.
Pour into dessert cups and chill several hours or overnight so they firm up.
Garnish with non-dairy whipped topping, plant-based yogurt, fruit, reserved lemon zest, or just enjoy plain.
You can make this with other fruit as well, such as strawberries, blackberries, blueberries, and mango.
It's a great treat to have while you read Dr. Kristi Funk's book, Breasts: The Owner's Manual (which you could win in my upcoming Foods and Breast Cancer Survival class)!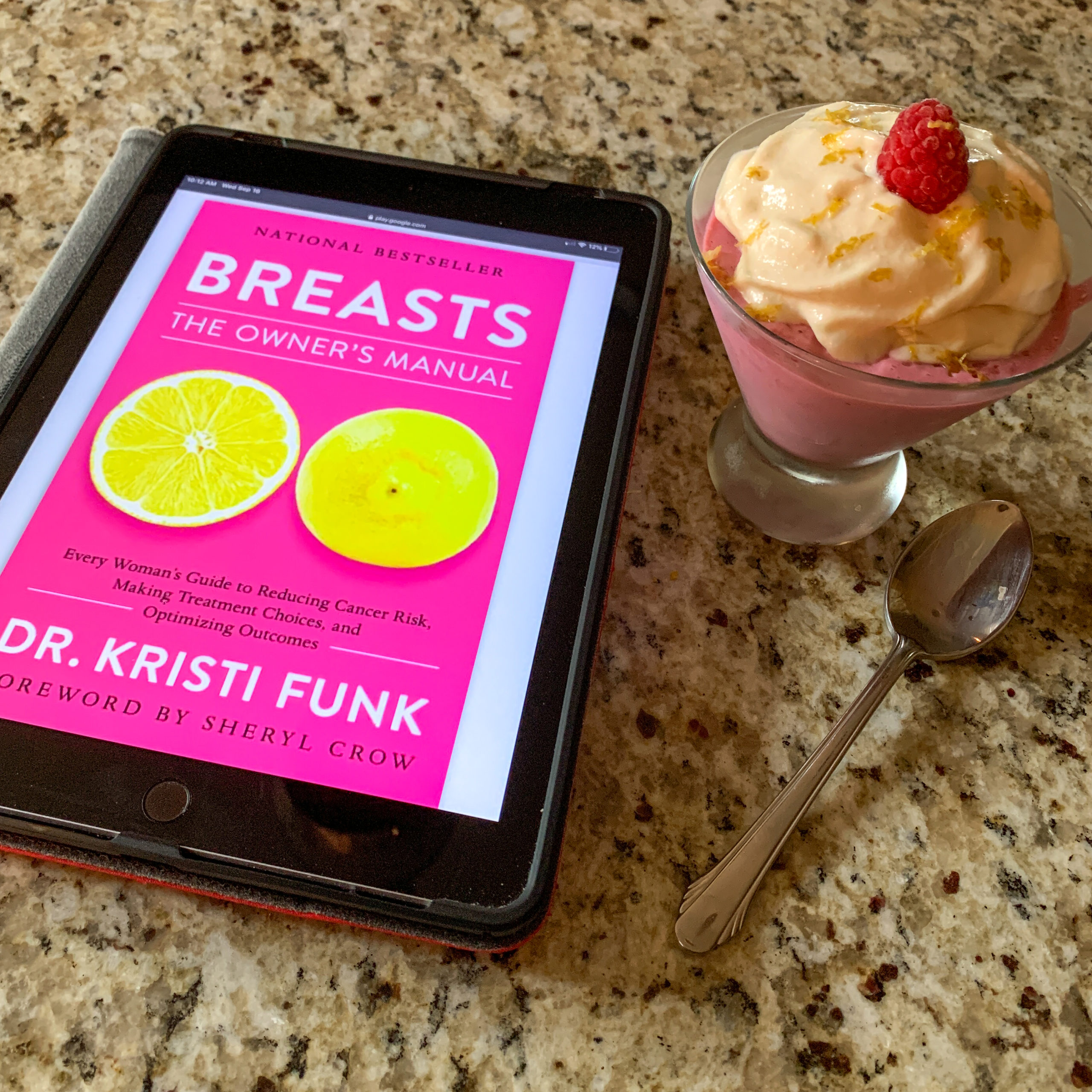 So don't forget, sign up for the Foods and Breast Cancer Survival class before all the spots are taken. It's truly an important class, as it can save your life as well as your breasts! And share this post with friends and family so that you may reduce the odds of a 1 in 8 breast cancer diagnosis to zero in 8.
Check out some other Trimazing! classes on our Events page as well. I can't wait to meet you in a class!
Raspberry Mousse
This simply elegant dessert whips up in a snap! Not only is it delicious, but it's good for you too.
Ingredients
2

cups

raspberries

fresh or frozen

2

tbsp

maple syrup

1

tsp

fresh lemon juice

12

oz

silken tofu

or firm silken (you can use soft or firm consistency but it must be SILKEN tofu)

1

tsp

lemon zest

from about half of a lemon, plus more for garnish
Instructions
In a medium saucepan add raspberries, maple syrup, and lemon juice. Place over low heat, stirring occasionally, until the berries break down, about 5-10 minutes.

Set a fine sieve over a bowl. Pour the raspberry mixture into the sieve and press with a rubber spatula to separate the seeds from the sauce. Pour this seedless sauce into a blender and discard the seeds.

Add tofu and lemon zest to sauce in the blender. Blend on high until well-whipped and smooth. Pour into 4 dessert cups. Chill several hours or overnight.

To serve, top with non-dairy whipped topping or plant-based yogurt. Top with extra raspberries and additional lemon zest.
Notes
Note, you can substitute other fruit, such as strawberries, blueberries, mango, etc.
Nutrition
Calories:
105.5
kcal
|
Carbohydrates:
16.5
g
|
Protein:
4.8
g
|
Fat:
2.7
g
|
Saturated Fat:
0.3
g
|
Polyunsaturated Fat:
1.5
g
|
Monounsaturated Fat:
0.5
g
|
Sodium:
5.8
mg
|
Potassium:
268.3
mg
|
Fiber:
4
g
|
Sugar:
9.8
g
|
Vitamin A:
20.1
IU
|
Vitamin C:
16.9
mg
|
Calcium:
53
mg
|
Iron:
1.1
mg
Do you like this post?  Please share....

If you liked this post, you might like one of these:
[Trī-māz-ing]
Cindy wants you to be Trimazing—three times better than amazing! After improving her health and fitness through plant-based nutrition, losing 60 pounds and becoming an adult-onset athlete, she retired from her 20-year firefighting career to help people just like you. She works with people and organizations so they can reach their health and wellness goals.
Cindy Thompson is a certified Health Coach, Vegan Lifestyle Coach and Educator, Fitness Nutrition Specialist, and Firefighter Peer Fitness Trainer. She is a Food for Life Instructor with the Physicians Committee for Responsible Medicine and Rouxbe Plant-Based Professional, and Harvard Medical School Culinary Coach, teaching people how to prepare delicious, satisfying, and health-promoting meals.
She provides health and lifestyle coaching at Trimazing! Health & Lifestyle Coaching. Cindy can be reached at info@trimazing.com.
Subscribe to the Trimazing Blog
Receive occasional blog posts in your email inbox.
Subscribe to the Trimazing Blog
Receive occasional blog posts in your email inbox.