Salad in a Sandwich! Sweet Potato Bahn Mi
A few weeks ago Alan and I took a little impromptu road trip to explore part of the North Cascades Loop in Washington state, going clockwise from Burlington to Monroe. It had been years since Alan had done this and I don't recall ever going on the section between Concrete and Wenatchee, Washington. We found ourselves with a couple of free days and off we went! It was amazing and we will be going back to do some future hiking, swimming, skiing, and vacationing!
On our way home, we stopped in Leavenworth, one of our favorite little towns, for lunch. Tucked in the central Cascades, this little town looks as if it was dropped right out of the Bavarian Alps. Not only are the mountains reminiscent of the Alps, but the whole town was transformed in the 1960s to Bavarian design! It is full of shops, restaurants, festivals, and activities that fit into this alpine theme. If you've not been, definitely make plans to go.
Instead of having traditional Bavarian or German food, we opted to try out a new place, Yodelin Broth Company, because it was a beautiful summer day and they had outside seating adjacent to the Wenatchee River. And I'm so glad we did! I had the best sandwich in my life, a Sweet Potato Bahn Mi—and that's a tall statement coming from someone who believes the ONLY sandwich to have is a vegan Reuben! It sounded so intriguing and was available vegan (omitting sriracha mayo and fish sauce), so I gave it a try.
It was so good that I had to figure out how to make it at home the next day!
There were several key parts to this sandwich:
Toasted baguette
Fresh herbs, including mint, Thai basil, and cilantro
Thinly sliced, crispy veggies
Chilled cooked sweet potato
A Sesame Miso Dressing
To start, I made the dressing. Because I don't use oil, I needed something to substitute for that, and used aquafaba, the liquid from cooking chickpeas (garbanzo beans). This gives the dressing some viscosity and gets it to stick to the veggies. I toasted sesame seeds for an oil-free substitute for toasted sesame oil. To this I added brown rice vinegar, miso, maple syrup, sesame seeds, and soy sauce. I blended it all in the blender and chilled in the refrigerator to let the flavors meld.
I had a sweet potato I'd baked earlier in the day chilling in the refrigerator. You can bake them at 350˚F for 45 minutes or pop them in the microwave for about 5 minutes. Leave the skin on. Chill the baked sweet potato until you're ready to use in this sandwich.
Next, I prepped all the veggies. I used the spiralizer for many of them so I'd get nice thin slices, but you can use a mandolin, like this one I've had for years, or a knife.
I split and toasted a 6-inch piece of baguette and then layered on:
Sweet potato – you can use any type you like or have on hand. If they're organic, leave the skin on.
Carrot
Daikon radish – or any other type of radish you like or have available. Watermelon radishes are gorgeous.
Chioggia beet – or any other type, I just like the color and design of these, plus they don't stain like red ones do.
Cucumber – use the skins if they are organic, otherwise peel.
Lettuce (the restaurant used mung bean sprouts, but I didn't have any growing since we had been on vacation)
Mint
Basil – Thai or any other kind.
Cilantro
I served with the dressing, some Sriracha, a lime wedge, and an ear of fresh Quincy, Washington corn we'd picked up on our trip. To eat, pour that tangy dressing all over the veggies and bread, drizzle on some Sriracha, press the top baguette down as best you can so you can squeeze this sandwich into your drooling mouth!!
It's crispy from the perfectly toasted baguette,
It's crunchy, with all those fresh, thinly sliced veggies,
It's got this herbal pop from the mint, basil, and cilantro,
It's earthy from the chioggia beet,
It's tangy from the dressing and lime,
It's spicy from the radishes and Sriracha,
It's creamy from the sweet potato,
It's absolutely frickin' delicious!
I know I say you should try each and ever recipe I post, but I REALLY MEAN IT this time. Make this sandwich, today! 
This post is Day 20 of VeganMoFo (Vegan Month of Food) 2019, with a new blog post every day for the month of August. Check out these other posts you may have missed from last week:
And don't forget, today is the LAST DAY to enter to win the cookbook by JL Fields. I'll be drawing the winner tomorrow, so don't wait any longer to enter to win!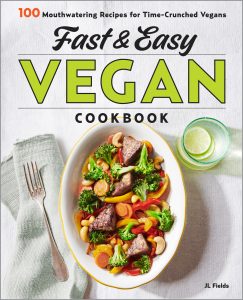 I'll draw one winner August 21, 2019 for JL Fields' new Fast & Easy Vegan Cookbook, before you can even buy it online or in stores!
You want this cookbook! It brings a new selection of fresh meals to your table, pronto! From one-pot to pressure cooker, choose your favorite cooking method―without being held hostage for hours in your kitchen. It includes 100 quick and tasty vegan recipes, plus tips for ingredient substitution and other easy customizations, and handy labels for gluten-free, nut-free, oil-free, or soy-free diets.
So hurry and enter by August 20th. Open to U.S. residents only.
JL Fields Fast and Easy Cookbook Giveaway
Sweet Potato Bahn Mi
This fabulous sandwich is inspired by a similar sandwich I had at the Yodelin Broth Company in Leavenworth, Washington. It is probably the best sandwich ever! Complex flavors but oh, so easy to make!
Ingredients
1

sweet potato

baked and cooled, either in oven or microwave, cut crosswise into ¼-inch rounds

1

baguette

whole-grain, gluten-free if sensitive

2

carrots

thinly sliced or spiralized

1

chioggia beet

thinly sliced or spiralized

1

purple daikon or watermelon radish

thinly sliced or spiralized

½

cucumber

thinly sliced or spiralized

2

cups

sprouts

or shredded lettuce

½

bunch

Thai basil

or other basil

½

bunch

mint

½

bunch

cilantro

sriracha sauce

1

lime

cut into wedges
Sesame Miso Dressing
⅓

cup

aquafaba

liquid drained from a can of chickpeas, or other light-colored bean

⅓

cup

brown rice vinegar

2

tbsp

miso

1

tbsp

date paste

or maple syrup

3

tbsp

toasted sesame seeds

1

tsp

soy sauce

or tamari
Instructions
Toast Sesame Seeds
Add your sesame seeds to a dry skillet. Heat over medium heat for 3-5 minutes or until lightly browned, stirring occasionally so they brown evenly. Pour onto a plate and let cool (they may burn if you try to let them cool in the skillet)
Make Dressing
Combine all of the dressing ingredients into a blender and blend until smooth. Chill until needed.
Prepare Baguette
Cut baguette crosswise into four equal sections.

Heat baguette in 350°F oven for 5-10 minutes until crispy on the outside but still soft in the inside.
Assemble Sandwich
Layer on sliced sweet potato, carrot, beet, radish, cucumber, sprouts or lettuce, and herbs. The more herbs, the better!

Serve with Sesame Miso Dressing, Sriracha, and lime wedge. Pour dressing onto cut surfaces of bread, drizzle on some Sriracha, and squeeze lime over veggies. Enjoy!
Nutrition
Calories:
347.2
kcal
|
Carbohydrates:
62.4
g
|
Protein:
11.6
g
|
Fat:
6.4
g
|
Saturated Fat:
1.1
g
|
Sodium:
911.5
mg
|
Potassium:
801.1
mg
|
Fiber:
9.4
g
|
Sugar:
11.6
g
|
Vitamin A:
13330.5
IU
|
Vitamin C:
30.8
mg
|
Calcium:
192.7
mg
|
Iron:
4.5
mg
Do you like this post?  Please share....

If you liked this post, you might like one of these:
[Trī-māz-ing]
Cindy wants you to be Trimazing—three times better than amazing! After improving her health and fitness through plant-based nutrition, losing 60 pounds and becoming an adult-onset athlete, she retired from her 20-year firefighting career to help people just like you. She works with people and organizations so they can reach their health and wellness goals.
Cindy Thompson is a national board-certified Health and Wellness Coach, Lifestyle Medicine Coach, Master Vegan Lifestyle Coach and Educator, Fitness Nutrition Specialist, Behavior Change Specialist, and Fit2Thrive Firefighter Peer Fitness Trainer. She is a Food for Life Instructor with the Physicians Committee for Responsible Medicine, Rouxbe Plant-Based Professional, and Harvard Medical School Culinary Coach, teaching people how to prepare delicious, satisfying, and health-promoting meals.
She provides health and lifestyle coaching at Trimazing! Health & Lifestyle Coaching. Cindy can be reached at info@trimazing.com.
Subscribe to the Trimazing Blog
Receive occasional blog posts in your email inbox.
Subscribe to the Trimazing Blog
Receive occasional blog posts in your email inbox.