Happy Vegan Campers & Recipe for Vegan Campers Stew
The topic for VeganMoFo for today is picnicking. Since camping is really just an extended picnic, I want to share how we recently camped Vegan Zero Waste! It's very doable. Scroll down to see what we had for meals, get some links to recipes, and my recipe for Vegan Campers Stew!
I've been a camper since I was a kid. Our summer family vacations were generally always spent in the woods, usually in the Gifford Pinchot National Forest of Washington. This area encompasses 1.32 million acres in Southwest Washington, from the Columbia Gorge, up to Mt. Rainier, from Mt. St. Helens to Mt. Adams. It's really spectacular and close to home.
One of our favorite places is on the confluence of the Cowlitz and Ohanapecosh Rivers, a campground called La Wis Wis right outside of the Mt. Rainier National Park. We spent lots of camping trips here and my brother organizes a big family camp every summer now that we are all grown up. Near this campground is Purcell Creek Falls which runs over smooth boulders that we used as a natural waterslide and the Blue Hole, an area of deep clear blue water on the Ohanapecosh that we cooled off in by jumping off the huge boulder walls surrounding it.
We love La Wis Wis campground and the Blue Hole so much that we put a geocache there to commemorate all of our family camping trips and introduce people to the Blue Hole. We get thank you notes all summer long from families going to the Thompson Treasure geocache and discovering just how awesome this place is.
Camping food was always something we looked forward to. It wasn't vegan, as none of us were vegan then. Dad loved to cook over the campfire and we'd go on scavenging missions with him to find piles of bark from downed trees he believed made the best coals. We had pancakes, hashbrowns, biscuits (dad would make a makeshift oven over a campfire using a cooling rack placed over a cast iron skillet and topped with an inverted cast iron skillet), cobblers from foraged berries (huckleberries and wild strawberries), popcorn, Caramel Topped Oatmeal Cake, burgers, dogs, s'mores, banana boats, camper's stew, and more! My parents were camping food geniuses and we always looked forward to camping meals! Needless to say, we were car campers—there's no way we could've brought all those supplies in backpacks!
Like with most established family traditions, going vegan made us stop and consider how we were going to proceed with this new dietary change. Were we going to be able to do this anymore? Heck yes! And then we went Zero Waste and I thought, uh oh, how's this going to work without plastic packaging? And guess what? It worked beautifully! With just a little pre-planning and packaging stuff in our own containers, we enjoyed a fabulous waste-free trip. The only garbage I had was a plastic bag from hot dog buns (I couldn't find them loose and didn't have time to make any) and vegan marshmallows (I am going to figure out how to make these!). I brought glass and metal recycling home with me, along with some food scraps for composting, as the campground doesn't have recycling receptacles. Note, I kept vegetable food scraps in a sealed container in my cooler and rinsed jars/cans in my car as not to attract wildlife.
Here's what we ate!
Breakfast
Instant Oatmeal, Campfire Toast, and Homemade Jam with Coffee
Oftentimes we do Tofu Scramble or pancakes (I love Isa Chandra's Puffy Pillow Pancakes and just substitute equal amounts of apple sauce for the oil), but we decided to take it easier this trip with oatmeal, toast, and jam. I made up a big batch of my Instant Oatmeal with dried pineapple and cardamom. And, we were just really craving Campfire Toast, a Thompson family tradition of toasting bread on marshmallow sticks over the fire—the bread gets all smoky-flavored and is the best toast on the planet!
Lunch
Meatloaf Sandwiches
Mom had a big chunk of frozen homemade vegan meatloaf in her freezer, so she brought that along for lunches. She has no idea what recipe she used, but it was full of grains and veggies and was super delicious. I had mine with lettuce and tomatoes I brought from my garden and corn relish I'd canned with my brother last fall. So yummy!
Brand New Vegan's Smoky Vegan Carrot Dogs, Grilled Corn, and Slaw
These carrot dogs are awesome! I cooked the carrots in the Instant Pot at home before we left and stored them in a container with the marinade, which I kept in the cooler. The dogs cooked up beautifully on the grill and on sticks over a campfire. I had mine with more corn relish, homemade ketchup, and my kimchi with some grilled corn and coleslaw mom made up.
Dinner
Sweet Potato Polenta from Clean Food Dirty Girl with Oil-free Marinara Sauce & Steamed Asparagus
Instead of having to boil noodles, we prefer to have cubed polenta when out camping. In the past we've brought along prepared rolls of polenta you can buy in the grocery store, but I didn't want the plastic packaging. Polenta is so easy to make anyway and is so much better without preservatives, so I simply made it at home, chilled it in a dish with a lid and brought it along. Mom brought a jar of pre-made oil-free marinara sauce that we simmered with some fresh tomatoes from my garden before adding chunks of the polenta to warm through.
The polenta is a recipe from a Clean Food Dirty Girl subscription from October 20, 2017, so there's no link to share. If you are interested in the recipe, you can subscribe to the meal plans and purchase that set for the recipe. Molly's recipes are fantastic, so you won't be disappointed. She has another polenta recipe, Coconut Polenta, in her blog.
Campers Stew served over Sweet Potato Polenta
Growing up, we used to make Campers Stew in foil packets over the campfire. These weren't vegan, though, as they had ground beef with the vegetables and cream of mushroom soup over the top to make the gravy. I really wanted a vegan version of this, so I adapted one of my favorite dishes, Whole Roasted Cauliflower from Karissa's Vegan Kitchen, to work.
I love the gravy from Karissa's recipe, it's just so delicious and easy! I just mixed up the dry ingredients in a little jar separate from the wet ingredients and brought them along. The wet ingredients went into a quart mason jar that I froze before putting in the cooler so it provided additional cooling until I needed it! I've included my recipe below for Vegan Campers Stew, but you'll need to go to Karissa's webpage for the gravy recipe.
Snacks
Apricot Leather, Chickpea Snacks, Fresh Veggies, Raspberry Oatmeal Squares, & Campfire Popcorn!
We get a little snacky while camping. Plus, we go on day hikes and need things to put into our packs. This time I made a whole bunch of fruit leather with ripe apricots I picked up in Peshastin, Washington when Alan and I went on our trip on the North Cascades Loop. We had some Cheese & Onion Crispy Roasted Chickpeas from A Virtual Vegan and my friend Pam's Cocoa Puff Chickpea Snacks for crunchy snacks along with fresh veggies.
Raspberry Oatmeal Squares
Mom's been making these Raspberry Oatmeal Squares for the past couple of years. We have no idea where the recipe came from and I'm researching to figure it out! They are full of raspberry jam between layers of oatmeal and just delectable! They travel great. Another alternative is the Caramel-Topped Oatmeal Cake that mom often brings along too.
Popcorn!
This popcorn popper is an old family heirloom and one of my favorite things! You can buy others on Amazon still, but they are more solid metal and not wire mesh like mine. This belonged to my Grandpa Thompson and we used it at their cabin when I was little. They sometimes pop up on Ebay or at thrift stores, so you can check there too. Here's a video of it in action—you can hear other people in our group in the adjacent campsite (they aren't vegan, so you may hear some references to non-vegan food—mute it if that bothers you).
Popping popcorn over a campfire.
Beverages
Strawberry Peppercorn Shrub Soda
It was hot when we were setting up our camp, so we took a little break to enjoy some icy Strawberry soda I made using Strawberry Peppercorn Shrub from Michael Dietsch's book, Shrubs: An Old-Fashioned Drink for Modern Times with some cold seltzer water and ice. It hit the spot!
In the evening, I also made the Alan's Tears cocktail for a little adult beverage time!
Dessert
Banana Boats
Besides Campfire Toast, Banana Boats are a big camping food rule for my family! Cooked in the coals, Banana Boats are gooey, hot banana splits filled with any toppings you can dream up! I share the recipe for this in an upcoming post, don't worry!
And of course, there's always S'mores with vegan marshmallows, chocolate, and graham crackers. You can find Dandies Vegan Marshmallows and Trader Joe's Marshmallows are accidentally vegan. Nabisco makes vegan Graham Crackers or you can make your own (it's easier than it sounds) from Isa Chandra's Graham Cracker recipe (my mom makes these and you can see them on the S'mores Cupcakes we served at my friends' Vegan Wedding).
It's Not Only About Food
We don't just sit around and eat all day when camping, even though these photos look like it! We love to day hike, swim, and explore!
Being vegan and zero waste doesn't mean you can't do the things you love to do, and that includes camping! You can cook over the campfire. You can have hot dogs. You can have an awesome, wonderful time! And it actually feels really good to not make garbage when camping, to really leave only footprints and not an overflowing wildlife-tempting dumpster.
What are your vegan camping food go to's?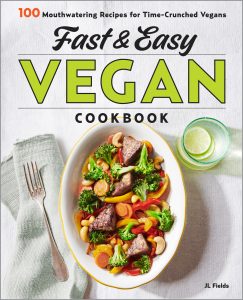 Congratulations, Ann Marie, you've won the copy of JL Fields' new Fast & Easy Vegan Cookbook, even before you can even buy it online or in stores!
Way to go! You're Trimazing! three times better than amazing!
This cookbook brings a new selection of fresh meals to your table, pronto! From one-pot to pressure cooker, choose your favorite cooking method. It includes 100 quick and tasty vegan recipes, which can be customized for gluten-free, nut-free, oil-free, or soy-free diets.
If you didn't win and you want a copy of this great cookbook, pre-order your own copy here!
Vegan Campers Stew
Ingredients
Stew Ingredients
8

cups

Assorted vegetables cut in 1-inch chunks

carrots, potatoes, sweet potatoes, broccoli florets and stems, cauliflower, onions, zucchini, winter squash, corn kernels, etc. Whatever you like and have on hand.
Instructions
Mix the wet and dry gravy ingredients in a saucepan.

Bring to a boil, stirring, until thick.

Add your chopped vegetables to a heavy pot. Pour thickened gravy over top. Stir to mix.

Bring back to a boil then turn down to a simmer. Cover and allow to simmer about 30-45 minutes, until your vegetables are softened to your liking.

Serve over polenta, if desired, or simply in a bowl!
Do you like this post?  Please share....

If you liked this post, you might like one of these:
[Trī-māz-ing]
Cindy wants you to be Trimazing—three times better than amazing! After improving her health and fitness through plant-based nutrition, losing 60 pounds and becoming an adult-onset athlete, she retired from her 20-year firefighting career to help people just like you. She works with people and organizations so they can reach their health and wellness goals.
Cindy Thompson is a certified Health Coach, Vegan Lifestyle Coach and Educator, Fitness Nutrition Specialist, and Firefighter Peer Fitness Trainer. She is a Food for Life Instructor with the Physicians Committee for Responsible Medicine and Rouxbe Plant-Based Professional, and Harvard Medical School Culinary Coach, teaching people how to prepare delicious, satisfying, and health-promoting meals.
She provides health and lifestyle coaching at Trimazing! Health & Lifestyle Coaching. Cindy can be reached at info@trimazing.com.
Subscribe to the Trimazing Blog
Receive occasional blog posts in your email inbox.
Subscribe to the Trimazing Blog
Receive occasional blog posts in your email inbox.