As I've mentioned many times, triathlon has brought the most amazing people into my life…Zach and Darcie are two of these people. I met Zach February 2011 at a Portland Triathlon Club Newbie Coffee Hour. Zach was wearing a firefighter union shirt, so, of course, as a fellow firefighter, I had to introduce myself! Zach works for a neighboring fire department and through our conversation, we learned we both lived in Vancouver. His girlfriend, Darcie, a photographer, was unable to attend, but was also interested in starting triathlon, being an avid runner. We exchanged info so we could train together. Over the past year and a half, Zach and Darcie and I have become great friends! Zach and I serve on the PTC Board together and the three of us have done training and races and carpooling to events.
Being firefighters, Zach and I take turns giving each other a hard time…it's just what firefighters do! I tease him about his department, he teases me about mine, etc, and it's all in fun and brotherhood/sisterhood. One of his favorite things to tease me about (besides being the first person in line at the gate to get into a race venue to set up my transition) was being vegan. It was no big deal…LOTS of firefighters have teased me about that…I can DISH it back! However, he did have a lot of questions about nutrition, having lost a lot of weight and transforming himself into a triathlete (Zach is an After too!), so I shared what I knew, loaned him some books, and by January 2012, he and Darcie decided to try vegan out for a bit to see what it'd be like.
That January, they asked if we could do a potluck as they were new and wanted to try other vegan food people enjoyed. We got together with Becky, our friend and PTC president, and her husband James as she had once been veg/vegan and wanted to do more of that after the birth of their beautiful baby. We had a blast and great food–and we decided to make it a monthly event! About every month, we get together to share great food and conversation and our group has grown and grown as we've discovered more athletic friends who are veg/vegan or interested in veg/vegan nutrition. I think we had about 20 people at our last potluck! Darcie and Zach have been vegan since January and have adopted it as part of their healthy lifestyle for their family.
On my way home from Vineman, I got the sweetest voicemail from Darcie asking if I might be interested in doing something crazy…cater their wedding reception in September! They were married New Years Eve 2011 in a private ceremony with family and wanted to recreate that ceremony and have a reception for their friends. WOW, I was so honored that she asked! Mother Superior and I sat in the hot tub at a spa resort on the Oregon coast and tossed ideas back and forth about it, about styles and cuisines and whether I could do it. I called Darcie, we talked, and I decided with help from her and Mom Sup I was totally game!
Zach and Darcie's reception was held at the Smith Homestead in the Tillamook National Forest along the Wilson River. Such a beautiful location! It is a rustic timberframe building with skylights all along the peak of the roof, large barn doors and glass roll-up doors that open to the forest, and a huge stone fireplace. Inside are amazing dimensional lumber tongue-and-groove, pegged tables and benches that accomodate up to 100 people.
Darcie and I decided on a Mediterranean style buffet for the reception. We wanted to use produce out of our gardens as much as possible, so created a menu around that. The menu was 100% vegan, designed to appeal to non-vegans as well! Note, we did not design a gluten-free or allergy-free menu.
It took about four days of cooking for Darcie, Mother Superior, and I to get everything all prepared (not all consecutive, some things we made ahead and frozen). Darcie and Zach did all the shopping while I was in Las Vegas–I cannot thank them enough for that, I know that was a HUGE job! The hardest thing was calculating how much we needed to prepare for 80 people. I found a GREAT website to help us called Ellen's Kitchen.
We had to really think ahead about how to prepackage things and how to heat/assemble the main course and bread on-site. The Smith Homestead had electricity (only three outlets), no kitchen, and mineral well water from a hand pump, so our menu was mostly cold items. We used Mom's portable convection oven for warming bread, my two burner camp stove for reheating cooked pasta and heating meatball-marinara sauce for the entree, and brought gallons of water from home (the site's water was potable, but had a noticeable sulfur mineral taste so we decided to use it only for cleanup, not for cooking).
Getting the food there was part of the adventure as well! The site was an hour and a half from my house. The major concern I had early on was how on earth to transport 200 decorated cupcakes without ruining them! After some internet searching, I found an ingenious idea, homemade foil cupcake trays! After cooling cooked cupcakes, we took the cupcake trays, turned them upside down and pressed sheets of foil over the trays to mold them into foil trays. We set the foil trays into cardboard cake boxes and put the cupcakes in them. I then decorated all the cupcakes in the foil trays in the cake boxes. GENIUS!
Everything got loaded up in six coolers and transported to the site in my utility trailer and car. We also hauled tables and a little gasoline generator in case we lost power in the building.
 The Menu
Starters
Antipasti Tray
Veggie Tray
Cilantro Pesto Stuffed Mushrooms
Baba Ganooj
Hummus with Pinenuts, Smoked Paprika and Za'atar
Salads
Chickpea and Quinoa Salad
Main Course
Viva gli sposi Pasta 
Dessert
Mother Superior had a dream a couple years ago about making a veggie tray all mixed together rather than the traditional separated out version. It's been her trademark veggie tray ever since and really, genius!
Not only is this recipe for the stuffed mushrooms vegan, it is RAW vegan. The mushrooms were marinated for two days in Bragg's Aminos, giving them a "cooked" feel.
Baba Ganooj is a roasted eggplant dip; Muhammara is a roasted red bell pepper dip; and the Hummus is topped with pinenuts, smoked paprika, and za'atar, a Middle Eastern spice blend made up of the dried herbs, namely oregano, thyme, and sumac, mixed with sesame seeds, salt, cumin, and other spices.
I can't take credit for the wonderful forest-themed name cards…Darcie made these (aren't they great?). The soup is topped with a swirl of Balsamic Glaze and sprinkle of chopped fresh chives.
Mother Superior made this carrot salad when I was growing up and it was always one of my favorites. The original recipe used Campbell's Tomato Soup which is not vegan, but she found a veganized recipe that is as good…no, it's better!
The original idea for Darcie and Zach's reception was to make Chef AJ's Disappearing Lasagna…until we realized there were no ovens at the reception site! We made this recipe up from components of the lasagna recipe, using rigatoni noodles, and layering them in chafing dishes. We made wonderful vegan "meatballs" and heated them in the sauce to layer.  Viva gli sposi is a traditional Italian wedding saying that means, "Hurray for the Newlyweds"! We thought that'd be an appropriate name for our new dish!
Darcie and I had a cupcake bake-off a few weeks prior to the wedding to narrow down our cupcake choices from three—to three!! They were all just so good and so beautiful that we just couldn't bear to eliminate any one cupcake! Mother Superior made the S'mores cupcakes even more special by baking little miniature vegan graham crackers that topped every cupcake!!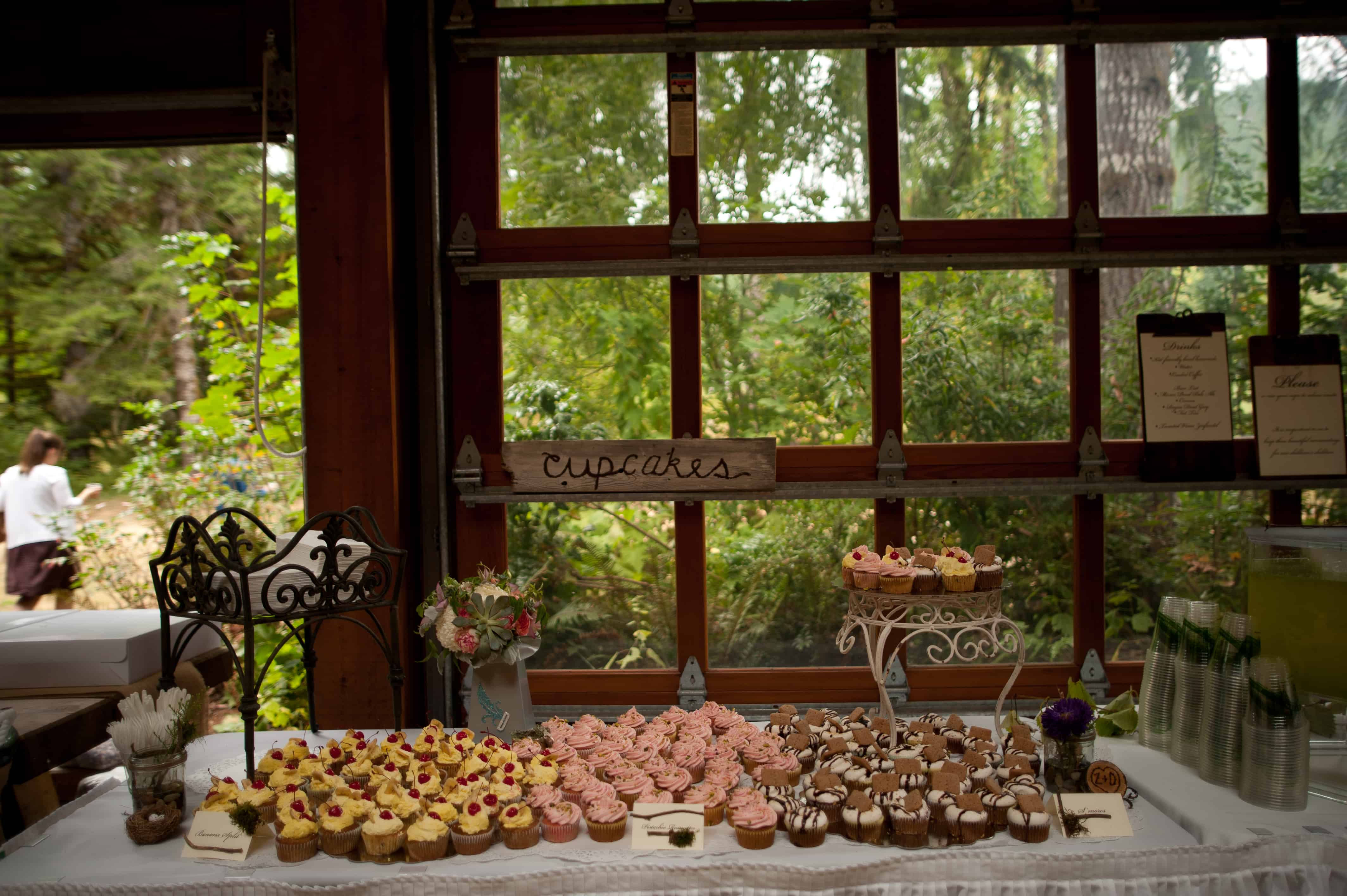 Basil Lemonade was made from frozen lemonade concentrate and handfuls of fresh basil from Darcie's garden. The lemonade concentrate made the catering/transportation to a remote location easier, otherwise fresh lemonade would have been used.
Can you do a 100% vegan wedding reception? Absolutely! Will people eat it? Absolutely, they won't even know it's vegan! We kept it quiet that it was vegan (except for the veg/vegan guests, so they knew they could eat everything on the menu) until guests were eating as we didn't want them to not try it! Everyone loved it and they were absolutely amazed it was ALL vegan. It was a great adventure and went off swimmingly!
Thank you, Zach and Darcie, for including us in your special day! It was truly an honor!
Do you like this post?  Please share....

If you liked this post, you might like one of these:
[Trī-māz-ing]
Cindy wants you to be Trimazing—three times better than amazing! After improving her health and fitness through plant-based nutrition, losing 60 pounds and becoming an adult-onset athlete, she retired from her 20-year firefighting career to help people just like you. She works with people and organizations so they can reach their health and wellness goals.
Cindy Thompson is a national board-certified Health and Wellness Coach, Lifestyle Medicine Coach, Master Vegan Lifestyle Coach and Educator, Fitness Nutrition Specialist, Behavior Change Specialist, and Fit2Thrive Firefighter Peer Fitness Trainer. She is a Food for Life Instructor with the Physicians Committee for Responsible Medicine, Rouxbe Plant-Based Professional, and Harvard Medical School Culinary Coach, teaching people how to prepare delicious, satisfying, and health-promoting meals.
She provides health and lifestyle coaching at Trimazing! Health & Lifestyle Coaching. Cindy can be reached at info@trimazing.com.
Subscribe to the Trimazing Blog
Receive occasional blog posts in your email inbox.
Subscribe to the Trimazing Blog
Receive occasional blog posts in your email inbox.