Coconuts About You—Caramel-Topped Oatmeal Cake
Welcome to Day 4 of VeganMoFo 2019. I'm so excited to share today's recipe with you because it is a cake full of memories for me. This was the cake my mom made for us when I was a kid, not for birthdays, but the "I love you and decided to make a cake today" cake. You know, the one that you find on the counter on Saturday afternoon after you've been playing outside all morning? It was also the cake Mom made when we went to the beach and on EVERY camping trip as it traveled well in the 9×13 pan it was baked in, plus it didn't have frosting that would melt in the heat, so it stayed nice without refrigeration.
Caramel-Topped Oatmeal Cake was not a whole food, plant-based, oil-free vegan cake, however. The version of my childhood was full of eggs, margarine, and cream. But with a little imagination and substitution, I've veganized this old recipe from the family recipe card file and brought a little bit of my childhood back into my life. And it's soooo good, maybe even better than when I was a kid! You're going to want to make this cake, trust me!
The base of this cake is really an oatmeal spice cake. You start by preparing some instant oats with boiling water. We don't generally eat instant oats as they are more refined than old-fashioned or steel cut, but I do have them in our pantry for making Alan's instant oatmeal mix that he takes with him when he travels for work. The oatmeal keeps this cake really moist.
Next you'll need to make a flax egg. The original recipe called for two eggs, so this is a double flax egg. Flax is a wonderful whole food egg replacer, along with banana and silken tofu. To make a flax egg, you simply add water to ground flax and whisk it until it's frothy. I like to let mine sit for a bit so it gets well hydrated. So do this while you're waiting for the oatmeal to finish it's 20 minute rest.
Next you'll cream the applesauce and sugars. The applesauce substitutes for margarine in the original recipe. I could have used pumpkin or sweet potato puree, but because it is a spice cake, applesauce just seemed like the perfect pairing. Cream these just like you would margarine and sugar.
Next add the flax egg and prepared oatmeal to the creamed sugars and mix thoroughly.
Combine the flours, baking soda, cinnamon, and salt together in a separate bowl before gradually adding them to the wet ingredients and beating well. Pour the batter into a 9×13 pan lined with parchment paper. The parchment eliminates the need to oil the pan and also makes it easy to later lift the entire cake out and place onto a platter or tray for cutting and serving, if desired.
Bake at 350˚F for 30-40 minutes, until a tester comes out clean.
Just before the cake is done, make your topping by combining shredded coconut, chopped nuts, brown sugar, coconut cream, and melted coconut butter. Coconut butter is a better alternative to margarine or coconut oil because it is less refined, still containing the fiber from the coconut. You can make your own coconut butter just like making peanut or other nut butters by processing the coconut until it's smooth and creamy. The coconut butter solidifies after it's made, so simply melt it in a saucepan or in the microwave before mixing into the topping.
As soon as your cake is done, pull it out of the oven, turn on the broiler, and evenly spread the mixed topping all over the cake. Pop the cake under the broiler for 2-3 minutes for the magic to happen—that topping mix caramelizes and the coconut and nuts get all toasty.
Let the cake cool before slicing and serving.
Enjoy!  The cake is moist and spiced from the cinnamon with just a hint of apple while the topping is crunchy, sweet, and caramell-y. It's really a perfect bite. It's just so dang good, no one would ever guess it's been veganized. And take a hint from mom, it travels great, so take it along on your next picnic, potluck, or vacation and share it with others.
And take a hint from childhood me…it's really good for breakfast! It has oatmeal in it, c'mon!
Don't forget my new giveaway in celebration of VeganMoFo 2019!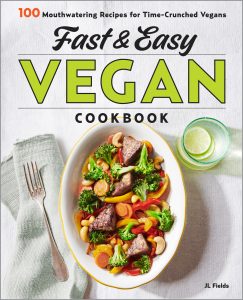 I'll draw one winner August 21, 2019 for JL Fields' new Fast & Easy Vegan Cookbook, before you can even buy it online or in stores!
You want this cookbook! It brings a new selection of fresh meals to your table, pronto! From one-pot to pressure cooker, choose your favorite cooking method―without being held hostage for hours in your kitchen. It includes 100 quick and tasty vegan recipes, plus tips for ingredient substitution and other easy customizations, and handy labels for gluten-free, nut-free, oil-free, or soy-free diets.
So hurry and enter by August 20th. Open to U.S. residents only.
JL Fields Fast and Easy Cookbook Giveaway
You can also pre-order the book or order it after the contest is over on Amazon.
Caramel-Topped Oatmeal Cake
This moist spice cake with it's crunchy, sweet, and caramell-y topping will knock your socks off! It's just so dang good, no one will ever guess it's vegan. And it travels great, too, so take it along on your next picnic, potluck, or vacation and share it with others.
Ingredients
Cake
1 ½

cups

boiling water

1

cup

Instant (quick) oats

5

tbsp

water

2

tbsp

ground flax seeds

½

cup

applesauce

1

cup

brown sugar

1

cup

granulated sugar

1

tsp

vanilla extract

1

cup

all-purpose flour

½

cup

whole wheat pastry flour

1

tsp

baking soda

1

tsp

ground cinnamon

½

tsp

salt
Topping
1

cup

shredded coconut

½

cup

chopped nuts

pecans, walnuts, almonds, your choice, or more coconut for nut-free

½

cup

brown sugar

well-packed

1/3

cup

coconut milk

2

tbsp

melted coconut butter
Instructions
Line a 9x13 inch baking pan with parchment paper.
Cake
Pour boiling water over oats and let stand 20 minutes.

Mix the ground flax seeds in water to make a "flax egg."

In a large bowl or stand mixer, cream applesauce, brown sugar, and granulated sugar.

Add prepared "flax egg," vanilla, and oat mixture, mixing until well-blended.

In another bowl, sift together flours, baking soda, salt, and cinnamon. Add gradually to wet ingredients and beat until well-blended.

Bake in a 350°F oven for 30-40 minutes, or until a toothpick inserted in the center comes out clean.
Topping
Right before cake is finished baking, mix together the topping ingredients.

When cake is done, remove from the oven and spread on topping.

Turn on oven broiler and return topped cake to oven for 2-3 minutes or until the topping bubbles and browns. Let cool and then serve.
Do you like this post?  Please share....

If you liked this post, you might like one of these:
[Trī-māz-ing]
Cindy wants you to be Trimazing—three times better than amazing! After improving her health and fitness through plant-based nutrition, losing 60 pounds and becoming an adult-onset athlete, she retired from her 20-year firefighting career to help people just like you. She works with people and organizations so they can reach their health and wellness goals.
Cindy Thompson is a national board-certified Health and Wellness Coach, Lifestyle Medicine Coach, Master Vegan Lifestyle Coach and Educator, Fitness Nutrition Specialist, Behavior Change Specialist, and Fit2Thrive Firefighter Peer Fitness Trainer. She is a Food for Life Instructor with the Physicians Committee for Responsible Medicine, Rouxbe Plant-Based Professional, and Harvard Medical School Culinary Coach, teaching people how to prepare delicious, satisfying, and health-promoting meals.
She provides health and lifestyle coaching at Trimazing! Health & Lifestyle Coaching. Cindy can be reached at info@trimazing.com.
Subscribe to the Trimazing Blog
Receive occasional blog posts in your email inbox.
Subscribe to the Trimazing Blog
Receive occasional blog posts in your email inbox.