Nothing beats a steamy hot bowl of soup on a cold winter's night! We love soup here at the Lakehouse and I'm always looking to use seasonal vegetables in our soups. This winter squash soup hits the spot with it's creamy texture and subtle spices.
Soon after we moved to the Lakehouse, a friend and I decided to take a short drive north to Snohomish, Washington for some antiquing and lunch. It was November and when I woke up that morning, I'd discovered we'd had a really hard frost and it was icy cold out. We bundled up and took our time navigating the frozen roads.
After a couple of hours in and out of the frosty chill to check out the shops of Snohomish, we were famished and decided it was time for lunch. We popped into the Snohomish Bakery at First and Union Kitchen where the soup special was Red Curry Squash Soup and it happened to be vegan. It sounded fabulous so I ordered a bowl with some sourdough bread on the side. Omigoodness! This soup has stayed on my mind ever since that first spoonful! It was rich, creamy, smooth, piping hot, with the perfect balance of Thai red curry. I had never had such an amazing soup!
So I've been on a quest to recreate this fabulous soup. And I believe I've done it! Just adding red curry paste to a winter squash soup wasn't cutting it, it didn't have the right flavor. But with just a few additions, this soup sings!
Choosing Your Pumpkin
You can use any orange-fleshed winter squash for this recipe. Sugar pumpkin, butternut, and turban squash are really great in this, but feel free to use whatever squash you have. While it's great to use fresh pumpkin, canned pumpkin puree works perfectly well in this soup too, especially if you're in a rush. Canned pumpkin is fabulous and is generally a mix of all kinds of different orange winter squashes, so don't shy away from it.
If you're using fresh, pick a nice medium size squash, about 4 pounds. Roast in the oven or cook in an Instant Pot.
To Roast in the Oven
Cut in half, remove seeds, and roast, cut-side-down, on a parchment or silicone lined baking sheet at 400˚F for about 45 minutes until soft. Scoop out pulp and puree.
To Cook Pumpkins and Winter Squash in the Instant Pot
Wash the outside of your squash.
Put 1 cup water in your Instant Pot and insert trivet/steamer rack.
Put the whole squash in your Instant Pot. If it's too big, trim and put pieces in. No need to peel or otherwise cut. Yes, you're leaving the seeds in!
Put on the lid, and cook on High pressure 25 minutes.
Do a quick release when done and then carefully remove your squash.
When cool enough to handle, cut in half, scoop out seeds, and then scoop the cooked pulp out of the skin to puree.
Sauté Onion and Ginger
Heat a large Dutch oven over medium heat. Roughly chop one onion and peel a 3-inch piece of fresh ginger and slice into thick coins. Add these to the Dutch oven and stir to sauté. Add water or vegetable stock if things starts to stick. Cook until the onion is soft.
Note: Here's an easy way to peel ginger. Use a spoon and simply scrape the peel right off! Save those peelings to add to tea or infused water.
Add Aromatics
Once onion is soft, add three cloves of garlic, roughly minced, and two tablespoons of your favorite prepared Thai Red Curry Paste. Make sure to read the ingredients label for the curry paste when selecting one at the store, many have fish or shrimp paste or oil in them. You'll want to find one that's seafood- and added oil-free. Thai Kitchen brand Red Curry Paste is a good one, even gluten-free, that you can find at most grocery stores (it also comes in glass, so plastic-free as well!). Stir to combine and cook about a minute, until fragrant. Add a little vegetable stock or water to the pot if the curry paste is too thick to work with.
Add Squash, Liquids, and Citrus
Now add the vegetable stock, pureed squash, coconut milk, zest of a lime, and lemon juice. I use a Microplane Zester/Grater to zest the lime. Many Thai soup recipes out there call for kaffir lime leaf and lemongrass, but those can be difficult to find for many people. Lime zest is a great substitute for kaffir lime leaf and lemon juice works for the lemongrass. If you're wanting less fat or calories, you can use any other plant-based milks (soy, oat, hemp, almond, etc.). Bring to a boil and then let simmer about 30 minutes, stirring occasionally so it doesn't stick to the bottom and burn. Note, if you taste it at this point it will seem a little bland. Don't panic and add more seasonings or salt—everything changes after blending, so wait until then to adjust the seasonings!
So, a little notice about coconut milk. I was shocked to look at the ingredients labels of the options available to me at my local grocery store! Two of the brands didn't even contain coconut, just extract with thickener. Do double-check to make sure you're actually buying coconut milk.
Blend
After the flavors have had a chance to get all happy together, remove in batches to a blender or food processor. Blend until smooth. You could also use an immersion blender for this. Be careful only fill your blender halfway and hold the top on with a towel to prevent boiling hot soup from exploding out and burning you while blending!
Season to Taste and Serve!
Now taste your soup and add salt to season. The soup is very flavorful now that the ginger, onions, garlic, and lime zest are blended, giving full effect of all the ingredients together. Add more curry paste if it's not hot enough for your liking. Serve with chopped cilantro, raw pepitas (hulled pumpkin seeds), and Sriracha Sauce, along with a nice hunk of whole grain sourdough bread for dunking!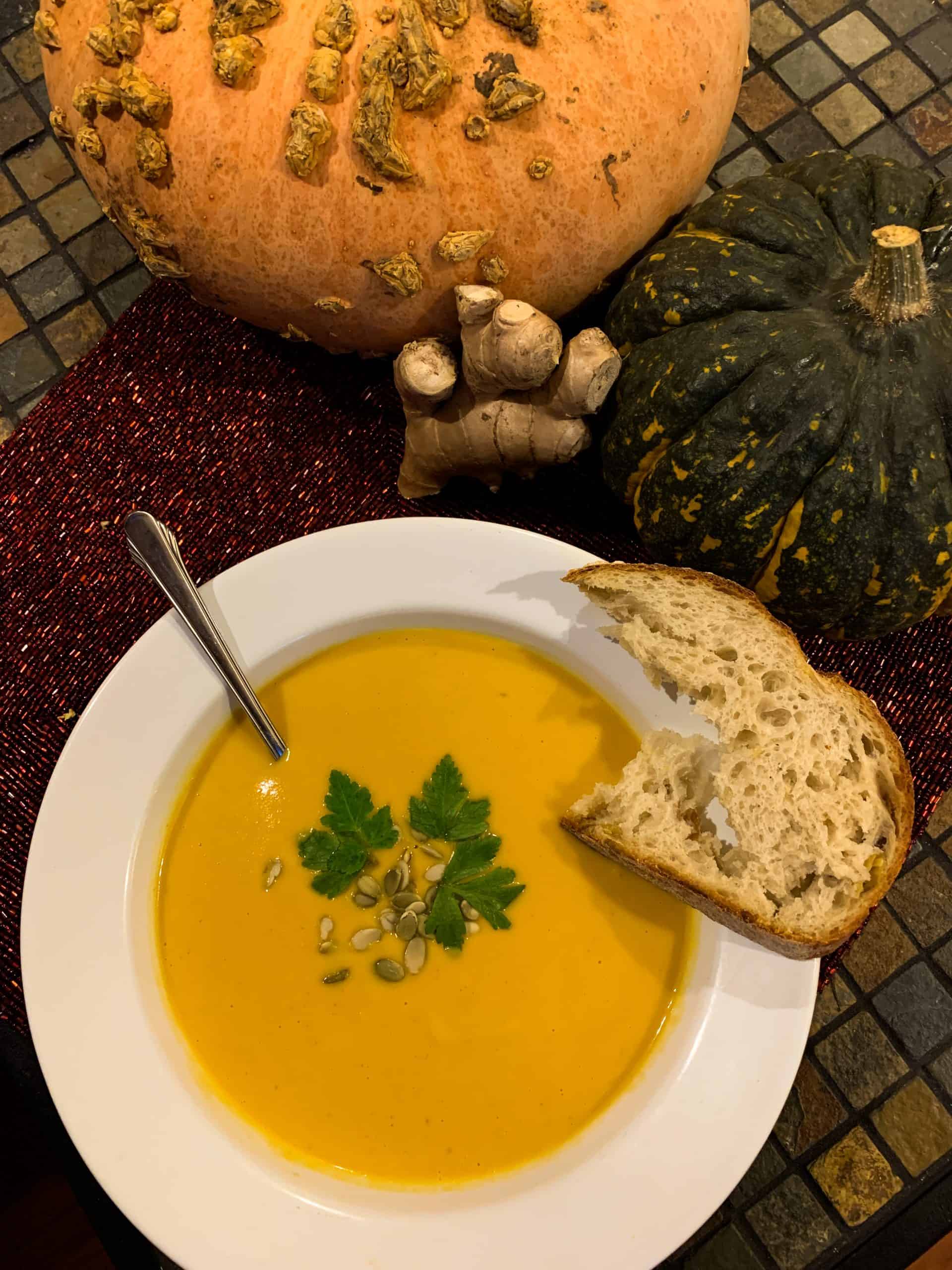 This soup is perfect for groups and taking to a vegan potluck—its exotic flavor is a real crowd-pleaser! It also freezes beautifully so you can enjoy this soup any time.
Red Curry Pumpkin Soup
So warming, it's perfect for a cold winter meal. Serve with crusty whole-grain sourdough bread to dunk and a salad for a complete meal.
Ingredients
4

pound

Pumpkin or Other Winter Squash

or 4½ cups (3 15-oz. cans) Pumpkin Puree

1

Onion

chopped

3

inch

Fresh Ginger

peeled, sliced into thick coins

2

tbsp

Thai Red Curry Paste

3

cloves

Garlic

minced

6

cups

Vegetable Stock

2

cans

Coconut Milk

or 3½ cups other plant-based milk (soy, hemp, oat, almond, etc.)

1

Lime

zested

1

tbsp

Fresh Lemon Juice

Salt

to taste, about 1 tsp

Cilantro

for garnish, optional

Pepitas

just a pinch per bowl for garnish, optional

Sriracha Sauce

for serving
Instructions
Cook winter squash as desired. Remove pulp and set aside.

Saute onion and ginger in a large Dutch oven over medium heat. Add water or vegetable stock if starts to stick. Cook until onion is soft.

Add curry paste and garlic. Stir to combine and becomes fragrant, about a minute.

Add stock, squash, coconut milk, lime zest, lemon juice. Stir well, bring to a boil and then simmer about 30 minutes. Note, if you taste it at this point it will seem a little bland. Don't panic and add more seasonings or salt—everything changes after blending, so wait until then to adjust the seasonings!

Remove to a blender in batches or use an immersion blender in the pot to blend until smooth. Season with salt to taste.

Serve with cilantro and Sriracha Sauce, if desired.
Do you like this post?  Please share....

If you liked this post, you might like one of these:
[Trī-māz-ing]
Cindy wants you to be Trimazing—three times better than amazing! After improving her health and fitness through plant-based nutrition, losing 60 pounds and becoming an adult-onset athlete, she retired from her 20-year firefighting career to help people just like you. She works with people and organizations so they can reach their health and wellness goals.
Cindy Thompson is a certified Health Coach, Vegan Lifestyle Coach and Educator, Fitness Nutrition Specialist, and Firefighter Peer Fitness Trainer. She is a Food for Life Instructor with the Physicians Committee for Responsible Medicine and Rouxbe Plant-Based Professional, and Harvard Medical School Culinary Coach, teaching people how to prepare delicious, satisfying, and health-promoting meals.
She provides health and lifestyle coaching at Trimazing! Health & Lifestyle Coaching. Cindy can be reached at info@trimazing.com.
Subscribe to the Trimazing Blog
Receive occasional blog posts in your email inbox.
Subscribe to the Trimazing Blog
Receive occasional blog posts in your email inbox.