Accidentally Vegan—Pesto Palmiers
Years ago, to my shock and amazement, I learned that Pepperidge Farms puff pastry dough is vegan. Now, not to say they are whole food, plant-based healthy, but they are vegan. Puff pastry is pretty amazing and a quick way to add some simple elegance to a meal or party.
You can also make your own puff pastry dough. I've not tried this, but I'm sure it would be fun. I just find it much simpler to pick up a box of ready-made puff pastry when I need it, which is not very often.
Palmiers are said to originate in the early 20th century in either France or Vienna, filled with sweet fillings. The name, palmier, means "palm tree" as they are traditionally folded to look like the tops of palm trees. They are known by other names, palm leaves, French hearts, Schweineohren (German for Pigs Ears), Palmeritas (Spanish). Larger versions, up to 5-6 inches wide, are often called Elephant ears, due to their resemblance. Some versions are rolled and known as pinwheels. They are all variations of the same puff pastry crisp.
In any case, palmiers are simple to make, and you can prepare them in advance and freeze so you can pull them out, slice, and bake, and look like a veritable Martha Stewart in a moment's notice! Here's how you do it:
Thaw the puff pastry dough per package directions. Simply remove from the freezer, gently pull the dough from the paper packaging, leave rolled up, and place between layers of a towel on the counter top for about 40 minutes, until it's workable.
Once the dough is thawed, lightly dust your counter with flour and carefully unfold the dough. Sprinkle the dough with a little flour and roll out with a rolling pin to remove creases. You don't want to roll it out too thin, just smooth it out.
Then spread pesto over the entire sheet, edge to edge.
Next, roll or fold the dough as desired.
Traditional palmiers are folded and spread out beautifully when baked. To do this, position the prepared dough lengthwise, mark the center on the short ends, and then mark 1/3 points on the short sides of each half. Fold one side in toward the center in thirds, then repeat on the other side. Then fold one half on top of the other.
You can also roll each side into the center.
Carefully move the folded/rolled dough to a cookie sheet, cover with a towel, and refrigerate 30-60 minutes to firm back up. This makes it easier to cut later. Preheat your oven to 400˚F and line cookie sheets with parchment paper or silicone baking sheets.
You can also wrap in parchment and foil at this point and freeze to make later. Then, when you want to make palmiers, simply remove the frozen logs from your freezer, let thaw 30-40 minutes on the counter, and then proceed as in the next steps. Huge time saver! I did this a couple of weeks ago when I needed an appetizer to take to my neighborhood monthly Bunco game and we'd been out of town until two hours before the event—it was great to arrive with something homemade when I didn't have the time!
After the dough has cooled and firmed back up, slice into 1/4- to 1/2-inch slices with a sharp knife and arrange cut-side-down on your prepared baking sheets. They will spread a bit, so leave some space in between. And don't worry if they look all smooshed and wonky, they'll magically shape up beautifully when they bake!
Bake for 20-25 minutes, until golden brown. Serve warm or cooled.
Perfect with a glass of wine!
You can also make these sweet, which is traditional for palmiers. Instead of pesto, spread with cinnamon sugar and chopped nuts, fig jam, or this date mixture:
Combine and bring to a boil, 1 lb. chopped, pitted dates, 1 cup of sugar, and ½ cup water. Simmer until soft. Cool before using.
Palmiers are delicious, simple, and oh so elegant. And, if using vegan pesto or any of the sweet fillings above, VEGAN! No one will be the wiser. I hope you try making these deliciously flaky, savory, elegant treats for your next party. And, keep a log or two in your freezer to look like a real baking rock star!
And a reminder of my giveaway!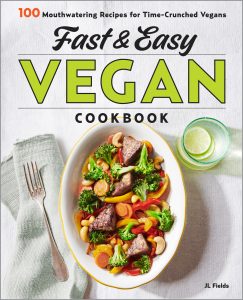 I'll draw one winner August 21, 2019 for JL Fields' new Fast & Easy Vegan Cookbook, before you can even buy it online or in stores!
You want this cookbook! It brings a new selection of fresh meals to your table, pronto! From one-pot to pressure cooker, choose your favorite cooking method―without being held hostage for hours in your kitchen. It includes 100 quick and tasty vegan recipes, plus tips for ingredient substitution and other easy customizations, and handy labels for gluten-free, nut-free, oil-free, or soy-free diets.
So hurry and enter by August 20th. Open to U.S. residents only.
JL Fields Fast and Easy Cookbook Giveaway
You can also pre-order the book or order it after the contest is over on Amazon.
Pesto Palmiers
Many commercial puff pasty doughs are accidentally vegan. You can find them in your grocer's freezer section with the frozen desserts. I like to prep these and keep them unbaked in the freezer for quick appetizers for parties or guests. They look so fancy but are very simple, delicious, and go great with a glass of wine!
Ingredients
1

package

Pepperidge Farms (or other vegan variety) Frozen puff pastry dough

thawed per package directions.

1

cup

pesto

any kind, basil, garlic scape, sundried tomato, etc.
Instructions
Unwrap one section of puff pastry and carefully unroll. Roll it out on a lightly floured surface, keeping it's rectangle shape.

Spread ½ of the pesto over the entire surface.

Roll or fold one long side in toward the center, repeat with the other side so that two rolls/folds meet.

Cover with a towel, and place in the refrigerator to chill, about an hour.

Repeat with remaining dough and pesto.

If you wish to bake these some other time in the future, wrap in parchment and foil, put back into the puff pastry box, and freeze until you wish to bake them.

Preheat your oven to 400°F.

Remove the chilled dough and slice into ¼- to ½-inch thick slices. Place the slices cut-side-down a couple of inches apart (they will spread when baking) on a baking sheet lined with parchment or silicone mat.

Bake for 20-25 minutes, or until golden brown. Let them cool a few minutes on the tray before removing to a tray, if serving warm, or wire rack, if serving cool.
Notes
You can make these sweet as well. Instead of pesto, spread with cinnamon sugar and chopped nuts, fig jam, or this date mixture:
Chop 1 lb. pitted dates into ¼-inch pieces. Put into a saucepan with 1 cup of sugar and ½ cup water. Stir, bring to a boil, and simmer until soft. Cool before using.
If you liked this post, you might like one of these:
[Trī-māz-ing]
: three times better than amazing
Cindy wants you to be Trimazing—three times better than amazing! After improving her health and fitness through plant-based nutrition, losing 60 pounds and becoming an adult-onset athlete, she retired from her 20-year firefighting career to help people just like you. She works with people and organizations so they can reach their health and wellness goals. Cindy Thompson is a certified Health Coach, Vegan Lifestyle Coach and Educator, Fitness Nutrition Specialist, and Firefighter Peer Fitness Trainer. She is a Food for Life Instructor with the Physicians Committee for Responsible Medicine and Rouxbe Plant-Based Professional, teaching people how to prepare delicious, satisfying, and health-promoting meals.
She provides health and lifestyle coaching at Trimazing! Health & Lifestyle Coaching. Cindy can be reached at info@trimazing.com.
Do you like this post?  Please share....

Subscribe to the Trimazing Blog
Receive occasional blog posts in your email inbox.
Subscribe to the Trimazing Blog
Receive occasional blog posts in your email inbox.