Trilby's—Santa's Favorite Cookie!
You know how some things can transport you immediately back to your childhood? Trilby's are that thing for me! These soft, ooey-gooey, sweet date-filled oatmeal cookies were a family Christmas classic, always made by my grandmother, Grace Arney Thompson. They were the cookie that Santa seemed to love the best, set out by the fireplace with a glass of milk and some carrots for the reindeer. Santa always left lots of crumbs and the reindeer left the stem ends of the carrots—I guess they were particular!
I don't know the history behind these cookies and haven't been able to track anything down about them. The old recipe card has a notation that these are a Thompson Family Recipe from "Aunt L" which may have been my Grandpa Thompson's aunt Leora Estella Thompson, my Great-Aunt who I never met as she passed away in 1969.
In my research, I discovered that there is a hat called a trilby, a short, back-flipped brimmed hat with an indented crown that is sort of a cross between a Tyrolean hat and a fedora. Trilby hats are so named as one first appeared in the popular 1895 stage adaptation of the 1894 novel, Trilby, by George du Maurier. Frank Sinatra brought the trilby back into fashion in the 1960s and it had a brief resurgence in 1980s. Trilby O'Ferrall, heroine of Trilby, is half-Irish, so perhaps being made of oats, an Irish staple, that was the inspiration for the name of this cookie. The earliest recipe I can find in my stash of old cookbooks for a date-filled oatmeal cookie is in my old Betty Crocker's Cooky [sic] Book published in 1963, which would have been about the time Sinatra was wearing his famed trilby. Perhaps these things inspired the mysterious name of this cookie.
At any rate, this cookie is awesome! But the original was not vegan and had a lot of refined oil in it. So I replaced dairy milk with plant-based and swapped out shortening with coconut butter, which is a butter made from whole coconut meat, not a refined oil. You can actually make your own coconut butter by blending large flake coconut in a food processor, which I discussed in my post Going Nuts! Making Nut and Seed Butters. While this revised cookie is still is an indulgence, at least there is a bit more fiber with the coconut butter, and certainly no hydrogenated oils! Interestingly, despite the swap, the new cookie does not taste of coconut at all!
Here's how to make this awesome cookie
Make the date filling first. Boil together chopped dates, sugar, and water until it's soft and thick. You may need to add more water. Let this cool. You can make in advance and refrigerate, you'll just want to pop it into the microwave about 90 seconds to loosen it back up to work with when making the cookies.
Next, make your dough. Start by creaming the coconut butter and sugar. If the coconut butter doesn't seem to be creaming nicely with the sugar, add a tablespoon of boiling water and it will come together perfectly.
Mix the dry ingredients in a separate bowl and then add this, alternating with plant-based milk, until you have a nice dough.
Liberally flour your working surface. Take about half of the dough and roll it out about 1/8-inch thick. Use a 2-1/2 inch round biscuit cutter to cut the dough into circles.
Add about 1/2-1 teaspoon of cooled date mixture onto each round. Use a thin spatula to lift the cut dough and then fold it in half to completely encase the filling. Press the edges closed with your fingers and place on a baking tray lined with parchment or a silicone baking sheet. The cookies don't spread, so you can place them fairly close together on the tray.
Incorporate the scrap dough back into the remaining dough and repeat rolling, cutting, filling, and folding. If the scrap dough gets a bit dry from being rolled out with flour, simply knead in a tablespoon or so of plant-based milk to moisten it back up before rolling it out again. You'll get about 5-6 dozen cookies out of this dough.
Bake at 350˚F for about 8 minutes until they are just barely brown. This is important, you don't want to overbake these and baking them to a normal golden brown is too much. You want these cookies to be soft, so just a little brown starting to appear on the edges is perfect.
The bottom of the cookie should look like this:
Remove to a rack to cool before packing into a cookie tin or sealed container. The cookies will soften up a bit in the cookie tin, which is exactly what you want!
These freeze really well, so make them ahead of the holidays as a big time saver!
As a kid, my grandma had a bread and cookie drawer in her kitchen. One of my favorite things on the planet was opening this special drawer to smell the delicious aroma of freshly baked cookies, breads, and pastries. The cookie and bread drawer was only at Grandma's, no one else ever had one. When we went zero waste and I wasn't sure how to store our baked goods without plastic, my mind raced back to the cookie drawer and I created one of my own in my kitchen. You can install a sliding cover on your drawer to help keep the contents fresh, even unwrapped breads. Maybe Alan's grandkids will have a memory of our cookie drawer someday…
So there you have it, one of my favorite childhood cookies, Trilby's, veganized! They are super special, delicious, and worth making. Maybe they'll become one of your winter holiday favorites too!
Had you ever heard of Trilby's before? I'm curious how popular they were outside of our family!
Enjoy, and don't forget my new giveaway!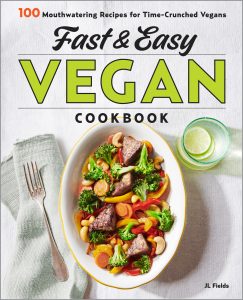 I'll draw one winner August 21, 2019 for JL Fields' new Fast & Easy Vegan Cookbook, before you can even buy it online or in stores!
You want this cookbook! It brings a new selection of fresh meals to your table, pronto! From one-pot to pressure cooker, choose your favorite cooking method―without being held hostage for hours in your kitchen. It includes 100 quick and tasty vegan recipes, plus tips for ingredient substitution and other easy customizations, and handy labels for gluten-free, nut-free, oil-free, or soy-free diets.
So hurry and enter by August 20th. Open to U.S. residents only.
JL Fields Fast and Easy Cookbook Giveaway
You can also pre-order the book or order it after the contest is over on Amazon.
Trilby's
Filled with gooey, sweet dates, this oatmeal cookie will soon become one of your family's favorites. This was always the cookie we set out for Santa with a glass of milk and some carrots for the reindeer! I swapped out the original shortening and dairy milk to make them refined oil-free and vegan. Enjoy!
Ingredients
Date Filling
1

lb

dates

pitted and chopped. May substitute raisins and nuts, if desired.

1

cup

sugar

½

cup

water
Cookie Dough
1

cup

sugar

1

cup

coconut butter

1

tbsp

boiling water

¾

cup

plant milk

plus extra when rolling out dough

2

cups

Instant Oatmeal

2

cups

All-Purpose Flour

1

tsp

baking soda

1

tsp

salt

1

tsp

ground cinnamon
Instructions
Preheat oven to 350°F. Line two cookie sheets with a silicone baking mat or parchment paper.
Make Date Filling
Combine the dates, sugar, and water in a saucepan and boil until thick. Add a little more water if it gets too thick. Let cool.
Make Cookie Dough
Cream together coconut butter and sugar. Add a tablespoon of boiling water if mixture is crumbly instead of creamy.

Mix together dry ingredients.

Alternate adding dry mixture and milk, mix until dough forms.
Roll and Fill Cookies
Roll out dough on well-floured surface to 1/8-inch thick. Cut into rounds with a 2½ inch round biscuit cutter.

Add a mound of date filling, about ½-1 teaspoonful, to each cut round. Fold the round in half over the filling to form a crescent shape. Pinch edges together and place on cookie sheet.
Bake
Bake at 350°F in center of oven, 8-10 minutes until barely brown. Do not brown these cookies, you want them to still be soft.

Put in cookie tin or other sealed container after cool.
Notes
These cookies will soften in a cookie tin or sealed container, which is exactly what you want! 
Trilby's freeze great, so make a bunch ahead of time to cross one thing off of your winter holiday to-do list.
Do you like this post?  Please share....

If you liked this post, you might like one of these:
[Trī-māz-ing]
Cindy wants you to be Trimazing—three times better than amazing! After improving her health and fitness through plant-based nutrition, losing 60 pounds and becoming an adult-onset athlete, she retired from her 20-year firefighting career to help people just like you. She works with people and organizations so they can reach their health and wellness goals.
Cindy Thompson is a certified Health Coach, Vegan Lifestyle Coach and Educator, Fitness Nutrition Specialist, and Firefighter Peer Fitness Trainer. She is a Food for Life Instructor with the Physicians Committee for Responsible Medicine and Rouxbe Plant-Based Professional, and Harvard Medical School Culinary Coach, teaching people how to prepare delicious, satisfying, and health-promoting meals.
She provides health and lifestyle coaching at Trimazing! Health & Lifestyle Coaching. Cindy can be reached at info@trimazing.com.
Subscribe to the Trimazing Blog
Receive occasional blog posts in your email inbox.
Subscribe to the Trimazing Blog
Receive occasional blog posts in your email inbox.