In the Room Where it Happens—Trimazing! Kitchen Tour
Welcome to Day 2 of VeganMoFo 2019 and welcome to my kitchen! Come on in, grab a cup of coffee or tea, whichever you prefer, and let me show you around. This is something I'd never considered doing before, a virtual tour of my kitchen, but what a great idea from VeganMoFo!
We moved into the Lakehouse three years ago from the condo that Alan'd lived in for the past decade. His condo had a beautiful kitchen that he'd remodeled with granite counters, island, and upgraded commercial appliances. I really liked that kitchen, so when we started looking for a new place, I was pretty particular and didn't want to downgrade much, and I really didn't want to have to do a kitchen remodel. So we were really pleased that this house had this lovely kitchen with the granite countertops and island.
I do like the layout and love having the island for more work space. Unlike our condo island, this one has an outlet, so I can use the Vitamix or Instant Pot with ample room. When we moved in, the microwave was in a cabinet next to the refrigerator, which meant you had to open the cabinet to use it—not convenient at all—so we moved it between the sink and the stove. We had a microwave drawer in our condo island, which I loved, as you gain back so much counter space. Someday we'll probably remodel the island and put one in here, as well as extend the island toward the family room for more seating. I do wish that the upper cabinets went all the way to the ceiling for more storage.
By the way, if you've ever noticed that my photos sometimes have a slightly red hue to them, it's because of the pendant lights over the island. We installed those because we thought the red mercury glass would bring out the red accents and stainless steel of the appliances, but didn't realize what an impact they would have in photo quality! So now you know. I try to adjust my photos accordingly and am looking into future photo lighting options. But, in a lot of ways, I just don't worry about it too much, the imperfection makes it more real and relate-able, I think.
Pantry
We do have an awesome walk-in pantry! It's a little funky-shaped to accommodate the stairs, but it's the biggest kitchen pantry I've ever had. The shelving was existing and we have our cabinet guy working on a new built-in shelving configuration that will be much sturdier, have adjustable shelves, an extended spice rack (on the left side), place for my stand mixer, jar storage, and what I'm calling a "fermentation station" for all the crocks and jars in the back corner, getting them up off of the floor. These wire shelves are really strained under the weight of all my jars and I live in fear of waking up in the middle of the night hearing the whole thing crashing down. In fact, we had a 4.7 magnitude earthquake last month, the first one we've had since moving here, and I was certain that was going to happen, fortunately it survived and nothing fell.
During last year's VeganMoFo, I posted all about what I have in my pantry, so I'm not going to do that this year. Please go check out Zero Waste Vegan Pantry, Part 1 and Zero Waste Vegan Pantry, Part 2 for all the details of what's in here.
Appliances
While I love the layout of the kitchen, I did not like the appliances. Alan treated me to a brand new gas range and refrigerator, and we swapped the dishwasher we loved at our condo with what was here. We gave the existing range and refrigerator to Alan's kids, who love them! And by the way, if you're looking for a great kitchen appliance shop in East King County, you can do no better than Frederick's Appliance Center in Redmond, Washington—they're awesome!
Range
I really wanted a commercial-quality gas range, one that was completely cast iron on the top and that you could completely disassemble to clean. Years and years ago, in my first house, I purchased a DCS gas range which was exactly that, and it was amazingly easy to maintain, but DCS was absorbed by Fisher & Paykel and they've changed the configuration. However, we discovered Blue Star professional ranges at Frederick's and they had everything I wanted. The burner grates are removable so you can set a wok right into the top without needing a wok ring, which is awesome for high heat wok cooking! All burners are high BTU and one is a simmer burner that you can turn down very low for long simmering. And the entire cast iron top comes off so you can scrub the pieces clean in the sink. There's a slide-out just above the oven with removable drip trays you can remove to clean as well. The oven is gas with convection, if you want. It isn't self-cleaning, but it's not necessary because the whole bottom of the oven is removable so you can clean it in the sink! It's a giant erector set and I love that!
I hate the hood that came with the house and it's been on my list of things to replace, but I've just not gotten to it.  The light bulbs are halogen, get super broiling hot and are extremely difficult to remove to replace, so we only turn them on when we need them. And really, it works, so there's no reason to be in a rush to replace it, but some day…
Refrigerator
The refrigerator is a Fisher and Paykel. I chose this one because it was cabinet depth, giving more space to walk around the island, only had water in the door (no ice), and extra produce drawers. I love having filtered water in the refrigerator, I find we drink more water that way, but I hate how in-door ice makers take up so much real estate in the inside of the fridge. This model has an ice maker in the bottom freezer and will even fill up the top freezer bins full of ice, way more than a fridge door, which is great during parties.
Dishwasher
Finally, the dishwasher! This is the best dishwasher EVER! After I met Alan and used this dishwasher at his condo, I bought one of these Fisher & Paykel 2-Drawer Dishwashers for myself and installed it in my house (and my mom did the same thing after saw the one at MY house). Since there's only two of us, it's great to be able to run smaller loads, otherwise the dirty dishes could sit up to a week before we had a full load. They are super quiet and dry with compression, meaning there's no heating element, it uses the residual heat from washing to dry the dishes. The only thing I don't like is that it's hard to tell whether the unit's run or not (newer models have an indicator light), so I added the little dirty/clean slider magnets to the front. And, if you ever need an AWESOME appliance installer/repair person in East King County or Snohomish County, Washington, please get a hold of Echo at E&T After Hour Repair—he swapped out the dishwashers between the Lakehouse and the condo, as well as installed/repaired other appliances for us over the years, and there's seriously nobody better!
Kitchen Garden/Outdoor Grilling Area
I love having a deck right off the kitchen! We have our BBQ grill out there and my kitchen garden. The gutter garden, which I discussed in In the Gutter—Vertical Gardening, has strawberries, lettuces, and herb. I recently picked up the Garden Tower 2 (the orange planter on the left) from someone in a local Facebook group and I'm trying it out for herbs, greens, and tomatoes. I'm excited that the Garden Tower 2 is also a worm composting tower, so I have an easy access worm bin and not have to go all the way out to my big worm bin during the rainy Pacific NW winters. I'll be writing about my experience with the Garden Tower 2 as I only just recently got it. I also have a planter of mint so it's all contained and not spreading all over my garden! This kitchen garden is just perfect for summer morning coffee! We're planning on replacing the deck boards next summer, but for now, it's rustic!
Dining Room
We have a formal dining room right off the kitchen. I love this space as it's so full of light and looks out to the lake. Alan and I do eat in here quite often, in addition to the eating bar on the kitchen island. There's room to extend the table to its full 10 feet, which we need for our large family! We set up a kids table in the adjacent music area or in the great room.
My View
It's nice to have an open concept great room. I don't watch a lot of television while I'm cooking, but it is nice if there's a game on to be able to watch it if I'm prepping stuff. And you can imagine smiling faces of grandkids sitting in those counter chairs, gobbling down fluffy blueberry pancakes in the morning after spending the night with Grandpa and Cindy at the Lakehouse—that's the BEST!
So now you can picture the scene behind the pictures—the room where it happens!
Stay tuned for tomorrow for some Trimazing! cookies from this kitchen! And don't forget my new giveaway!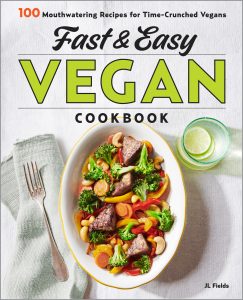 I'll draw one winner August 21, 2019 for JL Fields' new Fast & Easy Vegan Cookbook, before you can even buy it online or in stores!
You want this cookbook! It brings a new selection of fresh meals to your table, pronto! From one-pot to pressure cooker, choose your favorite cooking method―without being held hostage for hours in your kitchen. It includes 100 quick and tasty vegan recipes, plus tips for ingredient substitution and other easy customizations, and handy labels for gluten-free, nut-free, oil-free, or soy-free diets.
So hurry and enter by August 20th. Open to U.S. residents only.
JL Fields Fast and Easy Cookbook Giveaway
You can also pre-order the book or order it after the contest is over on Amazon.
Do you like this post?  Please share....

If you liked this post, you might like one of these:
[Trī-māz-ing]
Cindy wants you to be Trimazing—three times better than amazing! After improving her health and fitness through plant-based nutrition, losing 60 pounds and becoming an adult-onset athlete, she retired from her 20-year firefighting career to help people just like you. She works with people and organizations so they can reach their health and wellness goals.
Cindy Thompson is a national board-certified Health and Wellness Coach, Lifestyle Medicine Coach, Master Vegan Lifestyle Coach and Educator, Fitness Nutrition Specialist, Behavior Change Specialist, and Fit2Thrive Firefighter Peer Fitness Trainer. She is a Food for Life Instructor with the Physicians Committee for Responsible Medicine, Rouxbe Plant-Based Professional, and Harvard Medical School Culinary Coach, teaching people how to prepare delicious, satisfying, and health-promoting meals.
She provides health and lifestyle coaching at Trimazing! Health & Lifestyle Coaching. Cindy can be reached at info@trimazing.com.
Subscribe to the Trimazing Blog
Receive occasional blog posts in your email inbox.
Subscribe to the Trimazing Blog
Receive occasional blog posts in your email inbox.