What a Jerk! BBQ Jerked Jackfruit Sliders
Before I went vegan 10 years ago, one of my favorite things was jerked chicken. There's just something magical about the spicy combination of  allspice, cinnamon, vinegar, onions, habaneros, and brown sugar! One of my fellow firefighters, Tiffanie Rost, used to make the BEST jerked chicken at the firehouse, in fact, she was the one who introduced me to Caribbean jerk. Her recipe was an adaptation of one by
Emeril Lagasse
and she was generous enough to share it with us so we could make it even when she wasn't working!
Allspice is the characteristic flavor in Caribbean jerk. This flavor originally came from cooking meat over pimento (allspice) wood fires, a process developed by the indiginous Taínos of Jamaica. Runaway slaves, called Maroons, added hot Scotch bonnets to the mix. This recipe uses ground allspice and habaneros to develop the characteristic jerk flavor.
It was so good—but then I became vegan and didn't make it anymore.
Until now! Because I've discovered young green jackfruit, and it's perfect for making jerk!
What is Jackfruit?
Jackfruit is a tropical fruit related to durian, mulberry, okra, and figs and originated in SW India. It's found in the tropics and subtropical areas including Phillipines, Thailand, Malaysia, Africa, Brazil, Florida, Hawaii, and Australia and is the national fruit of Bangladesh and Sri Lanka! It is the largest tree fruit in the world and very prolific—one jackfruit tree can produce 100-200 fruits per year. Ripe jackfruits can weigh up to 100 pounds each and be 3 feet long, although most are 10-25 pounds each. As it is related to durian, ripe jackfruit can have a similar unpleasant odor when uncut, but when cut, people say smells and tastes like juicyfruit gum! When green and unripe, jackfruit is flavorless and stringy, making it a great meat replacement.
You can find jackfruit in many Asian markets and even regular grocery stores now. I've seen my local Safeway selling whole and halved ripe jackfruit in the produce section. However, these jackfruit are ripe and sweet, generally not the young, green jackfruit that you want as a meat-substitute.
Whole jackfruits are fairly difficult to cut as they are large, spiky, and extremely sticky inside. Fortunately, you can find canned young green jackfruit at many stores. I've been able to find cans of jackfruit at Asian markets in the canned fruit aisle, in regular grocery stores with the Asian foods, and Trader Joe's carries it in their canned vegetable section. You and also find it online through Amazon.
In any case, for this recipe you want to make sure you're buying young green jackfruit in brine and not sweet, ripe jackfruit in syrup.
1/2 cup of canned green jackfruit in brine contains:
25 calories
No protein
Total lipid (fat) 0.89g
Carbohydrate 6g
Fiber 3g
Sugar 1.79g
Iron 0.3mg
Sodium 161mg
Potassium 101mg
No Cholesterol
Jerked Jackfruit Sliders
The canned green jackfruit is in chunks in brine. Pour the contents into a colander and rinse well with fresh water. You'll notice there is a somewhat hard core, some yellowish soft round seeds, and stringy outer section. This is all normal and it's all edible.
After rinsing, I take a couple of pieces in my hands at a time and squeeze out any remaining brine. I don't think the brine is all that tasty and I want the jackfruit drier so that it will absorb any flavors I put with it. It also breaks the pieces up. If you have a lot of jackfruit to squeeze, you can put them all into a towel, roll it up, and wring the towel with the pieces inside over the sink—this is what I do if I am making a large amount of jerked jackfruit for a party.
The cores may not break apart, so I put the squeezed jackfruit on a cutting board and roughly chop it all into bite-sized pieces. It really looks like pulled pork or chicken, doesn't it?
Set the jackfruit aside and prepare the marinade.
This marinade uses habanero peppers, a very hot orange pepper. It was the hottest pepper until ghost and Trinadad moruga Scorpian peppers were cultivated, and is often mistakenly called a Scotch Bonnet, which is a similar pepper. Habaneros are about 140 times hotter than a mild jalapeno pepper, so it doesn't take much!
You can find habaneros at most grocery stores. Pick ones that are firm and bright, not wrinkled, mushy, or starting to brown. To prepare these for the marinade, cut off the tops and carefully cut out the seeds and membranes and discard them. The membranes and seeds hold a lot of the heat while the flesh holds pepper flavor. Don't run the pepper discards in your garbage disposal or you'll fill your kitchen and house with pepper spray (we had a firefighter do this in a station one time and we had to evacuate the building and air it out before we could stand to be inside again!) and don't put these in your worm bin as it will burn their tender skin. You can wear gloves when cutting these, but if you don't, take care not to touch your eyes, mucous membranes, or other sensitive areas for a while!
The marinade uses two whole seeded and deveined habaneros. This may seem like a lot, but it actually cooks up pretty mild. If you want it hotter, keep some of the membranes and seeds intact or add additional habaneros. I love hot and spicy foods, but Alan is extremely sensitive to it (he orders Thai food with negative-10 stars and it's still too spicy for him), so I keep it to the two trimmed habaneros for him.
Blend the marinade ingredients until smooth. It doesn't look that great, but it is full of flavor and great aroma from the scallions, cinnamon, bay leaf, allspice, garlic, etc. Reserve two tablespoons of this marinade for your BBQ sauce and pour the rest over the jackfruit and mix well.
Spread the marinated jackfruit on baking sheets lined with silicone baking sheets. You want some space between the pieces so they can brown a little bit on the edges rather than steam.
Bake at 350˚F for 20 minutes, flip the pieces over, rotate the pans, and bake 20 minutes more. Your house will smell amazing!
While the jackfruit is baking, make the BBQ sauce.
This sauce really is awesome, so don't skip out on it! If you are in a hurry, there are some commercially-made jerk bbq sauces, but this is so delicious and easy to make that it's well worth doing. You'll use the reserved jerk marinade in this sauce. Let it simmer with the lid on (it will splatter all over if left uncovered) until it is thick and cooked down.
Thinly shave some purple and green cabbage for coleslaw when serving. I like to use my Borner V-slicer mandolin for this, as it makes perfectly thin cabbage shavings. Mix in some vegan mayo and set aside.
Pull the baked jackfruit out, pour into a large bowl and add about half of the BBQ sauce. Mix well. Add enough sauce to be saucy but keep some to serve on the side.
To serve, toast the buns, either small slider size or full sandwich buns. Spread with some vegan mayo of choice, add your sauced Jerked Jackfruit, top with coleslaw, and put the top bun on. Serve with more Jerk BBQ sauce and your favorite sides.
This sandwich will make your mouth do a happy dance! It is just so good! I love to serve it for parties because I can make it ahead and then reheat with more sauce in a crockpot, so it's perfect for BBQs, potlucks, or on game day. It also makes the house smell divine and draws everyone to it with it's delicious allspice and cinnamon.
It freezes great too! In fact, I have some extra in our freezer right now that I've been promising Alan I'd make into Jerked Jack Tamales and he's been hounding me for some! Use it in burritos, enchiladas, or just serve over rice.
What a Jerk!
And don't forget to enter…there's less than a week left to enter to win…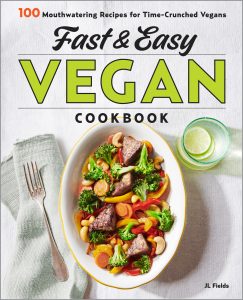 I'll draw one winner August 21, 2019 for JL Fields' new Fast & Easy Vegan Cookbook, before you can even buy it online or in stores!
You want this cookbook! It brings a new selection of fresh meals to your table, pronto! From one-pot to pressure cooker, choose your favorite cooking method―without being held hostage for hours in your kitchen. It includes 100 quick and tasty vegan recipes, plus tips for ingredient substitution and other easy customizations, and handy labels for gluten-free, nut-free, oil-free, or soy-free diets.
So hurry and enter by August 20th. Open to U.S. residents only.
JL Fields Fast and Easy Cookbook Giveaway
Jerked Jackfruit BBQ Sliders
This recipe is a vegan adaptation of Jerked Chicken, a recipe I got from fellow firefighter, Tiffanie Andrews (she adapted it from Emeril Lagasse). It is absolutely the best and great for BBQs, potlucks, and game day. You will dream about these sliders!
Ingredients
4

20 oz. cans

Young Green Jackfruit in Brine

NOT ripe Jackfruit in syrup!
Jerk Marinade
1

tsp

apple cider vinegar

1-1/2

bunches

scallions

chopped

2

habaneros

or more, however hot you want it, seeded and minced

2

tbsp

soy sauce

1

lime

juiced

5

tsp

ground allspice

1/2

tsp

ground cloves

2

bay leaves

6

cloves

garlic

minced

2

tsp

date or coconut sugar

1

tsp

cinnamon
Jamaican BBQ Sauce
1 1/4

cup

ketchup

Use Forks Over Knives ketchup recipe to keep it WFPBNO (whole food plant-based no oil)

1/3

cup

soy sauce

2

tbsp

jerk marinade

1/2

bunch

scallions

minced

3

cloves

garlic

minced

3

tbsp

fresh ginger

minced

1/3

cup

coconut, date, or brown sugar

brown sugar is traditional in Jamaican Jerk but coconut or date sugar works perfectly!

1/3

cup

apple cider vinegar
8

whole wheat slider buns

or 4 large buns, use gluten-free if sensitive
Instructions
Preheat oven to 350˚F. Line two sheet trays with parchment or silicone baking sheets.
Prepare Jackfruit
Drain and rinse the jackfruit pieces in a colander. Squeeze each piece by hand to remove all the brine and then chop into small bite-sized pieces.
Make Marinade
In food processor combine vinegar, scallions, habanero(s), soy sauce, lime juice, allspice, cloves, bay leaves, garlic, sugar and cinnamon.

Reserve 2 tbsp of jerk marinade for the BBQ sauce.
Bake Jackfruit
Place jackfruit pieces in a bowl and mix marinade evenly.

Pour onto the two prepared sheet trays and bake for about 40 minutes, flipping pieces halfway through, or until jackfruit starts to brown.
Make Jamaican BBQ Sauce
While jackfruit is baking, mix Jamaican BBQ Sauce ingredients in a non-reactive saucepan and bring to a boil, stirring to dissolve the date or coconut sugar. Reduce heat and simmer until the sauce is thick and sticks to a spoon (Let this go on for quite awhile as it makes the flavors blend nicely).

When jackfruit is done baking, mix in desired amount of BBQ sauce. Keep sauced jackfruit hot.
Make Coleslaw
Dress the shredded cabbage with desired amount of mayo just prior to serving to prevent slaw from becoming soggy.
Assemble Sandwiches
Serve Jerked Jack on buns dressed with a little mayo and top with coleslaw.
Notes
You can find cans of young green jackfruit at Trader Joes, most Asian grocery stores or on Amazon.
If you liked this post, you might like one of these:
[Trī-māz-ing]
Cindy wants you to be Trimazing—three times better than amazing! After improving her health and fitness through plant-based nutrition, losing 60 pounds and becoming an adult-onset athlete, she retired from her 20-year firefighting career to help people just like you. She works with people and organizations so they can reach their health and wellness goals.
Cindy Thompson is a certified Health Coach, Vegan Lifestyle Coach and Educator, Fitness Nutrition Specialist, and Firefighter Peer Fitness Trainer. She is a Food for Life Instructor with the Physicians Committee for Responsible Medicine and Rouxbe Plant-Based Professional, and Harvard Medical School Culinary Coach, teaching people how to prepare delicious, satisfying, and health-promoting meals.
She provides health and lifestyle coaching at Trimazing! Health & Lifestyle Coaching. Cindy can be reached at info@trimazing.com.
Do you like this post?  Please share....

Subscribe to the Trimazing Blog
Receive occasional blog posts in your email inbox.
Subscribe to the Trimazing Blog
Receive occasional blog posts in your email inbox.