Alan's Tears—Featured Cocktail at the Lakehouse
Alan doesn't do spicy. I, on the other hand, adore hot, spicy foods, especially cocktails. Whenever we go out, I scan the drink menu for a spicy cocktail to try. Even though Alan can't handle spicy, for some reason, he always has to try a sip, which makes him whine and cry!
When we were dating, we went to Gregory Gourdet's (of Top Chef Session 12 fame) Departure Restaurant in Portland (my favorite restaurant), for drinks. They used to serve a Thai chile-infused ginger beer drink called a Tacho Macho and Alan insisted on trying it. Alan picked up the drink, took a big sip, burned his mouth, and in his haste to get the glass out of his hands, spilled the entire drink all over the bar—I hadn't even had a taste of it yet! The bartender generously made me another one, laughing at Alan who was holding his mouth and whimpering in the seat next to me! He's never learned his lesson, and still insists on trying a sip of my spicy drink—I just no longer let him pick the glass up off the bar top anymore!
Alan's Tears, inspired by Alan's reaction to spicy cocktails, is basically a spicy Paloma, a refreshing Mexican cocktail made with tequila, grapefruit and lime juices, sugar syrup, and sparkling water. However, I recently discovered chile-infused vodka, and have been making Alan's Tears with this. Chile vodka is very simple to make and is a great way to use up leftover or aging chilies. Simply slice the chilies, jalapeno, habanero, serrano, etc., place in a quart mason jar, and cover with vodka. You can also add the core, seeds, membrane, and stem end of bell peppers to this as well, which is a great use of what would otherwise be wasted. Put the lid on it and let the peppers infuse in the vodka at least a couple of days or up to a week, depending on the heat of your chilies and the level of spiciness you want. Take a taste every day or so to see where it's at. Once your happy with it, strain out the solids and store in a glass bottle. You can also infuse tequila with peppers using the same technique.
It's completely up to you if you want to use tequila, vodka, pepper-infused vodka, or pepper-infused tequila in this drink.
How to Make Alan's Tears
Here's the ingredients for making Alan's Tears:
Tequila, Vodka, or Pepper Infused Tequila or Vodka, your choice
St. Germain or other Elderflower Liqueur
Sanpellegrino Pompelmo Sparkling Fruit Beverage (most grocery stores carry this)
Hot peppers of choice, I like jalapenos and habaneros, but you can use serranos, Thai chilies, etc.
Ice
Tools needed:
Cutting board and knife
Cocktail jigger or other cocktail measuring device
Cocktail shaker
Cocktail strainer, if your shaker doesn't have one built-in
Collins or other tall drink glass
Cut the peppers into slices and put into your cocktail shaker. I do about three nice slices of jalapeno and a couple slices of habanero. Add tequila or vodka of choice, St. Germain, and ice, then muddle well to break up the peppers.
Lid the cocktail shaker and shake vigorously.
Strain the muddled and shaken mixture over ice in a Collins glass.
Top the glass off with chilled Sanpellegrino Pompelmo Sparkling Fruit Beverage and stir.
Garnish with slices of pepper used in the cocktail and enjoy!
If you can't find the Sanpellegrino Pompelmo, you can make this with grapefruit soda or grapefruit juice, some simple syrup, and sparkling water as a substitute, which would be equally delicious.
If you like a spicy drink, give these a try! And make some hot pepper infused vodka too, as it is wonderful in Alan's Tears as well as Bloody Mary's with Vegan Worcestershire Sauce and Tomato Juice.
Only TWO DAYS left to enter to win…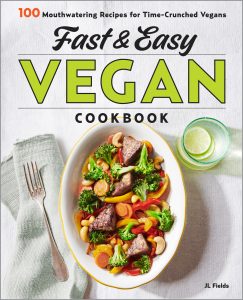 I'll draw one winner August 21, 2019 for JL Fields' new Fast & Easy Vegan Cookbook, before you can even buy it online or in stores!
You want this cookbook! It brings a new selection of fresh meals to your table, pronto! From one-pot to pressure cooker, choose your favorite cooking method―without being held hostage for hours in your kitchen. It includes 100 quick and tasty vegan recipes, plus tips for ingredient substitution and other easy customizations, and handy labels for gluten-free, nut-free, oil-free, or soy-free diets.
So hurry and enter by August 20th. Open to U.S. residents only.
JL Fields Fast and Easy Cookbook Giveaway
Alan's Tears Cocktail
Inspired by Alan's inability to handle hot peppery drinks, this spicy, sweet, citrusy cocktail is a featured drink here at the Lakehouse. We serve them up all summer long for drinks on the deck. Use as little or as much fresh hot pepper to suit your, or your guests, taste. They'll be a popular drink at your house too!
Instructions
Combine vodka or tequila and St. Germain in a cocktail shaker with hot pepper slices, to taste. Muddle well.

Strain into a Collins or other tall glass with ice.

Garnish with a slice of hot pepper.
Notes
The amount and type of hot peppers you use will depend on the heat of your peppers and the tolerance of your tastebuds!
Do you like this post?  Please share....

If you liked this post, you might like one of these:
[Trī-māz-ing]
Cindy wants you to be Trimazing—three times better than amazing! After improving her health and fitness through plant-based nutrition, losing 60 pounds and becoming an adult-onset athlete, she retired from her 20-year firefighting career to help people just like you. She works with people and organizations so they can reach their health and wellness goals.
Cindy Thompson is a certified Health Coach, Vegan Lifestyle Coach and Educator, Fitness Nutrition Specialist, and Firefighter Peer Fitness Trainer. She is a Food for Life Instructor with the Physicians Committee for Responsible Medicine and Rouxbe Plant-Based Professional, and Harvard Medical School Culinary Coach, teaching people how to prepare delicious, satisfying, and health-promoting meals.
She provides health and lifestyle coaching at Trimazing! Health & Lifestyle Coaching. Cindy can be reached at info@trimazing.com.
Subscribe to the Trimazing Blog
Receive occasional blog posts in your email inbox.
Subscribe to the Trimazing Blog
Receive occasional blog posts in your email inbox.