I Was Addicted to Cheese—Recipe for Trimazing! Mac and Cheeze
When I first announced that I was going vegan, everyone I knew said the same thing, "You can't be vegan, you're
addicted to cheese
!" Isn't that telling? Absolutely 
everyone
had the same response. And it was true. I had said this for years. I just felt that it was an addiction, and it wasn't until years later that I found out I was right!
Here is how bad my addiction was:
I put cheese on everything. I didn't like eggs at all growing up, but I could tolerate the family Sunday scrambled eggs or omelette breakfast if I piled so much cheddar cheese on them they only tasted like cheese.
I lived on toasted cheese sandwiches, even being so lazy that I wouldn't grill the sandwich, I'd just pop some bread in the toaster and pile cups and cups of grated cheese between the slices of toast—it wasn't even melted.
I made nachos without the chips. That is, I'd pop a plate of grated cheese into the microwave and eat the pile of melted cheese with a fork.
I was a single girl but could go through a 1-pound block of cheddar in one week flat!
When I couldn't sleep or just woke up in the middle of the night and couldn't get back to sleep, which was often, especially at the the fire station, I'd go to the refrigerator and cut a slice of cheese to eat and then I could fall asleep. I woke up countless times with a slice of stale cheese with one bite out of it on my pillow next to my face…like a junkie passed out with a needle in their arm.
It was bad. And everybody knew it.
So when I went vegan I knew I had to go 100% cold tofu. There was no way I could ease off cheese. I just simply denied myself cheese. And it was hard, I'm not going to lie. I had a week or so of sleepless nights…and then, magically, I didn't need that cheese anymore. After about a month I woke up one morning and realized that my shoulder joints no longer hurt every morning like they'd always done, and that I wasn't all stuffed up in the morning anymore. Hmmm.
And I no longer craved cheese. On anything, even a pillow.
It wasn't until years later that I discovered that cheese really can be addictive, like heroin or other opioids! Cheese contains high amounts of the protein casein which is concentrated during the cheese making process. Casein is an interesting protein in that rather than breaking down into its individual amino acids during your digestive process, like most proteins, it tends to break into smaller chain fragments called casomorphins. See that bit in there, morphins? That's no accident, casomorphins are morphine-like compounds that stimulate the same receptors in your brain that narcotics do! In fact, researchers have found that administering naloxone, the drug used to reverse heroin and other narcotic overdoses, can reduce the urge of binge-eating high-casein foods, like cheese and chocolate, (Naloxone, an opiate blocker, reduces the consumption of sweet high-fat foods in obese and lean female binge eaters, The American Journal of Clinical Nutrition, Volume 61, Issue 6, June 1995). This study blew my mind, since I had adminstered gallons of naloxone (Narcan) in narcotic overdose patients during my firefighter/paramedic career! All dairy products contain casein. What makes cheese so much more addictive is that it contains such high concentrations of casein (cheddar cheese contains 7 times more casein than milk).
But casein is not the only issue in dairy and cheese. Cheese is full of fat, in particular saturated fat, and cholesterol, both of which raise blood cholesterol after human consumption. A 2 oz. slice of cheese has the fat equivalent of eight slices of bacon—and who just eats 2 ounces of cheese? And, because milk can only come from pregnant or postpartum mammals, it is naturally full of hormones, whether or not the carton says it is "artificial hormone-free." These hormones include estrogen as part of the female cow's reproductive cycle, and growth hormones, present to help a baby cow grow from a 65-pound calf into a 700 pound cow! No wonder I had a weight problem! Cheese is also loaded with sodium.
To this day, ten years later, I no longer crave cheese. In fact, I don't even desire vegan cheeses. There were very few cheese analog options when I first went vegan, and I learned to enjoy foods without cheese. I love pizza without cheese, something my fire crew would call Pizza without the Pizza, and other things that I used to cover with cheese. Commercially-produced vegan cheeses are highly processed, full of oil and salt, come in plastic packaging, and really isn't a health food, despite being a vegan product; so I avoid them and recommend that my clients do the same. It can be a once-and-a-while treat, but swapping a diet high in vegan cheese to eliminate high dairy cheese consumption can be swapping one problem for another.
But you can make whole food plant-based cheeze without the oil and plastic packaging. One of Alan's favorite dishes is my Trimazing! Mac and Cheeze made with the same creamy base as my vegan queso in the Nacho Mama's Layered Dip. It's quick, easy, and satisfying, so good, in fact, that you can serve it to non-vegans and they will have no idea there's no dairy cheese in it! The sauce uses the goodness of cashews for a luscious creaminess, along with nutritional yeast and tomato for the cheesy taste and color. But don't forget to top the mac with the seasoned bread crumbs—that might be the best part! The crumbs replace the crushed potato chips that my mom and grandma used to top their mac and cheese with, and make the top crunchy and extra savory.
Kicking cheese can be a daunting idea for many people changing to a vegan or plant-based diet. I can completely relate! If you'd like more information on the issues with dairy cheese, here are some great resources for further reading:
The Cheese Trap: How Breaking a Surprising Addiction Will Help You Lose Weight, Gain Energy, and Get Healthy, by Neal Barnard, MD
Cheese Resources from NutritionFacts.org
Cheese Information from Physicians Committee for Responsible Medicine
Can you relate to my struggle with cheese? Give these resources a read and try my Mac and Cheeze recipe. I think you'll find kicking the cheese habit will be easier than you fear.
And don't forget to enter…only a few days left to enter to win…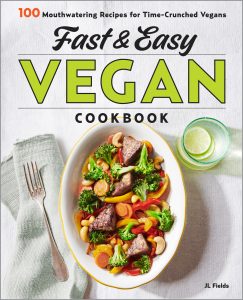 I'll draw one winner August 21, 2019 for JL Fields' new Fast & Easy Vegan Cookbook, before you can even buy it online or in stores!
You want this cookbook! It brings a new selection of fresh meals to your table, pronto! From one-pot to pressure cooker, choose your favorite cooking method―without being held hostage for hours in your kitchen. It includes 100 quick and tasty vegan recipes, plus tips for ingredient substitution and other easy customizations, and handy labels for gluten-free, nut-free, oil-free, or soy-free diets.
So hurry and enter by August 20th. Open to U.S. residents only.
JL Fields Fast and Easy Cookbook Giveaway
Trimazing! Mac and Cheeze
This creamy, cheesy Mac and Cheeze is the BEST! And best of all, it's a snap to make! You won't miss the cheese, and neither will your family. Don't skip the crunchy topping, it's the best part!
Ingredients
Cheeze Sauce
1

cup

raw cashews

or old-fashioned oats for nut-free lower fat version

2

cups

vegetable stock

1

cup

water

6

Tablespoons

cornstarch

½

cup

nutritional yeast

2

Tablespoons

lemon juice

2

teaspoon

salt

4

oz

tomato paste

2

cloves

garlic
Seasoned Bread Crumbs
2

cups

whole wheat bread crumbs

use gluten-free or omit if gluten-sensitive

2

tbsp

nutritional yeast

1

tsp

smoked paprika

½

tsp

garlic powder or granules

½

tsp

sea salt
Pasta
4

cups

dry whole grain macaroni pasta

or other shape, us gluten-free if sensitive
Instructions
Make Cheeze Sauce
If you have a high speed blender (Vitamix or other): Add all of the sauce ingredients into the blender and bring to high speed until smooth. Keep the blender running on high until the sauce gets steamy and thick, about 5 minutes. You'll see the consistency change and hear the sound of the blender change when the sauce thickens.

If you do not have a high speed blender: Soak the cashews in warm water about an hour, then drain. Add all of the sauce ingredients into a blender (including new water from the ingredients list) and bring to high speed until smooth and creamy. Pour this into a saucepan and bring to a boil and simmer until thick. Or just use old-fashioned oats.
Make Seasoned Bread Crumbs
Combine the seasoned bread crumb ingredients into a small bowl and set aside.
Cook Pasta and Toss with Cheeze Sauce
Mix cooked pasta and cheeze sauce in a large bowl. Toss well until well-coated and then transfer to a casserole dish or baking pan.
Top with Seasoned Crumbs and Bake
Bake, uncovered, in your preheated 350°F oven for 20 minutes.

Remove from oven. Let cool for 10 minutes. Spoon into bowls. Devour.
Notes
Here are some fun options for your Mac and Cheeze. Reduce the Fat. Use Old-Fashioned Oatmeal instead of nuts. It'll be just as rich and creamy—we can't tell the difference! Make it Spicy. Add some chipotle in adobo, hot sauce, or chili flakes. Make Mac and Trees. Add steamed broccoli or Romanesco when mixing the cooked pasta and cheezy sauce. Make it Veggie. Add all kinds of veggies, like cauliflower or mushrooms. Or skip the pasta altogether and use steamed cauliflower instead! Appetizer Size. Line a muffin tray with liners and fill each with a few spoonfuls of Mac and Cheeze for a bite-sized snack. Versatile Sauce! Use the sauce as queso dip, on top of a layered nacho dip, base to a cheesy soup, cheeze sauce over cooked vegetables, or with layers of potatoes and onions for au gratin.
Nutrition
Calories:
229.7
kcal
|
Carbohydrates:
37.9
g
|
Protein:
8.9
g
|
Fat:
8.3
g
|
Saturated Fat:
1.3
g
|
Polyunsaturated Fat:
1.3
g
|
Monounsaturated Fat:
3.9
g
|
Sodium:
987
mg
|
Potassium:
355.6
mg
|
Fiber:
5.4
g
|
Sugar:
4
g
|
Vitamin A:
339.6
IU
|
Vitamin C:
10.3
mg
|
Calcium:
14.7
mg
|
Iron:
3.8
mg
Do you like this post?  Please share....

If you liked this post, you might like one of these:
[Trī-māz-ing]
Cindy wants you to be Trimazing—three times better than amazing! After improving her health and fitness through plant-based nutrition, losing 60 pounds and becoming an adult-onset athlete, she retired from her 20-year firefighting career to help people just like you. She works with people and organizations so they can reach their health and wellness goals.
Cindy Thompson is a national board-certified Health and Wellness Coach, Lifestyle Medicine Coach, Master Vegan Lifestyle Coach and Educator, Fitness Nutrition Specialist, Behavior Change Specialist, and Fit2Thrive Firefighter Peer Fitness Trainer. She is a Food for Life Instructor with the Physicians Committee for Responsible Medicine, Rouxbe Plant-Based Professional, and Harvard Medical School Culinary Coach, teaching people how to prepare delicious, satisfying, and health-promoting meals.
She provides health and lifestyle coaching at Trimazing! Health & Lifestyle Coaching. Cindy can be reached at info@trimazing.com.
Subscribe to the Trimazing Blog
Receive occasional blog posts in your email inbox.
Subscribe to the Trimazing Blog
Receive occasional blog posts in your email inbox.