Eat the Rainbow! And Recipe for Trimazing Peanut Sauce
Isn't nature beautiful?
One of the amazing things about the connection between humans and nature is that human beings have color vision, so we're able to see the range of beautiful colors of ripe fruits and vegetables. Not only does this help us pick out foods that are ripe, but choose things high in various phytonutrients and that help keep us healthy. Each of these colors comes from plant pigments which are potent antioxidants. Here's the run down on many of the major plant pigments:
Red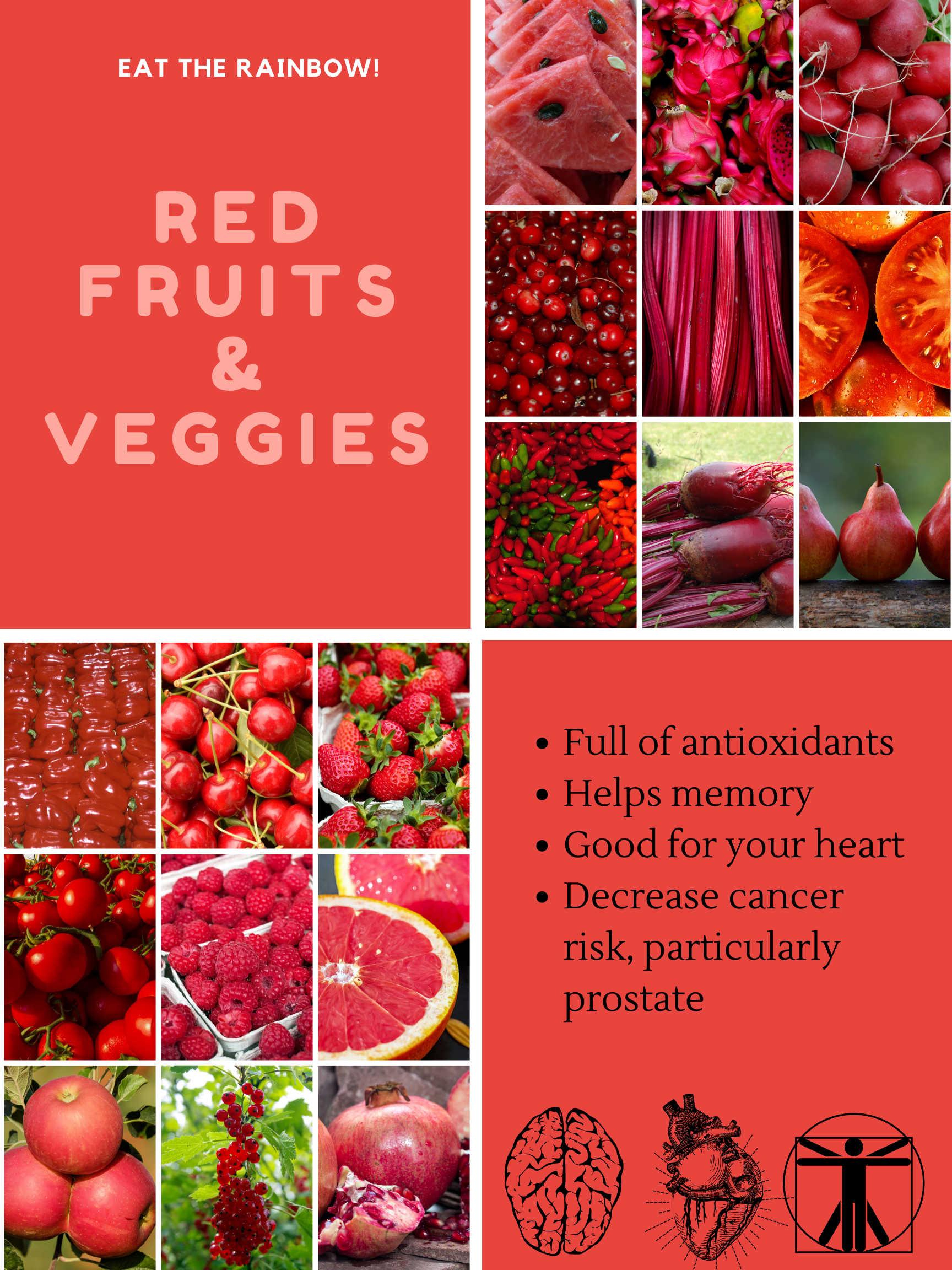 Lycopene reduces the risk for breast and prostate cancers and boosts heart, brain, eye, and bone health.
Orange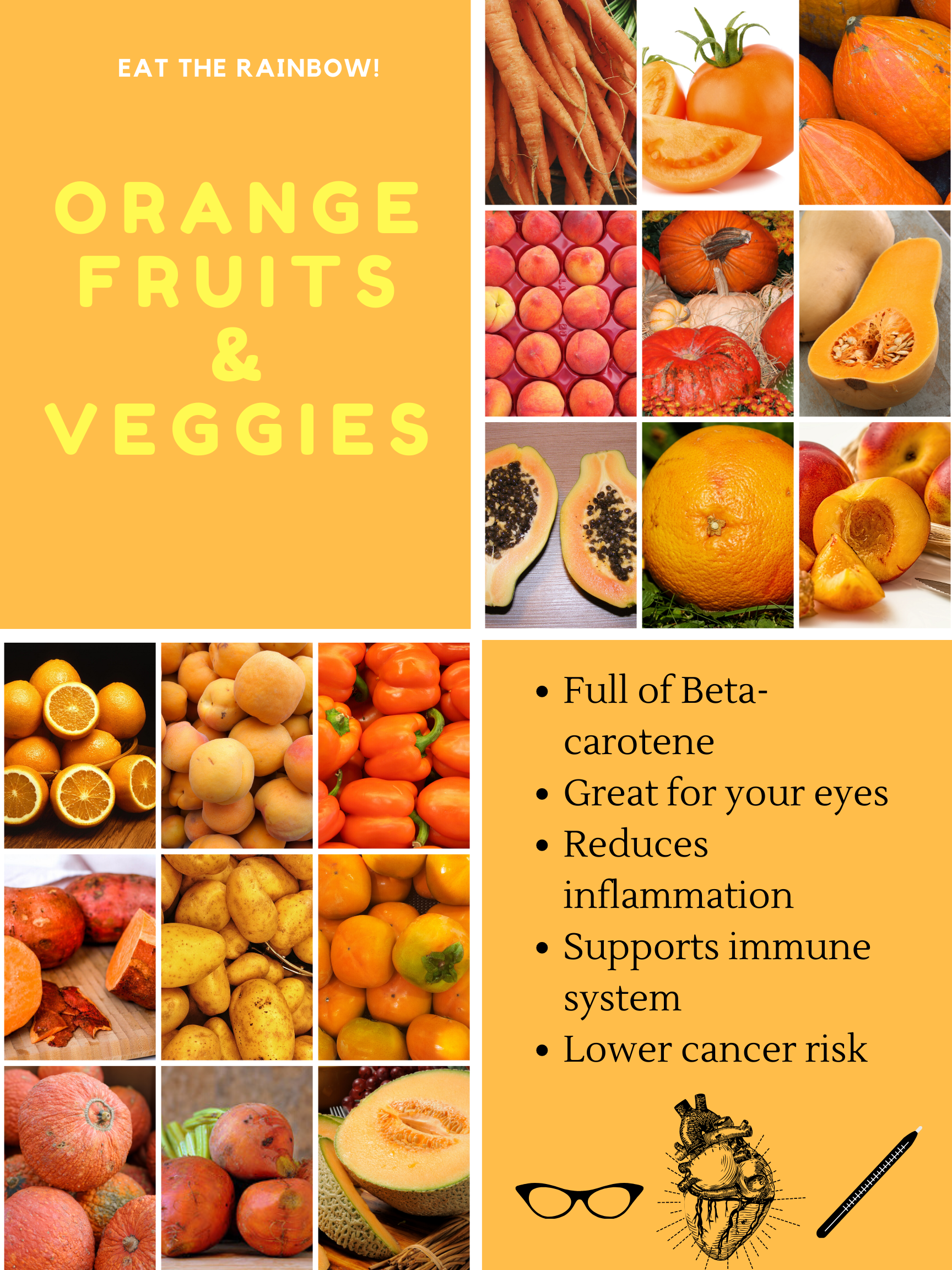 Beta-carotene fights cancer, reduces inflammation, supports the immune system, and boosts vision.
Yellow
Vitamin C and flavonoids boost the immune system, reduce inflammation, inhibit tumor cell growth, and detoxify harmful substances.
Light Green
Indoles and lutein eliminate excess estrogen and carcinogens and support eye health.
Dark Green
Calcium strengthens the bones and muscles and boosts heart health.
Blue & Purple
Anthocyanins destroy free radicals, reduce inflammation, and boost brain health. Resveratrol boosts heart and brain health and may decrease estrogen production.
Eat the Rainbow
So these pigments, these powerful antioxidants, are why we hear, "Eat the Rainbow." By eating at least one serving of each color every day, we're filling our bodies with nature's goodness, from a farmacy rather than a pharmacy!
Not only does a rainbow of fruits and vegetables give you antioxidants and phytonutrients, but all of these foods are full of fiber. We should eat at least 40 grams a fiber per day…most Americans consume only 10-15 grams. Meat, dairy, seafood, and eggs don't contain ANY fiber at all, and most processed foods have been stripped of beneficial fiber. A serving of fruit (like an average apple or banana) gives 3 grams, a cup of veggies 4 grams (except lettuce, which is only 2 grams). Adding a big salad, fruit as snacks or dessert, make a big, delicious impact on fiber and antioxidants. Fiber makes our gut microbiome happy, makes us feel full with less calories, and pulls fat and cholesterol out of our bodies as it moves through the intestinal tract so it can be, um, eliminated!
Sometimes All you Need is a Little Special Sauce…
I find that many people will eat a lot more veggies, without even realizing it, if there's a delicious sauce or dip. One of my favorites is a very versatile Thai-inspired peanut sauce. It's super easy to make and you can use other types of nut or seed butters if you don't want to use peanut butter. It's delicious with sunflower seed and cashew butters! And kids love this sauce.
The recipe is below, but here are a couple of our favorite ways to use this sauce.
You can use any vegetable you love in these. Here's the link to the Rainbow Salad Roll recipe. I like to pick a full spectrum of colors for ours. In these rolls I used:
Purple: Shaved Red Cabbage
Red: Julienne Red Bell Pepper
Orange: Julienne Carrots
Yellow: Spiralized Parsnips and Rutabaga
Green: Flat Spiralized Zucchini, Spring Greens, Arugula, Spinach, Basil, Cilantro, and Mint
I use my Spirulizer to cut the parsnips, rutabaga, and zucchini, the Titan peeler Julienne Tool for the long julienne of carrot, and the Borner V Slicer/Mandolin to cut the cabbage and red bell pepper. These tools make fast work of cutting the vegetables and make them beautiful to eat!
I love these Brown Rice Wrappers from StarAniseFoods. They have a little green tea in them too.
You just dunk the individual wrapper in warm water until it softens, remove to a plate, fill, and roll!
Don't worry if your wrapper tears, you can simply wrap again with another prepared wrapper.
If you don't want to go to all the trouble of wrapping into a salad roll, just make a beautiful Crunchy Thai Rainbow Salad! Dump all those gloriously prepared veggies into a big bowl, add some cooked grains of your choosing, and toss. Pour out onto a platter, sprinkle with sesame seeds (I love black sesame seeds) and drizzle with dressing. This is a big crowd pleaser! It's perfect for parties and picnics.
So try this sauce and see if it helps you and your family eat the rainbow! You don't have to make salad rolls or a big salad, you can simply use it to dip and dunk your favorite vegetables in.
Trimazing Peanut Sauce
This sauce is easy and so delicious! Plus it's extremely versatile. Use it as a dipping sauce for crudités veggies or Salad Rolls, on a Thai-inspired Salad, on Pasta full of colorful veggies, or turn plain tofu, tempeh, or wedges of Jackfruit into Peanut Satay.
Ingredients
2

tbsp

grated fresh ginger

or ½ tsp dried ginger

4

cloves

garlic, minced

or 1 tsp garlic granules

1

cup

peanut butter, creamy or chunky

or other nut or seed butter of choice

¾

cup

tamari or soy sauce

¼

cup

rice vinegar

¼

cup

date paste

or maple syrup

½

cup

water

2

tsp

chili-garlic sauce or Sriracha sauce

optional
Instructions
Mix all ingredients in a medium saucepan. Bring to a simmer over medium heat until combined and thickened and use as desired. Add more water if sauce gets too thick.
Notes
This sauce freezes beautifully! Make extra and store in the freezer for a fast, flavorful meal anytime.
Yields: 2

½ cups.
Nutrition
Calories:
220.8
kcal
|
Carbohydrates:
11.8
g
|
Protein:
10.6
g
|
Fat:
16.3
g
|
Saturated Fat:
3.4
g
|
Sodium:
1390.9
mg
|
Potassium:
300.4
mg
|
Fiber:
2.5
g
|
Sugar:
6.3
g
|
Vitamin A:
2.2
IU
|
Vitamin C:
1.3
mg
|
Calcium:
24
mg
|
Iron:
1.2
mg
Do you like this post?  Please share....

If you liked this post, you might like one of these:
[Trī-māz-ing]
Cindy wants you to be Trimazing—three times better than amazing! After improving her health and fitness through plant-based nutrition, losing 60 pounds and becoming an adult-onset athlete, she retired from her 20-year firefighting career to help people just like you. She works with people and organizations so they can reach their health and wellness goals.
Cindy Thompson is a certified Health Coach, Vegan Lifestyle Coach and Educator, Fitness Nutrition Specialist, and Firefighter Peer Fitness Trainer. She is a Food for Life Instructor with the Physicians Committee for Responsible Medicine and Rouxbe Plant-Based Professional, and Harvard Medical School Culinary Coach, teaching people how to prepare delicious, satisfying, and health-promoting meals.
She provides health and lifestyle coaching at Trimazing! Health & Lifestyle Coaching. Cindy can be reached at info@trimazing.com.
Subscribe to the Trimazing Blog
Receive occasional blog posts in your email inbox.
Subscribe to the Trimazing Blog
Receive occasional blog posts in your email inbox.