Aww Shucks—Fresh Rainbow Corn Salad
I'm not ready for fall yet. Today in VeganMoFo we are asked to deliver a dish that showcases the beautiful reds and oranges for Fall. It's the middle of August, and in the Pacific Northwest, that's really when summer starts! But it's short-lived, soon late September and October arrive and the leaves start turning their gorgeous yellow, oranges, and reds. But August brings corn and tomatoes, with their yellows, oranges, and reds, in abundance! And it's also time for one of my favorite salads, Fresh Rainbow Corn Salad, which uses the freshest of the veggies and fruits of this great season. It's fresh and simple, crisp, herbaceous, sweet and tangy—all the things you want a salad to be. It's not uncommon for this salad to be our main dish dinner on a hot August night.
Besides sharing the recipe for this simple yet delicious salad, I'm going to share my dad's secret to cutting corn kernels off of the cob without making a huge mess of your kitchen!
The Magic Angel Food (or Bundt) Cake Pan!
There are all kinds of implements out there purporting to be the best tool for quickly cutting corn kernels off the cob without making a big mess, and I've tried a lot of them. But I've found that in the end, the best way is the way my dad taught me…simply using an angel food or bundt pan and a nice sharp knife—two things you may already have in your kitchen! The key is to have a tube pan with a center upright that has a hole in it. Now, I got rid of my angel food cake when I went vegan, so I had to pick one up at a thrift store where there are TONS of angel food and bundt cake pans, so don't go buying a new one, get it secondhand.
Shuck the corn and stick the wide end of the cob onto the center of the cake pan. If it still has a bit of stem, great!, just let it go into the hole for even more stability. Hold on to the tip of the cob and run your knife down the kernels—the kernels magically fall into the cake pan! Sometimes a few fly over the pan, so Dad would set the cake pan in a larger roasting pan to catch those.
We canned and froze a lot of corn when I was growing up, and this was the absolute best and fastest way to get kernels off without making a huge mess. I've cut cups and cups and cups of corn kernels for corn relish in advance of canning using this method and it really is a time and mess-saver.
Don't toss the bare cobs out, however. You can boil them in water to make a delicious corn broth or add them to other vegetable scraps to make vegetable stock. There's a lot of goodness left in those cobs. Once you've simmered them for corn broth or stock, put them into your compost.
Things that Grow Together, Go Together
There's a culinary expression, Things that grow together, go together. This salad is one of those things, using vegetables and fruits that ripen at the same time. We grow tomatoes, corn, and basil in our garden and I picked up fresh local blueberries, red onion and ground cherries at my farmers market to go along with them.
Ground cherries are also called Strawberry Husk Tomatoes or Cape Gooseberries. They grow like a tomatillo plant and are native in many parts of the United States, although they have been cultivated for home gardens. Indigenous people in North America used it as a relish. It is a member of the nightshade family and has a sweet flavor that to me tastes like a tomatillo and a guava had a baby! Only eat them when ripe, however, when the outer covering and dry, papery, and brown, as they are toxic if eaten unripe; leaves and steams are toxic as well, so don't eat those.
Do try ground cherries if you find them in your market. They go great in sweet or savory dishes!
To make the salad, simply cut the corn off the cob and leave raw. In a large serving bowl, add the corn, finely chopped red onion, some blueberries, halved ground cherries (optional, but they're great if you can find some) and cherry tomatoes, diced tomato, and chiffonade of fresh basil. Stir to mix. Add some salt and pepper and sprinkle with a light vinegar, like apple cider, champagne, or chive or other herb-infused vinegar. Toss and serve! It's great for picnics or potlucks because it doesn't get soggy or have a lot of dressing.
So there you have it, a beautiful end of summer salad and a tip for mess-free corn kernels! And do look for ground cherries as they are a delightful treat when they show up at the farmers market. And consider combining other fresh ingredients that are ready for harvest at the same time—it's a wonderful way to create new, flavorful combinations that you may have not yet considered.
Just two more days left to enter to win…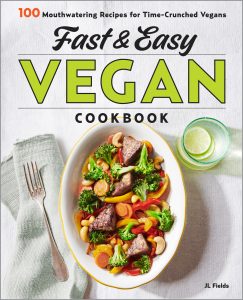 I'll draw one winner August 21, 2019 for JL Fields' new Fast & Easy Vegan Cookbook, before you can even buy it online or in stores!
You want this cookbook! It brings a new selection of fresh meals to your table, pronto! From one-pot to pressure cooker, choose your favorite cooking method―without being held hostage for hours in your kitchen. It includes 100 quick and tasty vegan recipes, plus tips for ingredient substitution and other easy customizations, and handy labels for gluten-free, nut-free, oil-free, or soy-free diets.
So hurry and enter by August 20th. Open to U.S. residents only.
JL Fields Fast and Easy Cookbook Giveaway
Fresh Rainbow Corn Salad
This is a salad I look forward to towards the end of summer. It's fresh and simple, crisp, herbaceous, sweet, and tangy—all the things you want a salad to be! It's great for potlucks and picnics.
Ingredients
6

ears

Fresh corn

raw

¼

red onion

finely diced

1

pint

fresh blueberries

1

pint

orange cherry tomatoes

halved

2-3

small

red tomatoes

chopped

1

bunch

fresh basil

cut chiffonade

1

pinch

salt

to taste

10

grinds

fresh black pepper

to taste

1-2

tbsp

apple cider vinegar

to taste. Use other light vinegar as desired, such as champagne, chive infused, etc.
Instructions
Husk corn and cut kernels off the cob. Put into a large serving bowl.

Add onion, blueberries, tomatoes, basil, salt, pepper, and 1 tablespoon vinegar. Mix to combine. Taste and adjust seasonings, add more vinegar if desired.
Notes
I add fresh ground cherries if I can find them.
Nutrition
Calories:
144.8
kcal
|
Carbohydrates:
33
g
|
Protein:
4.7
g
|
Fat:
1.8
g
|
Saturated Fat:
0.4
g
|
Polyunsaturated Fat:
0.7
g
|
Monounsaturated Fat:
0.5
g
|
Trans Fat:
0.1
g
|
Sodium:
40.6
mg
|
Potassium:
590.8
mg
|
Fiber:
5
g
|
Sugar:
14.3
g
|
Vitamin A:
462.6
IU
|
Vitamin C:
24.3
mg
|
Calcium:
28.3
mg
|
Iron:
1.3
mg
Do you like this post?  Please share....

If you liked this post, you might like one of these:
[Trī-māz-ing]
Cindy wants you to be Trimazing—three times better than amazing! After improving her health and fitness through plant-based nutrition, losing 60 pounds and becoming an adult-onset athlete, she retired from her 20-year firefighting career to help people just like you. She works with people and organizations so they can reach their health and wellness goals.
Cindy Thompson is a certified Health Coach, Vegan Lifestyle Coach and Educator, Fitness Nutrition Specialist, and Firefighter Peer Fitness Trainer. She is a Food for Life Instructor with the Physicians Committee for Responsible Medicine and Rouxbe Plant-Based Professional, and Harvard Medical School Culinary Coach, teaching people how to prepare delicious, satisfying, and health-promoting meals.
She provides health and lifestyle coaching at Trimazing! Health & Lifestyle Coaching. Cindy can be reached at info@trimazing.com.
Subscribe to the Trimazing Blog
Receive occasional blog posts in your email inbox.
Subscribe to the Trimazing Blog
Receive occasional blog posts in your email inbox.