Pasta Pizza—Your Kids' (Maybe Your Inner Kid's) New Favorite!
Well today is Day 7 of
VeganMoFo
and the prompt is to make a vegan quiche. However, I'm not a big fan of quiche and haven't ever found a vegan one that worked all that well (I'm looking forward to seeing what everyone else shares so maybe that statement will be a thing of the past!), so I don't have a quiche recipe for you. Instead, I have an alternative, a veganized recipe of something from my childhood that was crusted, "eggy," and cheesy, much like a quiche—Pasta Pizza!
I've been having a blast veganizing old family recipes, it's bringing back so many memories and it's exciting to have foods from my childhood again. Pasta Pizza has been eluding me, however, until now! I'm so excited to share this recipe with you as it was one of our favorites growing up!
And it's really special, as it was a recipe from my aunt, Diana Thompson, who passed away from breast cancer. She was an absolutely wonderful person, so thoughtful and kind. Before I retired from the fire service, I used to wear a pink Nomex firefighting hood in honor of my aunt.
So, with all the cauliflower and mashed potato crusted pizzas out there, I bring you, Pasta Pizza, the pizza with a cheesy macaroni crust! This isn't a casserole, no—not pizza mac—it's pizza!
Here's how it's done:
Cook 2 cups of macaroni pasta as directed on the package and drain well. You could use whole grain or gluten-free pasta for this too. The macaroni shape is nice because it isn't too big and kind of interlocks together.
While your pasta is cooking, you'll make a custard of sorts, which substitutes for the eggs used in the original recipe. In a blender, combine silken tofu, chickpea (garbanzo bean) flour, nutritional yeast, cornstarch, kala namak (Indian black salt), and turmeric. Kala namak is a sulfur salt which gives things an eggy taste and smell. It's not Hawaiian black salt, but Indian black salt that you can find at Indian markets or online.
Note, if you have trouble finding garbanzo bean flour, you can actually make it in your Vitamix by blending dried garbanzo beans on high until they are pulverized into flour! It's a great way to get garbanzo bean flour without plastic packaging.
Mix the drained pasta, some grated vegan cheese (I use Chao Original Creamy because it melts well. It only comes in slices, but I keep the slices all together in a stack and grate it with a grater.), and finely chopped sweet onion and then pour onto a cooking sheet or pizza pan lined with a silicone baking sheet or parchment paper. The liner is important so that it doesn't stick to the pan! Spread the crust mixture evenly, about a half-inch thick, without any gaps. It doesn't fill my whole baking sheet, which is okay, because it keeps to together while baking just fine and makes it easy to lift piece of pizza out with a spatula later.
Bake this on the lowest rack of your oven, at 375˚F for 25 minutes. Baking this low helps brown up the bottom of the crust and hold everything together. You'll actually be able to eat slices of this pizza with your hands!
Here is the par-cooked crust after 25 minutes.
Next spread pizza sauce over the top.
Add grated cheese, if you want cheese, and your favorite pizza toppings (I used mushrooms, yellow summer squash, green bell peppers, and sweet onion),  and top with a little more cheese. Olives and cooked vegan sausage would be superb as well. Pop this back into the oven for 12-15 minutes until bubbly. If you're having trouble getting your vegan cheese to melt, you can put the finished pizza under the broiler to help it along.
Cut your finished pizza into squares. Be careful not to cut your silicone baking mat, I use a spatula or bench scraper, which cuts it just fine without damaging the mat. Sprinkle with red pepper flake, if desired, and devour!
It. Is. So. Good!
I think my mom nearly cried when I sent this veganized Pasta Pizza recipe to her! We all really loved this dish and have missed it. I'm excited to make it with the grandkids, as they love to make pizza and this is a super recipe to make with kids. Give it a try and let me know what you think!
And a reminder of my giveaway!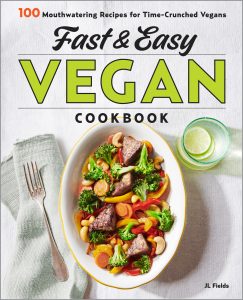 I'll draw one winner August 21, 2019 for JL Fields' new Fast & Easy Vegan Cookbook, before you can even buy it online or in stores!
You want this cookbook! It brings a new selection of fresh meals to your table, pronto! From one-pot to pressure cooker, choose your favorite cooking method―without being held hostage for hours in your kitchen. It includes 100 quick and tasty vegan recipes, plus tips for ingredient substitution and other easy customizations, and handy labels for gluten-free, nut-free, oil-free, or soy-free diets.
So hurry and enter by August 20th. Open to U.S. residents only.
JL Fields Fast and Easy Cookbook Giveaway
You can also pre-order the book or order it after the contest is over on Amazon.
Pasta Pizza
This is a kid's favorite! It's like the perfect crispy-edges of mac and cheese covered in pizza! Pasta Pizza was one of my favorite dinners growing up. I'm thrilled to have veganized the awesome recipe that came from my Aunt Diana Thompson years ago!
Ingredients
2

cups

uncooked elbow macaroni

8

oz

silken tofu

¼

cup

chickpea flour

1

tbsp

nutritional yeast

1 ½

tsp

cornstarch

¼

tsp

kala namak (Indian black salt)

optional

1/8

tsp

turmeric

2

cup

shredded vegan cheese

divided, I used Chao Creamy Original. It only comes in slices, but I keep the slices all together in a stack and grate it with a grater

⅓

cup

finely chopped onion

2

cups

pizza sauce

your choice

desired pizza toppings

sliced mushrooms, diced bell pepper, tomato, olives, spinach, summer squash, vegan sausage, etc.

crushed red pepper

if desired.
Instructions
Preheat oven to 375°F with oven rack at lowest level.

Line a pizza pan or baking sheet with silicone baking sheet or parchment.

Cook macaroni according to package directions. Drain well.

While macaroni is cooking, blend silken tofu, chickpea flour, nutritional yeast, cornstarch, kala namak (if using), and turmeric until smooth.

In a large bowl, combine drained macaroni, silken tofu mixture, finely chopped onion, and 1 cup grated vegan cheese. Mix well.

Pour macaroni mixture onto prepared baking sheet or pizza pan. Pat mixture so that it is evenly about ½ inch thick without gaps in between the macaroni.

Bake 375°F on the lowest rack for 25 minutes.

Remove baking sheet from the oven. Spread evenly with pizza sauce, top with shredded vegan cheese, desired toppings, and a little more cheese.

Return to oven and bake 12-15 minutes more, until cheese is bubbly.

Remove to cooling rack. Carefully cut into slices with a spatula as not to cut the silicone baking sheet or parchment. Serve with crushed red pepper, if desired.
Notes
Adapted from recipe by Diana Thompson
Kala namak is a sulfur salt which gives things an eggy taste and smell. It's not Hawaiian black salt, but Indian black salt that you can find at Indian markets or online.
Do you like this post?  Please share....

If you liked this post, you might like one of these:
[Trī-māz-ing]
Cindy wants you to be Trimazing—three times better than amazing! After improving her health and fitness through plant-based nutrition, losing 60 pounds and becoming an adult-onset athlete, she retired from her 20-year firefighting career to help people just like you. She works with people and organizations so they can reach their health and wellness goals.
Cindy Thompson is a certified Health Coach, Vegan Lifestyle Coach and Educator, Fitness Nutrition Specialist, and Firefighter Peer Fitness Trainer. She is a Food for Life Instructor with the Physicians Committee for Responsible Medicine and Rouxbe Plant-Based Professional, and Harvard Medical School Culinary Coach, teaching people how to prepare delicious, satisfying, and health-promoting meals.
She provides health and lifestyle coaching at Trimazing! Health & Lifestyle Coaching. Cindy can be reached at info@trimazing.com.
Subscribe to the Trimazing Blog
Receive occasional blog posts in your email inbox.
Subscribe to the Trimazing Blog
Receive occasional blog posts in your email inbox.