Vegan Tea Party & Better-Than-Egg Salad Recipe
I love afternoon tea! There's just something magical about taking time to relax and nibble on little savory tea sandwiches and beautiful bites of decadent desserts with tea and champagne.  It feels so fancy yet is so relaxing. Traditionally full of butter, cream, and meats, vegan tea is much more common than it used to be. And, it's easy to make yourself, so make your next party a tea party! Let me tell you a little bit about tea, where to go for some great vegan tea, and give you some great recipes to enjoy it at home any time!
What we Americans generally call High Tea is really Afternoon Tea. High Tea is really just a fancy name for dinner. Afternoon Tea is generally the sort of affair we are thinking of, the one with dainty tea sandwiches and pastries, served in the late afternoon. Generally, tea is served in a specific order:
Savories – Appetizers and little sandwiches
Scones – With clotted cream and jam
Pastries – Sweet cakes, cookies, and other sweets
A Few Places to have Vegan Afternoon Tea
Many establishments that serve afternoon tea will have a vegan option. It's more likely to happen if you contact them a few days in advance, but more and more places are starting to have it as a standard option. Here are some of my favorites for vegan afternoon tea.
Victoria, BC
Butchart Gardens is an absolutely gorgeous garden 30 minutes outside of Victoria, BC on Vancouver Island. A car is not required, as there are many options to get to Butchart Gardens, including many buses or taxis that can take you the 30 minute trip from downtown Victoria. Even if you aren't going to have tea, you should go just to stroll through acres and acres of beautiful landscapes, plants, flowers, and water features. It is full of fascinating history and is amazing any time of the year, rain or shine. They offer tea in their dining room and do have a vegan option if you inquire.
The Empress Hotel is right on the waterfront of Victoria, BC, a grand, ivy-covered building that you can't miss! They have afternoon tea every day from 11am to 5pm. I'd recommend reservations.
You can take a ferry, the Victoria Clipper catamaran, or fly a float plane on Kenmore Air from Seattle to get to Victoria, all of which are a lot of fun! You just need a passport.
Seattle
The Fairmont Olympic Hotel is a sister to the Empress, located in the heart of Seattle. They offer a vegan afternoon tea in their elegant Georgian Room restaurant.
London
Alan and I enjoyed a vegan Afternoon tea at the vegan hotel, La Suite West, in Hyde Park. It was quite an experience, and so nice to be able to pop in for tea without the worry of whether they'd have vegan options or not!
Mother's Day Garden Tea Party at Studio Beju
But you don't have to travel far for a great Afternoon Tea! A vegan tea party can be right at your fingertips in your own home or garden. Last year I participated in a Mother's Day Garden Tea Party at Studio Beju in Duvall, Washington. It was not a vegan event, but here's what I served (and it was all plant-based!):
Open-Face Carrot Lox Sandwiches with Yogurt Cheese, Capers, and Dill
Carrot lox is one of my favorite things to make for non-vegans as it tastes and eats like the real thing! I roast the carrots in rock salt, inspired by this recipe, and then marinate the chunks in soy, liquid smoke, maple syrup with kombu and dulse to give it a "fishy" flavor. Serve on mini bagel or dark bread with creamy yogurt cheese you can make by draining vegan yogurt through cheese cloth overnight. Sprinkle with an "everything" blend (you can find a recipe for it in the notes of my bagel recipe), capers, thinly sliced red onion, and fresh dill.
Better-Than-Egg Salad Finger Sandwiches
I didn't name this recipe…my guests did! No one could believe that it wasn't real egg salad, and when I explained what it was, they exclaimed, "Well, it's Better than egg salad, then!" And this recipe was forever renamed!
While I didn't like eggs growing up, I did like the yolk mixture in deviled eggs and egg salad sandwiches. I think it was really the Miracle Whip and sweet pickles that caused me to like the creamy yellow filling and tolerate the rubbery egg white. Vegan tofu salad sandwiches I had when I first became vegan were good, but they lacked the grainy mouthfeel I remembered of egg yolk filling. So I played around with different ideas to fix this and landed on…mashed potatoes! My Better than Egg Salad is a mixture of cubed tofu (for that rubbery white!), mashed russet potato, chopped sweet pickle (because sweet pickles in egg salad is a food rule for me), vegan mayo, and sulfury kala namak (Indian black salt) to give it that eggy taste and smell.
The recipe is below!
Alternatively, you can pipe the "yolk" mixture onto sliced cucumbers, in hollowed out tomatoes, or halved steamed new potatoes.
Oaty Lemon Ginger Scones with Chia Strawberry Jam and Clotted Coconut Cream
A tea party just wouldn't be a tea party without scones, jam, and clotted cream.
My favorite scone isn't a scone, but a variation of Dreena Burton's Berry Scuffins. These are a cross between a scone and a muffin, making them soft and cakey! Instead of berries, I mix in chopped crystallized ginger and fresh lemon zest.
You can serve with any jam, or make a chia jam, like this one.
Vegan clotted cream is very simple. Place a can of coconut milk in the refrigerator for at least 24 hours (I like to keep a can of coconut milk in the fridge at all times just so I can have whipped coconut cream at a moment's notice, if I need it). Open the can and carefully scoop out the solid coconut cream. Whip with an electric mixer, adding a bit of vanilla and powdered sugar, and a scoop of vegan yogurt cheese (made by draining vegan yogurt through cheese cloth overnight) or vegan sour cream. Whip til fluffy.
Oh the fudgy goodness! You are going to LOVE tomorrow's recipe for David Gabbe's Broccoli Chocolate Cake! I make this for every tea party and never tell anyone it's made with broccoli until they've tried it and raved about it (which everyone does). This cake is super rich, which makes it perfect for a bite-sized tea dessert—it's really all you need.
If you didn't want a chocolate cake, you could also serve small pieces of the Caramel-Topped Oatmeal Cake I posted about a couple of days ago. It would be a fabulous addition to any Afternoon Tea.
Serve your vegan tea treats with tea or champagne and enjoy a peaceful, relaxing afternoon with friends or family. Or just yourself, because, don't you deserve it? Afternoon tea isn't something we should just reserve for vacation, it's something we should consider any time, and even at home. Dust off those old mismatched tea cups from your grandmother and put them to good use! It'll be a great accompaniment to little crustless Better than Egg Salad sandwiches!
Pinkies Up!
And a reminder of my giveaway!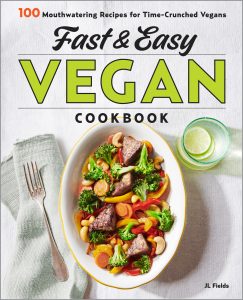 I'll draw one winner August 21, 2019 for JL Fields' new Fast & Easy Vegan Cookbook, before you can even buy it online or in stores!
You want this cookbook! It brings a new selection of fresh meals to your table, pronto! From one-pot to pressure cooker, choose your favorite cooking method―without being held hostage for hours in your kitchen. It includes 100 quick and tasty vegan recipes, plus tips for ingredient substitution and other easy customizations, and handy labels for gluten-free, nut-free, oil-free, or soy-free diets.
So hurry and enter by August 20th. Open to U.S. residents only.
JL Fields Fast and Easy Cookbook Giveaway
You can also pre-order the book or order it after the contest is over on Amazon.
Better-Than-Egg Salad
Non-vegans won't even realize this doesn't have eggs in it! It has all the mouth-feel and flavor of traditional egg salad.
Instructions
Combine mashed potato, mayo, pickle juice, kala namak, and turmeric in a bowl. Mix well.

Add diced tofu, chopped pickle, and chives/scallions and mix. Add additional mayo or pickle juice if desired.
Notes
To cook the potato in the Instant Pot: add chunks of peeled russet potato to 1 cup of water in the Instant Pot. Cook on high pressure for 10 minutes. Do a rapid release at the end.
Kala namak is a sulfur salt which gives things an eggy taste and smell. It's not Hawaiian black salt, but Indian black salt that you can find at Indian markets or online.
To make deviled cucumbers, tomatoes, or baby red potatoes, simply omit the diced tofu and pipe into prepared vegetables. Sprinkle with sweet paprika and chopped chives for an elegant appetizer.
Do you like this post?  Please share....

If you liked this post, you might like one of these:
[Trī-māz-ing]
Cindy wants you to be Trimazing—three times better than amazing! After improving her health and fitness through plant-based nutrition, losing 60 pounds and becoming an adult-onset athlete, she retired from her 20-year firefighting career to help people just like you. She works with people and organizations so they can reach their health and wellness goals.
Cindy Thompson is a certified Health Coach, Vegan Lifestyle Coach and Educator, Fitness Nutrition Specialist, and Firefighter Peer Fitness Trainer. She is a Food for Life Instructor with the Physicians Committee for Responsible Medicine and Rouxbe Plant-Based Professional, and Harvard Medical School Culinary Coach, teaching people how to prepare delicious, satisfying, and health-promoting meals.
She provides health and lifestyle coaching at Trimazing! Health & Lifestyle Coaching. Cindy can be reached at info@trimazing.com.
Subscribe to the Trimazing Blog
Receive occasional blog posts in your email inbox.
Subscribe to the Trimazing Blog
Receive occasional blog posts in your email inbox.