Broccoli for Dessert! Chocolate Broccoli Cake
Most people don't think of dessert when they think of broccoli, I know I generally didn't! But this recipe by
David A. Gabbe
will change your mind about that.
Just like many of you, I was a little stumped about what to cook when I first went vegan in 2009. There were some resources online and a few cookbooks out there, but a lot of my information came from groups, like NW Veg, my local Portland VegFest, and cooking classes. One of the best cooking classes I ever attended was a Vegan Thanksgiving class by David Gabbe at Portland Community College. I still make many of the recipes from that class. His cookbook, Dave's Vegan Home Cooking, is one of my favorites, full of whole food, gluten-free recipes.
David's Chocolate Broccoli Cake is one of my favorite desserts to serve. Not only is it delicious, but it is loaded with fiber and the benefits of cruciferous veggies. I like to take it to events where I'm serving non-plant-based eaters, like the Mother's Day Tea, the Duvall Chamber of Commerce, and my neighborhood Bunco group! Before I retired, I used to make Chocolate Broccoli Cake and bring it to the fire station where the crews gobbled it up, unaware that it was full of wonderful broccoli (if firefighters will eat it, you KNOW it's a rockin' recipe!), so it's firefighter-tested and approved. It's also a great way to use leftover broccoli, especially broccoli stems and scraps, so it's one for your Zero Waste arsenal.
So, without further ado, I bring you David A. Gabbe's Chocolate Broccoli Cake with Chocolate Sauce! I'm so honored that David has given me permission to share his amazing recipe with you. Please, get his cookbook, Dave's Vegan Home Cooking, for more fabulous recipes like this one.
Making Chocolate Broccoli Cake
This recipe starts with mixing the dry ingredients. It calls for oat flour, vegan chocolate chips, cocoa powder, sugar (I use date or coconut sugar, whichever I have on hand), flax seed meal, baking powder, cinnamon, and salt. If you have a high speed blender, don't buy oat flour, simply process oats in your blender and voilà, oat flour! The same goes for flax seed meal, buy whole seeds and grind that in your blender as well. Not only is it less expensive to do it this way, the flour and meal are less likely to go rancid on you if you grind your own.
Next you combine the broccoli, nut butter, plant milk, and vanilla in the blender and blend until completely smooth. Now it really does look like a smoothie!
Pour this into the dry ingredients and mix well. Pour into a prepared baking dish. I line mine with parchment paper to avoid using oil.
Bake at 350˚F for approximately 40 minutes, or until a toothpick inserted in the center comes out clean. Note, I use a 7.5×9.5-inch pan instead of an 8×8, and takes 60 minutes for mine in my oven.
While the cake bakes, make the chocolate sauce. Combine all of the sauce ingredients in a saucepan and heat until dark and bubbly, stirring constantly. I use vegan chocolate chips instead of the oil or margarine, and it works perfectly! It may seem too loose, but it firms up as it cools.
Let your cake cool. You can ice in the pan or, if you want to serve cut pieces, like for a potluck or tea party, remove the cake from the pan and cut prior to icing. If your sauce has firmed up too much, simply warm back up on the stove, stirring, until you've reached your desired consistency.
I put a dollop of sauce on each piece and garnish with fresh berries.
Raspberries and strawberries go great with this cake and really cut through the richness.
I hope you try this cake out. It really is super easy and awesomely delicious! And, it always gives me a little thrill to know that it is full of nutritious broccoli. No one has ever tasted it and guessed it was a broccoli cake, I promise, it doesn't taste like it. And if you're looking for more wonderful whole, plant-based, gluten-free recipes like this one, go check out David Gabbe's cookbook, Dave's Vegan Home Cooking (and when you do, make sure to make the Millet Cornbread, honestly, people beg for that one!).
Let me know how it goes!
David's book would go nicely in your vegan cookbook collection along with my giveaway cookbook!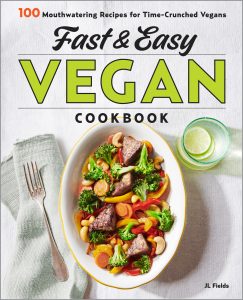 I'll draw one winner August 21, 2019 for JL Fields' new Fast & Easy Vegan Cookbook, before you can even buy it online or in stores!
You want this cookbook! It brings a new selection of fresh meals to your table, pronto! From one-pot to pressure cooker, choose your favorite cooking method―without being held hostage for hours in your kitchen. It includes 100 quick and tasty vegan recipes, plus tips for ingredient substitution and other easy customizations, and handy labels for gluten-free, nut-free, oil-free, or soy-free diets.
So hurry and enter by August 20th. Open to U.S. residents only.
JL Fields Fast and Easy Cookbook Giveaway
You can also pre-order the book or order it after the contest is over on Amazon.
Chocolate Broccoli Cake with Chocolate Sauce
This moist, fudgy, rich chocolate cake is one of my favorites! It's a great way to use up leftover broccoli and no one will ever guess it's loaded with it! Make it for your next potluck or gathering and chuckle as you watch kids and adults devour it! (Recipe posted by permission from David A. Gabbe.)
Ingredients
4

cups

raw broccoli

cut in bite-sized pieces
Dry Ingredients
2

cups

oat flour

(see notes below on how to make your own)

½

cup

non-dairy vegan chocolate chips

½

cup

cocoa powder

½

cup

sugar

or evaporated cane juice

¼

cup

flax seed meal

2

tsp

baking powder

aluminum-free

2

tsp

cinnamon

½

tsp

salt
Chocolate Sauce
1

cup

cocoa powder

1

cup

sugar

or evaporated cane juice

½

tsp

salt

½

tsp

cinnamon
2

tbsp

coconut butter, coconut oil (melted), or non-dairy margarine (I use vegan chocolate chips instead)

2

tsp

vanilla extract
Instructions
For Cake
Place broccoli in steamer basket and steam 3 minutes.

In bowl, combine dry ingredients.

In blender, blend broccoli, milk, peanut butter, and vanilla, until smooth.

Pour blender mix into bowl of dry ingredients, mixing well.

Transfer batter into an 8x8 (or similar sized) glass baking dish lined with parchment paper.

Bake 40 minutes. Let cool. Spread with Chocolate Sauce.
For Chocolate Sauce
In saucepan, combine first four dry ingredients.

Add milk and mix thoroughly.

Stir in remaining ingredients and whisk over medium heat, adding more milk as necessary for smooth consistency.
Notes
To make your own oat flour, simply blend rolled oats in a blender until they turn into flour. You'll have much fresher, less expensive, and plastic-packaging-free oat flour this way.
Refrigerate leftover cake and use within 5 days or freeze.
For Mocha Broccoli Cake, add 1-2 tbsp instant coffee (granules or powder) to blender ingredients.
Refrigerate any leftover chocolate sauce and use within 7 days.
Recipe from David's Vegan Home Cooking. Posted by permission from David A. Gabbe.
Nutrition
Calories:
520.9
kcal
|
Carbohydrates:
85.2
g
|
Protein:
15.4
g
|
Fat:
17.9
g
|
Saturated Fat:
7.4
g
|
Polyunsaturated Fat:
4.6
g
|
Monounsaturated Fat:
4.5
g
|
Cholesterol:
0.1
mg
|
Sodium:
517.5
mg
|
Potassium:
812.3
mg
|
Fiber:
12.1
g
|
Sugar:
47.3
g
|
Vitamin A:
634.6
IU
|
Vitamin C:
47.1
mg
|
Calcium:
310.3
mg
|
Iron:
5
mg
Do you like this post?  Please share....

If you liked this post, you might like one of these:
[Trī-māz-ing]
Cindy wants you to be Trimazing—three times better than amazing! After improving her health and fitness through plant-based nutrition, losing 60 pounds and becoming an adult-onset athlete, she retired from her 20-year firefighting career to help people just like you. She works with people and organizations so they can reach their health and wellness goals.
Cindy Thompson is a certified Health Coach, Master Vegan Lifestyle Coach and Educator, Fitness Nutrition Specialist, Behavior Change Specialist, and Fit2Thrive Firefighter Peer Fitness Trainer. She is a Food for Life Instructor with the Physicians Committee for Responsible Medicine, Rouxbe Plant-Based Professional, and Harvard Medical School Culinary Coach, teaching people how to prepare delicious, satisfying, and health-promoting meals.
She provides health and lifestyle coaching at Trimazing! Health & Lifestyle Coaching. Cindy can be reached at info@trimazing.com.
Subscribe to the Trimazing Blog
Receive occasional blog posts in your email inbox.
Subscribe to the Trimazing Blog
Receive occasional blog posts in your email inbox.