Duvall Chamber of Commerce and Snickers Bites!
Zero Waste setup for Duvall Chamber of Commerce appetizers
This week I had the honor and pleasure to provide food for my local
Chamber of Commerce
meeting in Duvall, Washington. I am a new member, so was just thrilled when they asked if I might be interested in doing food for a meeting! I thought it would be a great way to show people how great whole plant-based vegan food is and get folks interested in cooking classes and coaching.
While I am not a caterer, I have cooked for crowds before (being a career firefighter I consistently cooked for my crews with anywhere from 3-12 people per shift, depending on what station I was working at), recently provided vegan goodies for a Mothers Day English Tea event at
Studio Beju
, and have even catered a
vegan wedding reception
. So I had some experience with similar events and recipes I knew would work for a crowd. Another business provided beverages, so I didn't have to worry about that.
One thing I wanted to do for sure was to make this event Zero Waste to fit in with my business mission and vision. I have plates, utensils, glassware, and cloth napkins already for my cooking classes, and brought these so the Chamber would not have to provide disposable products. I brought four tubs for dirty dishes, compostable food waste, and used napkins which I brought home afterward to clean. Overall, my garbage production amounted to less than 1/8 cup, including some wire tags from PCC Market bulk bins to label what I'd put in my mesh bags (I need to find a better alternative to this so I don't keep using these), plastic hygiene wrap from a glass bottle of agave nectar (I couldn't find in bulk), plastic hygiene wrap from a glass bottle of balsamic vinegar we'd received as a gift prior to going zero waste, plastic tag from some produce item I couldn't buy without the tag, a wad of masking tape I'd mangled when trying to make a temporary cap for a squeeze bottle of balsamic syrup. Pretty good, I think!
Here are the goodies I provided:
Carrot Vichyssoise with Balsamic Swirl and Fresh Chives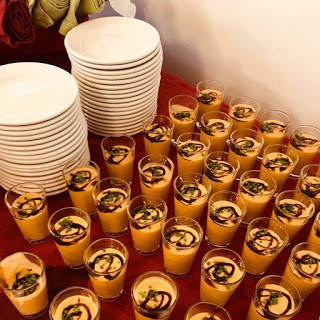 Deviled Cucumbers with Radish Sprouts
Nacho Mama's Dip
Chickpea Confetti Salad
Mini Bagels with Schmear, Carrot Lox, Capers, Red Onion, Fresh Dill, and Everything Sprinkle
Chocolate Broccoli Cake
Snickers Bites
The evening was a resounding success! People were hesitant at first, hearing that the food was "vegan," but once they tried it, they were amazed. I heard all evening that my food was "Trimazing!" which is absolutely the point of my business name–it is Trimazing, three times amazing!! I have a lot of interest in my cooking classes which start this fall, so that's exciting, and I connected with other business owners in food and beverage interested in joining the Vegan Night Out I am creating.
So here's the thing you were waiting for, the recipe for Snickers Bites, aka "It's not fair, it's Crack!" according to another Duvall Chamber member!


Snickers Bites
Whole Food, Plant-based Vegan, Gluten-Free, and can be Tree Nut-Free too!
Ingredients
Whole Dates

Nut or seed butter of choice

Many people with tree nut allergies can tolerate sunflower seed butter, I use pure Almond Butter made only from ground roasted almonds, nothing else added

Dark chocolate

dairy-free. Can be chips or broken up bars, your choice.

Sea Salt

if desired
Instructions
If your dates are not pitted, slice the date lengthwise to expose and remove the pit without cutting all the way through the date. Pipe nut or seed butter into the cavity of the date where the pit was--I find it's easiest to do this with a piping bag with a fairly large opening. Squeeze the date closed (it's ok if there's some nut or seed butter oozing out, it all gets covered with chocolate!). Place the filled dates on a cookie sheet covered with a silicone baking mat or wax paper and then place in the freezer to firm up.

Put chocolate into the top of a double-boiler and place atop bottom part with simmering water (you

can use a metal bowl for the chocolate and set it on top of a pot of boiling water if you don't have a double boiler, that's what I do, just don't let the bottom of the bowl sit in the water). Stir the chocolate until it melts completely.

Remove the sheets of prepared dates from the freezer. Drop a date into the melted chocolate, turn it with two forks so it gets complete covered and pull out of the chocolate, letting excess drip off. Place on a cookie sheet covered with a silicone baking mat or wax paper. If your chocolate gets too thick, simply heat again over boiling water to thin out. Sprinkle with sea salt, as desired before the chocolate hardens. Repeat with remaining prepared dates. Pop back into the freezer until firmed up, about an hour.

Pull the Snickers Bites off the mat or parchment and store in a covered container in the freezer or refrigerator between layers of wax paper (wax paper is compostable, BTW). Set out on a plate or tray at room temperature at least 30 minutes before serving.

They taste just like a Snickers bar, but with whole food, planted-based, goodness and fiber! They're great to have hidden in the freezer for when you need a last minute treat to take to an event or when company pops by. Enjoy!
If you liked this post, you might like one of these:
[Trī-māz-ing]
Cindy wants you to be Trimazing—three times better than amazing! After improving her health and fitness through plant-based nutrition, losing 60 pounds and becoming an adult-onset athlete, she retired from her 20-year firefighting career to help people just like you. She works with people and organizations so they can reach their health and wellness goals.
Cindy Thompson is a certified Health Coach, Vegan Lifestyle Coach and Educator, Fitness Nutrition Specialist, and Firefighter Peer Fitness Trainer. She is a Food for Life Instructor with the Physicians Committee for Responsible Medicine and Rouxbe Plant-Based Professional, and Harvard Medical School Culinary Coach, teaching people how to prepare delicious, satisfying, and health-promoting meals.
She provides health and lifestyle coaching at Trimazing! Health & Lifestyle Coaching. Cindy can be reached at info@trimazing.com.
Do you like this post?  Please share....

Subscribe to the Trimazing Blog
Receive occasional blog posts in your email inbox.
Subscribe to the Trimazing Blog
Receive occasional blog posts in your email inbox.