My Grandma's Bagel, Now Vegan
Okay, the title of my post may look like a typo, but my Grandma Janet always spoke about bagel as a singular term, never plural. She was "making bagel," never bagel
s.
I don't think I ever had store-bought bagel growing up, Grandma's were just that good! And when I did have one from the store, it just wasn't right—Grandma's were lighter but had a crisp crust that crunched when you bit into it, and they were so much more flavorful. There was nothing else like Grandma Janet's bagel! When I went through her old recipe card file box years later, I discovered that there were no less than
five
copies 
of her bagel recipe in it—that's how important bagel was!
Enjoy the videos and music you love, upload original content, and share it all with friends, family, and the world on YouTube.
I'm not sure where Grandma got her bagel recipe. Her mother, my Great-Grandmother Ida, was a cake baker, so it's possible that she got the recipe from her. My mom shared that her Grandma Ida was divorced and deaf, so she could not work outside the home. There was no welfare at that time, or she would have qualified, and the only way she could make any money to support herself was to bake cakes in her little one-bedroom apartment in Monroe, Louisiana with a teeny, tiny kitchen. She sold the cakes mostly to people from her synagogue and people in the community who knew her.
Like a lot of my old family recipes, bagel was not vegan or oil-free, so I've updated Grandma's amazing recipe. While delicious, her bagel was originally made with eggs and Mazola oil (she was particular about the type of oil), neither of which I eat. As I've been successful subbing out oil with winter squash purée in other baked goods (my Sourdough English Muffins, for example), I did the same with the bagel recipe. Instead of eggs, I use flax egg, which is ground flax seed mixed with water. And it works! You don't even taste the squash and the flax meal gives a great textural component.
Making Bagel
My grandma passed away in 2013, but I was fortunate enough to have her teach me how to make her bagel when I was a teen. Luckily I'd made some notes on an old recipe card of hers, otherwise I would have been lost from her recipe, which only listed ingredients, not directions on how to make them! Making bagel isn't hard, there just are some specific steps to take in order for them to be bagel and not a roll with a hole in it!
First and foremost, you need to use bread flour in this recipe, not all-purpose flour. Bread flour has more protein in it, i.e. gluten, which helps give this bagel more body and structure. You'll need between 5-6 cups of bread flour for this recipe.
Combine warm water, sugar, and dry yeast in a mixer or food processor bowl. Wait until the yeast mixture is all foamy and frothy before proceeding.
Next add the squash purée and additional water to your mixer with a dough hook or food processor fitted with a bread blade. Blend to combine. Add the flour in several batches and mix until a dough forms. Add more flour if the dough is sticky and then knead for 8 minutes to develop the gluten.
I like to finish the kneading on a lightly floured surface to shape the dough up into a nice ball.
Put the kneaded shaped dough into a bowl, cover with a light towel, and place in a warm place to rise for an hour. I find that my oven with the light on makes a perfect proofing box—just make sure that you don't turn the oven on while the dough is in there rising!
After this first rise, punch the dough down and remove from the bowl onto a working surface.
With a pastry scraper or knife, cut the dough into twelve 100-gram pieces. Cover them with a towel so they don't dry out while you form the bagel.
Now it's time to form the bagel. You start by rolling a piece of dough into a log. You want it to be long enough to go around your hand to make a regular-sized bagel.
Take the roll of dough and wrap it around your hand at the level of your knuckles, bringing the ends together. Pinch the ends of the dough well to seal. Then roll the circle of dough on your working surface to smooth and shape the bagel. The bagel will go through a second rise, so make sure to make an exaggerated hole size or else your bagel will close when the dough puffs up.
Place the formed bagel on a baking tray covered with a towel lightly sprinkled with flour. Repeat this process for all twelve pieces of dough. Cover with a light towel and let rise for an hour.
Preheat your oven to 375˚F (remember to pull your raising bagel trays out of the oven before you do this, if you're using the oven as a proof box!). Set a large pot of water to boil. Add salt to the water once it boils so that it tastes like sea water.
Get two baking trays ready with a silicone baking sheet on each. The silicone baking sheet is important! If you place the boiled bagel directly on the baking tray it will adhere itself to the metal like glue and you'll have a difficult, if not impossible, time removing it after baking, tearing the bagel in the process.
Drop bagels three at a time into the boiling salted water. Boil them for 30 seconds, flip over, and boil the other side for 30 seconds longer. Pull them out of the water with a slotted spoon and place on the prepared baking sheet. Repeat for remaining bagel.
Sometimes your bagel will come apart at the seam…don't worry…that's a C is for Cindy bagel, and a truly special one as they taste the BEST!
If you want sprinkles on your bagel, now is the time to do it. The bagel is soft and sticky after boiling, so seeds, spices, salt, etc. will adhere nicely to the top. You can make an everything sprinkle to use, if you'd like.
Now pop your trays into the preheated oven and bake for 30 minutes. The bagel will get golden brown. Remove from the trays and cool on a wire rack.
Now you're ready to enjoy your freshly made bagel! Serve as desired, maybe toasted with your favorite vegan cream cheese, perhaps some carrot lox, some jam, or maybe just plain. They toast marvelously! Keep them in a sealed container, like a cookie tin, or paper bag for several days or freeze them up to three months…like if you can wait that long to eat them!
These are the best bagel on the planet, I promise you. Good, and good for you, I'm certain they would have my grandmother's seal of approval if she was still with us. I know she watches down on me when I make them and that she is smiling. She would be thrilled to no end knowing that others are enjoying making them too, so please give them a try!
This post is Day 6 of VeganMoFo (Vegan Month of Food) 2019, with a new blog post every day for the month of August. Check out these other posts you may have missed from last week:

Day 1—Welcome to VeganMoFo 2019!

Day 2—In the Room Where it Happens—Trimazing! Kitchen Tour

Day 3—Trilby's—Santa's Favorite Cookie!

Day 4—Coconut's About You—Caramel-Topped Oatmeal Cake
Have you entered to win my giveaway yet?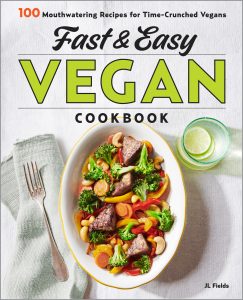 I'll draw one winner August 21, 2019 for JL Fields' new Fast & Easy Vegan Cookbook, before you can even buy it online or in stores!
You want this cookbook! It brings a new selection of fresh meals to your table, pronto! From one-pot to pressure cooker, choose your favorite cooking method―without being held hostage for hours in your kitchen. It includes 100 quick and tasty vegan recipes, plus tips for ingredient substitution and other easy customizations, and handy labels for gluten-free, nut-free, oil-free, or soy-free diets.
So hurry and enter by August 20th. Open to U.S. residents only.
JL Fields Fast and Easy Cookbook Giveaway
You can also pre-order the book or order it after the contest is over on Amazon.
Homemade Bagel
You'll never buy bagel at the store again!
Ingredients
1

package

dry yeast

2¼ tsp

½

tsp

sugar

1

cup

warm water
Flax Egg
3

tbsp

ground flax seed

¼

cup

water
Wet Ingredients
½

cup

pureed winter squash

½

cup

warm water
Dry Ingredients
6

cups

bread flour

divided
Instructions
Combine yeast, sugar, and warm water and let sit until bubbly.

Make the flax egg by combining flax meal and water.

In a mixer with a dough hook or food processor with the bread blade, combine yeast mixture, flax egg, winter squash, and water. Mix to blend.

Gradually add 5 cups of bread flour. Add a little more flour if the dough is still sticky and knead about 8 minutes to develop the gluten.

Place dough into a bowl, cover with a light towel, and place in a warm spot to rise 1 hour. I simply turn on the oven light (with oven turned off) and put the covered bowl in there—it's the perfect proofing temperature.

After dough has risen, remove from the oven, punch down, and cut into 12 100g pieces. Cover pieces with a towel while shaping individual bagel so the dough doesn't dry out while you are working.

Roll piece of dough into a log shape and then wrap it around your hand. Pinch the ends together well and roll the O-shaped dough with your other hand or on the counter, using your wrapped hand as a form.

Place the formed bagel on a cookie sheet lined with lightly floured cloth. Repeat with remaining dough.

Cover formed bagel and let rise 1 hour.

Heat oven to 375°F. If using a baking stone, preheat oven with stone.

Bring a pot of water to boil. Add salt to taste once water is boiling, it should taste like seawater.

Add 3 bagel at a time to the boiling salt water. Boil 30 seconds, then flip and boil another 30 seconds. Remove boiled bagel to baking sheet covered with a silicone baking sheet. Repeat with remaining bagel.

If you want sprinkles like poppy seeds, sesame seeds, onion flakes, etc., add them now so they stick to the top.

Bake 30 minutes, either removing prepared bagel to a preheated baking stone or on the baking sheet.

Remove from oven and cool on a wire rack.
If you liked this post, you might like one of these:
[Trī-māz-ing]
Cindy wants you to be Trimazing—three times better than amazing! After improving her health and fitness through plant-based nutrition, losing 60 pounds and becoming an adult-onset athlete, she retired from her 20-year firefighting career to help people just like you. She works with people and organizations so they can reach their health and wellness goals.
Cindy Thompson is a certified Health Coach, Vegan Lifestyle Coach and Educator, Fitness Nutrition Specialist, and Firefighter Peer Fitness Trainer. She is a Food for Life Instructor with the Physicians Committee for Responsible Medicine and Rouxbe Plant-Based Professional, and Harvard Medical School Culinary Coach, teaching people how to prepare delicious, satisfying, and health-promoting meals.
She provides health and lifestyle coaching at Trimazing! Health & Lifestyle Coaching. Cindy can be reached at info@trimazing.com.
Do you like this post?  Please share....

Subscribe to the Trimazing Blog
Receive occasional blog posts in your email inbox.
Subscribe to the Trimazing Blog
Receive occasional blog posts in your email inbox.