New Class! 21-Day Guided Vegan Kickstart Online + Recipe
Like so many of you, COVID-19 threw a monkey wrench into the middle of my life and a bunch of Trimazing! plans. I was getting ready to launch new classes, including some great cooking classes, when these restrictions came down. But, after some retooling, I'm super excited to share the launch of the 21-Day Guided Vegan Kickstart program, live online!
Join Me Online and Kickstart your Health!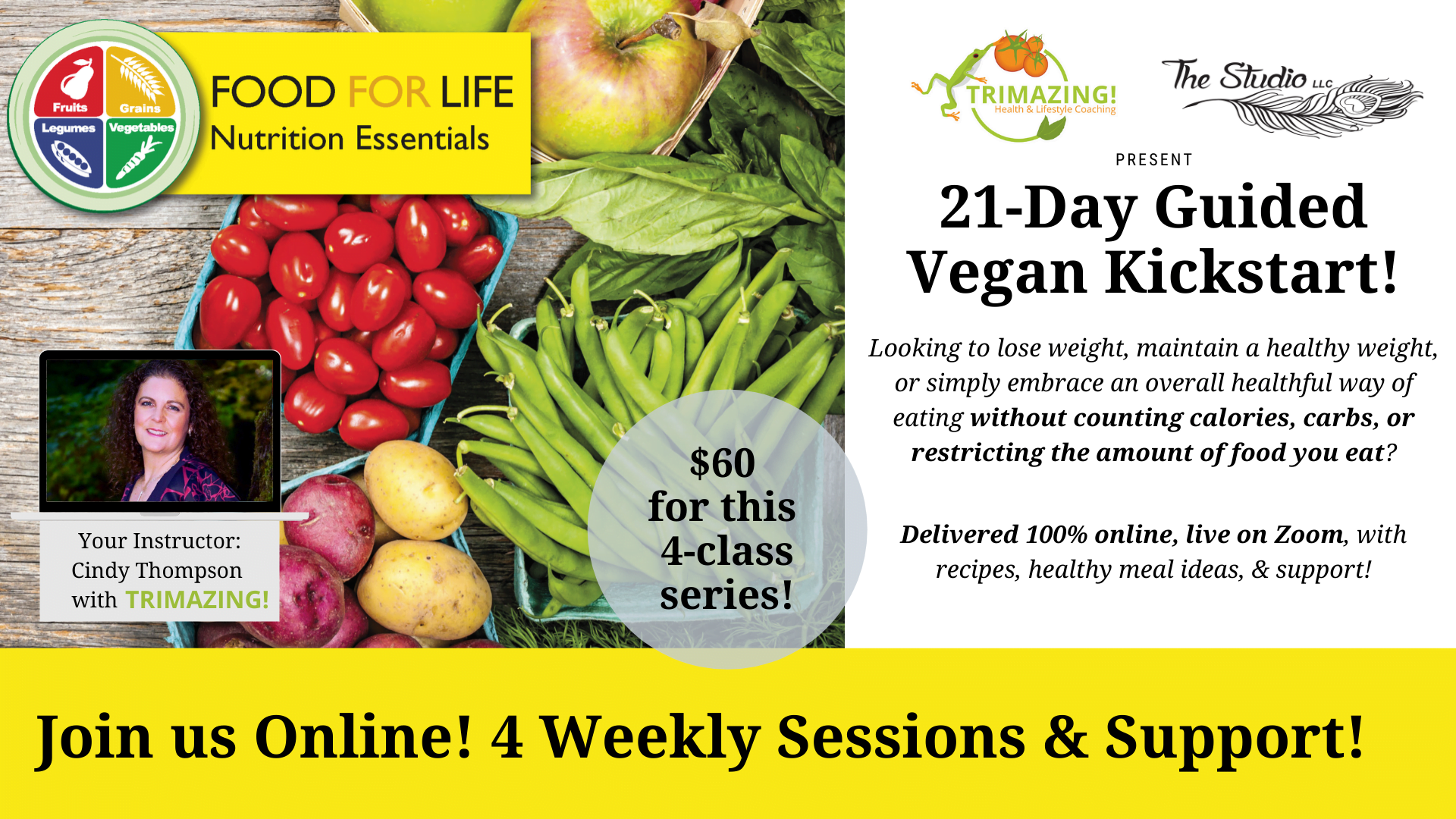 Online, In the Comfort and Safety of Your Own Home
The 21-Day Guided Vegan Kickstart is based on the Physicians Committee for Responsible Medicine's successful 21-Day Vegan Kickstart program. Gently transition to plant-based eating with ongoing support throughout the month. In addition to the classes, you also get resources, recipes, healthy meal ideas, and a private Facebook support group! All in the comfort and safety of your own home!
In my experience, changing to a plant-based diet is much more successful when you have a friend supporting you along the way. That's why I love this Kickstart program and why I started Trimazing! to begin with! Ask questions and get ideas for integrating healthy eating into your real life.
This program is based on research findings that a plant-based way of eating can help prevent diabetes, cardiovascular disease, cancer, and other chronic diseases. For some people, it's the first time the idea of not restricting amounts of foods but rather choosing the right foods has been the guiding principle for losing weight and staying healthy. The revelation is bolstered with clinical benefits such as lower cholesterol, better diabetes control, and lower blood pressure, as well as improvements in energy and mood.
4-part class series, Thursdays, 7 – 8:30 pm via Zoom:
May 7 – Kickstart Your Health – Learn the science supporting the benefits of plant-based eating.
May 14 – Let's Go! – Get the tools to start a low-fat, plant-based diet!
May 21 – Getting in Gear – Celebrate your successes and help you over hurdles.
May 28 – Weight Loss – Focus on the three ways a low-fat, plant-based eating pattern helps with weight loss.
Cost: $60 for the 4-class series. Includes Zoom class, recipes, healthy meal ideas, and support via email and private Facebook group!
Textbook: 21-Day Weight Loss Kickstart: Boost Metabolism, Lower Cholesterol, and Dramatically Improve Your Health, (available from Amazon) will need to be purchased. Loaner copies of the book are NOT available from the instructor due to COVID-19 restrictions. Some electronic copies may be available through the public library.
Important note: The information provided during this program is not intended to advise or counsel individuals on nutrition, nor diagnose any disease. It is important to seek the advice of your health care professional for your individual health concerns. Those who take medications for diabetes or high blood pressure may find these medications start working better than ever or even too well while participating in this program. We encourage you to be in touch with your health care provider about your personal medication needs.
And check out this awesome Kickstart Kale and Grains Bowl as a sample recipe resource!
Kickstart Kale and Grains Bowl
Once you start making salad bowls, you'll fall in love with them! Here's one to get you started. Prepare the ingredients ahead of time for fast and easy prep later.
Ingredients
2

cups

cooked grains (quinoa, brown rice, farro, millet, etc.)

warm or cold, as desired.

3

cups

kale or other greens (spinach, rapini, collards, etc.)

raw or steamed

2

cups

cooked, cubed sweet potato

1

15-oz can

cooked beans (black, garbanzo, kidney, scarlet runner, etc.)

or 1½ cups cooked beans, drained and rinsed

1

cup

chopped bell pepper

any color
Dressing
3/4

cup

mango chunks

fresh or frozen

2

tbsp

hemp seeds

or other seeds, such as sunflower, sesame. Can use 1 tbsp nut butter, instead, especially if not using a high-speed blender.

2

tbsp

freshly squeezed lime juice

or vinegar

1/2

tbsp

chopped shallots

or white portion of a green onion

1/2

tsp

Dijon mustard

1/2

tsp

sea salt

freshly ground black pepper

to taste

1-2

tbsp

maple syrup

or coconut nectar, to taste

¼

cup

water

plus 2-3 tsp, if needed
Instructions
Combine dressing ingredients in a blender. Puree until very smooth, adding water, if needed to thin. Set aside.

If using raw kale, tear leaves from the stalk, put in a large bowl. Sprinkle with some salt and massage the leaves with your hands for a minute or two so they soften. Skip this step if using cooked kale.

Arrange equal amounts of the grains, greens, sweet potato, beans, and bell pepper among three bowls.
Do you like this post?  Please share....

If you liked this post, you might like one of these:
[Trī-māz-ing]
Cindy wants you to be Trimazing—three times better than amazing! After improving her health and fitness through plant-based nutrition, losing 60 pounds and becoming an adult-onset athlete, she retired from her 20-year firefighting career to help people just like you. She works with people and organizations so they can reach their health and wellness goals.
Cindy Thompson is a certified Health Coach, Vegan Lifestyle Coach and Educator, Fitness Nutrition Specialist, and Firefighter Peer Fitness Trainer. She is a Food for Life Instructor with the Physicians Committee for Responsible Medicine and Rouxbe Plant-Based Professional, and Harvard Medical School Culinary Coach, teaching people how to prepare delicious, satisfying, and health-promoting meals.
She provides health and lifestyle coaching at Trimazing! Health & Lifestyle Coaching. Cindy can be reached at info@trimazing.com.
Subscribe to the Trimazing Blog
Receive occasional blog posts in your email inbox.
Subscribe to the Trimazing Blog
Receive occasional blog posts in your email inbox.