Hood to Coast – The Mother of All Relays!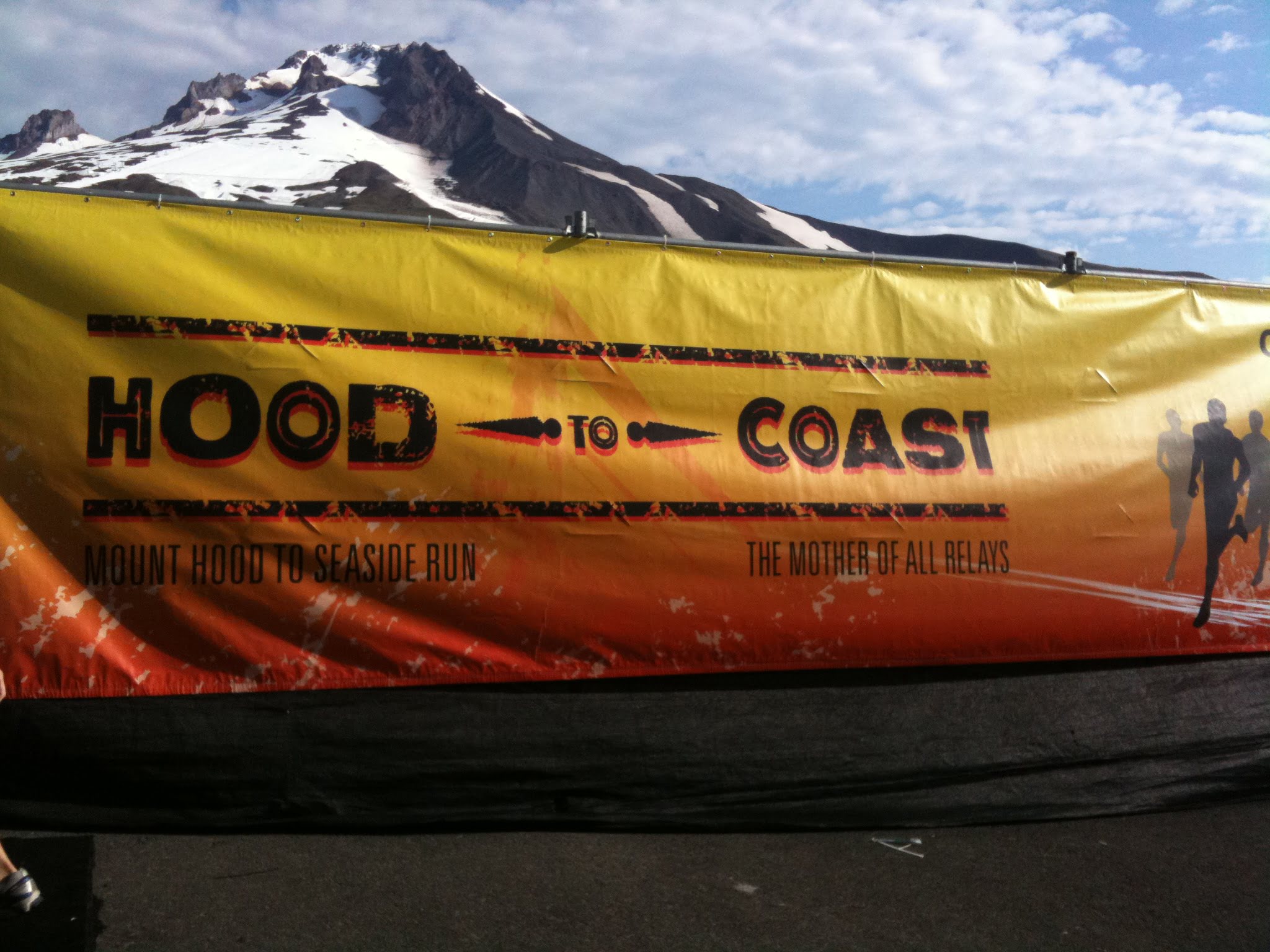 Last weekend I completed the Hood to Coast Relay (HTC) as a member of the Gresham Fire Do Not Resuscitate team and had a blast! HTC is the largest relay race in the world (more on that later) with 15,000 runners, and travels 200 miles from Timberline Lodge on Mount Hood to the beach at Seaside, Oregon. Teams are made up of 12 people, split into two vans.
This was my first HTC. I did the Portland to Coast walking relay with Mother Superior about 12 years ago, also with Gresham Fire DNR.
I was in Van #1, Runner #2, which gave my legs 2, 14, and 26. We were given a 9:30 AM start time. The weather was perfect, partly cloudy, cool, but forecasted to be a hot weekend. We met in Boring, Oregon (yes, for my non-Pacific NW friends, it really is the name of the town!!) at one of my coworker's homes and decorated our van, got everything loaded, and headed on up the mountain. We are really fortunate to have had another firefighter who has allowed us to use two of his vans from his wife's daycare center for year after year.
Team names and van decorations are one of the highlights of this event! It is a riot to stand at the starting or finish line to hear them announce team names. My favorite? Scrambled Legs and Achin'! One of the most entertaining teams was Timberline Rocks, which included all twelve runners costumed in hair band outfits and wigs (I could not have run in those hair band wigs) and whose vans were decked with loud speakers blasting 80s hard rock, which was very fun but I'm sure incredibly annoying to residents along the 200 mile trek, especially in the middle of the night! They would drive by hanging out van windows, yelling and cheering and whooping it up, singing at the top of their lungs to the music. What a blast!
Some other van decorations that entertained me:
So off we went! The first three legs are straight downhill!
Leg 2: 5.35 miles, 1,500 foot elevation drop, 42:14, 7:54 min/mile pace



Beautiful run, great scenery, very, very, very fast! Straight downhill along the top of the ridge, working hard to keep up with my feet!
Fastest pace of my life! Temperature was still cool but obviously warming up.
While waiting for our fourth runner to come in to the exchange area, we watched a runner from one of the elite teams collapse. It was a horribly frightening thing to watch. He started swerving, jello legs, collapsed, got up, collapsed, got up. Three of us, me, another firefighter from my team and a former department explorer who is an ER tech, ran over when we realized the HTC volunteer near the runner wasn't realizing this was a serious emergency. We had him summon paramedics and worked to cool this runner and keep him from trying to continue and suffer serious medical consequences. We did get his band transferred to the next runner on his team so they could continue. We stayed with him and helped the fire crew evaluate him until our runner arrived. We never did get an update on him, we hope he was transported and is recovering well.
So it was back into the van. The rest of our van's first set of runs went well. It got scorching hot by the time we reached the exchange point in Sandy to meet Van #2, well into the upper 80s/low 90s. We headed back to our hosts' house in Boring to get cleaned up, eat, and rest until we had to head into Portland for to the next exchange point at the base of the Hawthorne Bridge.

Leg 14: 6.09 miles, 1:01:59, 10:10 min/mi pace
I didn't enjoy this leg as much, which surprised me, since it was pancake flat. However, while it was dusk and the temperature had fallen, the humidity had risen to a point where you could not get cooled off and it felt as though it was still in the mid 80s. The runner before me felt very hot during her run.
I donned my headlamp (sexy) and headed out. It's through the industrial area of Portland, not really a pretty area to run and hits Highway 30, under the St. John's Bridge and through Linnton. I hit one pothole in Linnton and would have really twisted my ankle if I had been running at speed, but it occurred at an intersection and I slowed for a car, which saved me.
Back into the van to try to sleep during the other runner's legs, changed my clothes behind an Oregon Trail marker in the dark along Highway 30! We got into St. Helen's for the van exchange at 1:30 AM and headed into St. Helen's High School for showers, food, and a quick nap on the wrestling mats in the gym. I did score a twenty minute session with one of the massage therapists (best $20 I've ever spent!) before my nap and had her work on my legs and feet.

We got up at 4AM and headed into the coast range for our final legs.
Leg 26: 5.77 miles, 0:57:31, 9:49 min/mi pace



This was my absolute favorite run of the three legs! It was 5:30 AM, sun just coming up in the meadows of the coast range, low laying fog on the fields. Just peaceful and cool. I wore my headlamp, but could have passed it off to my van at the halfway point because the sun was up by then, and donned my sleeves Mother Superior had bought me, which were just the perfect amount of coverage with running shorts and tank top for the right body temp.
After my leg…the traffic nightmare started. HTC added 250 teams this year (which equates to 3,000 more people and, more importantly, 500 more vans) so they could retain the title of  "largest relay in the world." However, the two lane roads in the coast range could not handle that increased capacity, and vans got stuck in a traffic jam up to 3 miles long trying to get to the next exchange point to transfer runners. It was a disaster! None of us could remember traffic like this in past years, and DNR has participated in the last 15 years at least. It got to the point where our runners were going to beat our van to the exchange, which required the next runner to get out and run with them, up to 1.5 miles early, to the exchange point. All teams were having to do this. HTC's Facebook page is full of unhappy (even angry) posts from runners and teams. Hopefully they will respond and alleviate this problem next year.
We never saw Van #2 at the exchange…only our last runner did since we were 3 miles back when they met. We picked up our last runner and headed to Seaside, but had a nice stop at some little bar in the coast range with the best Bloody Mary's ever!
And I have to say…my legs were killing me! I never get sore on my runs or tri's anymore, even my long twenty mile runs and now I have to say it is because of my ice baths. Running 5-7 miles and then sitting for 8 hours, running again, sitting for another 8 hours, and running again took a big toll on my legs. Going down stairs and sitting on the toilet were nightmares by the end! Thank goodness I had that massage halfway.
The Finish Line!!
The party at the beach is amazing! Live music, food, beer, thousands of partyin' runners and their friends and families. We waited for our last runner to come in, regrouped and crossed the finish line together for our picture and medals.
And then the party! Fireworks and live band, best beach party ever!
I will definitely do this event again! So much fun, worth the pain!
Do you like this post?  Please share....

If you liked this post, you might like one of these:
[Trī-māz-ing]
Cindy wants you to be Trimazing—three times better than amazing! After improving her health and fitness through plant-based nutrition, losing 60 pounds and becoming an adult-onset athlete, she retired from her 20-year firefighting career to help people just like you. She works with people and organizations so they can reach their health and wellness goals.
Cindy Thompson is a national board-certified Health and Wellness Coach, Lifestyle Medicine Coach, Master Vegan Lifestyle Coach and Educator, Fitness Nutrition Specialist, Behavior Change Specialist, and Fit2Thrive Firefighter Peer Fitness Trainer. She is a Food for Life Instructor with the Physicians Committee for Responsible Medicine, Rouxbe Plant-Based Professional, and Harvard Medical School Culinary Coach, teaching people how to prepare delicious, satisfying, and health-promoting meals.
She provides health and lifestyle coaching at Trimazing! Health & Lifestyle Coaching. Cindy can be reached at info@trimazing.com.
Subscribe to the Trimazing Blog
Receive occasional blog posts in your email inbox.
Subscribe to the Trimazing Blog
Receive occasional blog posts in your email inbox.