Before Gatorade, We Drank Switchel
I was obsessed with the
Little House on the Prairie
books as a little girl. I read the series over and over, until the covers fell off! I asked to wear calico dresses like I imagined Laura Ingalls Wilder dressed as a young girl and kept my hair long and straight like hers. I knew every word, every story in the books, yet I never grew tired of them. And I just loved learning about how they lived, farmed, and ate!
One story in the sixth book of the series, The Long Winter, really stuck with me through all these years, one where Laura helped her Pa harvest hay:
Now the sun and the wind were hotter and Laura's legs quivered while she made them trample the hay. She was glad to rest for the little times between the field and the stack. She was thirsty, then she was thirstier, and then she was so thirsty that she could think of nothing else. It seemed forever till ten o'clock when Carrie came lugging the jug half-full.

Pa told Laura to drink first but not too much. Nothing was ever so good as that cool wetness going down her throat. At the taste of it she stopped in surprise and Carrie clasped her hands and cried out, laughing, "Don't tell, Laura, don't tell till Pa tastes it!"

Ma had sent them ginger-water. She had sweetened the cool well-water with sugar, flavored it with vinegar, and put in plenty of ginger to warm their stomachs so they could drink till they were not thirsty. Ginger-water would not make them sick, as plain cold water would when they were so hot. Such a treat made that ordinary day into a special day, the first day that Laura helped in the haying.

~ Excerpt from The Long Winter, Laura Ingalls Wilder.
That icy cold ginger water has been on my mind for years and years. It sounded so refreshing! This passage is the reason I add ginger peels to my infused water, and it provides such awesome flavor while using something that would normally go to waste.
But I hadn't really realized that the ginger water described by Laura Ingalls Wilder was an important historical drink, a precursor to Gatorade, until I started learning about shrubs, a slightly fermented vinegar syrup used in mocktails and cocktails.
History of Switchel and Haymakers Punch
Switchel is thought to have originated in the Caribbean during the 1500-1600s. Unlike today, most people drank alcohol (ciders, beer, wine, etc.) instead of water (water was not treated and thus often polluted and disease-ridden in large cities, making people fearful of water). However, plantation owners in the Caribbean didn't want their slaves drinking rum while working in the sugar cane fields because it was expensive (and probably reduced production due to intoxication), so they created this alternative drink using molasses. Molasses is a by-product making sugar and there was such an excess amount of molasses around at the time that much of it was being buried or dumped into the Caribbean Ocean; turning it into a drink helped solve two issues.
Switchel combined water, molasses, vinegar, and ginger. Vinegar was very commonplace and it wasn't unusual for it to be added to drinks. Ginger was added to mimic the "burn" of rum.
When molasses came to the US colonies in the 1600s, switchel came along for the ride. By the 1700s, people believed drinking cold water would cause "shock," thus switchel was used as a safer alternative to quench the thirst of hard laborers. Honey was often used in the colonial US, maple syrup in New England, and in the case of Laura Ingalls Wilder, sugar was also used. Because it was such a prevalent drink for hay harvesters, many called switchel "Haymakers Punch," but it's also known as sitchel or ginger punch.
An Electrolyte Drink
Interestingly, molasses is very high in electrolytes, including potassium, magnesium, and calcium, and
apple cider vinegar
is also high in potassium, making switchel a terrific electrolyte drink! It also has sugar for energy. Maple syrup also has potassium and sodium. So while the goal of switchel was to provide a cheap alternative to rum, it had hidden benefits as well. I've had several clients asking for alternatives to neon-colored sports drinks, and switchel is one that we discuss, along with coconut water and plant-based commercial electrolyte powders. It's also a plastic-free, zero waste alternative too.
Making Switchel
Switchel is very simple to make. It's only four ingredients. I base my recipe on the Inexpensive Drink recipe from the 1899 White House Cookbook. You can adjust the ingredient amounts according to your taste. If it's too gingery for you, decrease it. If you don't care for molasses, try maple syrup. I tend to love the molasses in Switchel, because paired with lemon, it tastes just like the old Lipton Ice Tea powder I grew up on!
Rough-chop some ginger. If you buy organic ginger, you don't even need to peel it, just wash it well and chop.
Add the chopped ginger to water in a stock pot and bring to a boil. Once boiling, turn off the heat and let the ginger steep as the water cools to room temperature.
Then strain the cooled ginger water into the pitcher with the molasses mixture.
Then I add more water to fill the pitcher. You can add slices of ginger and lemon and chill in the refrigerator. You can use this as is, or dilute it with more water when serving, your choice.
Serve your Switchel over ice. It really hits the spot on a hot day! It really looks like iced tea, doesn't it?
Great Resources on Switchels, Shrubs, and the History of Early American Beverages
There are some great books out there on early American drinks, including switchels, shrubs, and bitters, among others. Take a look at these for more fascinating information!
Forgotten Drinks of Colonial New England: From Flips & Rattle-Skulls to Switchel & Spruce Beer, by Corin Hirsch
Shrubs: An Old-Fashioned Drink for Modern Times, by Michael Dietsch
I wish my grandmother was still alive so I could ask her if they made Haymakers Punch on the old homestead in the Rattlesnake Hills of Benton County, Washington that her parents got during the Homestead Act. She was my real life Laura Ingalls Wilder! I remember hearing her stories about getting up before the crack of dawn to fire up the wood stove to help her mother cook mid-day supper for dozens of farmhands and family when they were harvesting grain. The only cooking story I recall was when she made her first pie all by herself, a rhubarb pie, only to discover after the farmhands had all eaten it that she'd forgotten to put any sugar in the filling! She was mortified, but it answered the question as to why one of the farmhands asked for the sugar bowl during supper!
Try it out! It's a great alternative to commercial sports drinks. I've been drinking it this summer while painting our new deck. It's very refreshing, and doesn't turn my tongue neon colors!!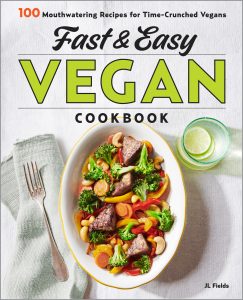 I'll draw one winner August 21, 2019 for JL Fields' new Fast & Easy Vegan Cookbook, before you can even buy it online or in stores!
You want this cookbook! It brings a new selection of fresh meals to your table, pronto! From one-pot to pressure cooker, choose your favorite cooking method―without being held hostage for hours in your kitchen. It includes 100 quick and tasty vegan recipes, plus tips for ingredient substitution and other easy customizations, and handy labels for gluten-free, nut-free, oil-free, or soy-free diets.
So hurry and enter by August 20th. Open to U.S. residents only.
JL Fields Fast and Easy Cookbook Giveaway
Switchel
Long before there was Gatorade, we drank Switchel, an electrolyte drink made from apple cider vinegar, ginger, sweetener (usually molasses), and water. It was also known as Haymaker's Punch, as it was the beverage of choice when harvesting hay in the blistering heat.
Ingredients
¼

cup

roughly chopped fresh ginger

from 1½-2 inch piece of ginger (you don't have to peel). Can also substitute 1 tbsp ground ginger.

1

gallon

water

divided

1

cup

apple cider vinegar

½

cup

molasses

maple syrup, or sugar, as desired

fresh lemon

for slicing

fresh ginger

sliced
Instructions
Combine chopped ginger and 1 quart of water in a saucepan. Bring to a boil and then turn off the heat. Allow ginger to steep in the water until room temperature.

In a pitcher or large jar, combine vinegar and molasses (or other sweetener of choice). Mix well to combine and dissolve sweetener.

Strain ginger water to remove chunks of ginger. Add to mixture in the pitcher and stir well.

Add additional water to fill the pitcher or jar. Add slices of lemon and ginger. Keep chilled in refrigerator.
To Serve
Fill a glass with ice. Add a slice of lemon and pour some chilled Switchel on top.

If the Switchel seems to concentrated, simply add the desired amount to your glass and top with cold water. Garnish with fresh mint, if desired.
Do you like this post?  Please share....

If you liked this post, you might like one of these:
[Trī-māz-ing]
Cindy wants you to be Trimazing—three times better than amazing! After improving her health and fitness through plant-based nutrition, losing 60 pounds and becoming an adult-onset athlete, she retired from her 20-year firefighting career to help people just like you. She works with people and organizations so they can reach their health and wellness goals.
Cindy Thompson is a certified Health Coach, Vegan Lifestyle Coach and Educator, Fitness Nutrition Specialist, and Firefighter Peer Fitness Trainer. She is a Food for Life Instructor with the Physicians Committee for Responsible Medicine and Rouxbe Plant-Based Professional, and Harvard Medical School Culinary Coach, teaching people how to prepare delicious, satisfying, and health-promoting meals.
She provides health and lifestyle coaching at Trimazing! Health & Lifestyle Coaching. Cindy can be reached at info@trimazing.com.
Subscribe to the Trimazing Blog
Receive occasional blog posts in your email inbox.
Subscribe to the Trimazing Blog
Receive occasional blog posts in your email inbox.