Bound to Happen Eventually…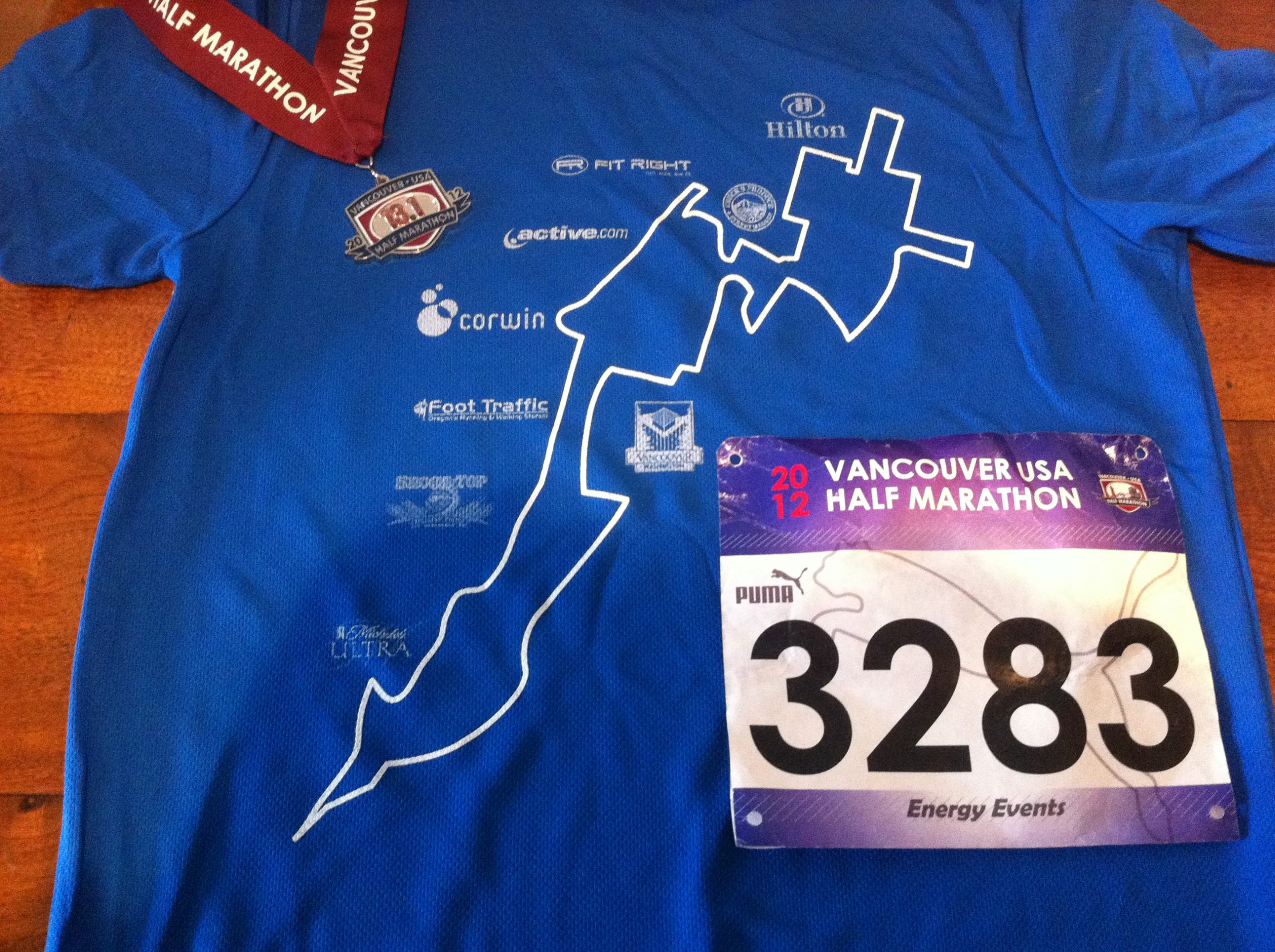 Well it was bound to happen sometime….a race without a PR. It's not like it's a bad thing though, I learned an enormous amount from my 2012 Vancouver Half Marathon—and I needed this lesson.
I felt so fantastic race morning. Nutrition, check, stretching, check, perfect weather, check. I've been training well, my run in last weekend's Oly tri was strong and a fast pace. I lined up with PTC friend Sherrie at the front of the 8:00-10:00 pace wave and planned to run my race plan to complete a 9:15-9:30 paced half marathon for a 2:01 event time, a PR from last year's 2:13:14.
As the race started, I saw Sherrie in my peripheral vision starting super fast. I thought, "Wow, Sherrie, yikes, you're going really fast!" I made the first turn, keeping up and then looked over to give her a WTF look and saw that it wasn't Sherrie at all, that I'd been paced by some complete stranger in a similarly colored shirt. The start is uphill. I checked my Garmin and saw I was doing a 7:30 pace!! I checked myself, felt fantastic, thought, gosh I should slow down, but thought, hey, money in the bank for later. About 1.5 miles in another runner asked what distance we were at and I told him and noted to myself I was doing an 8:30 but able to talk comfortably with him at that pace, and kept it up…still running uphill.
I ran through water stations, grabbed GUs, felt super. The sun was starting to break through clouds but I felt comfortable. We started up Evergreen with the hill and suddenly my legs were lead. Mile 7, midway up the hill, I started to walk. I felt chilled. I got to the top of hill, started to run, and really couldn't and walked to the top of the final hill. I knew I had a downhill from there to the Vancouver Firefighters' water station at the railroad tracks. Last year I remembered getting a 8:00 mile in that section and looked forward to making up time from my walk. However, when I got to this section, I was lucky to push a 9:30 downhill and knew I'd burned myself out at the first half of the race.
I ran to the big turn at Wintler Park and then walked/ran the rest of the way in…more walking than running. I was concerned that the heaviness sensation in my legs and chills were signs of electrolyte deficiency and dehydration, thinking perhaps I hadn't reloaded properly after my triathlon the weekend before. I decided to double up on Gatorade at all water stations from then on, instead of water. Sherrie caught up with me at mile 10. I decided to use her as a pacer, but honestly couldn't do it. Mentally, this was very hard for me. I was having problems doing my math, kept calculating my distance remaining with 12 mile total distance instead of 13.1, was really struggling. A little later, at mile 11, another runner came up and started asking about the Tri Club due to my tri kit; I started using her as a pacer. She wanted to talk while we were running and I just couldn't keep up with that. I told her, "Hey, I'm going to walk…I tried running someone else's race other than my race plan." I just wanted to finish. I realized I was going to be just over my PR at this point and there was no way to make it up.
I walk/ran the rest and finally ran the last mile into the chute. I came in at 2:19:22…drat.
Honestly, though, I needed this race, especially before Vineman 70.3. What did I learn?
Plan your run and Run your plan.
Stick to it. My biggest issue was having a single discipline event. Not having a swim and bike prior to the run, I felt amazing at the start. I was able to run super fast. I had the fastest 5- and 10K ever, but I didn't pace right for the long haul. Plan for a negative split and DO IT. My endorphin rush from great performance from the start lead to racing HUBRIS and I melted my wax wings flying too close to the sun…
A race is a terrible training run.
I was reading through some blogs about Ironman training (watch for an update as to why in my next blog) and in a particular section about training pitfalls was a note that races are not training runs. The adrenaline from a race event, the music, the people, the rush, will ALWAYS push you to perform at a higher level than you would on a training run of the same distance and course. I recognize this now.
Rehydrate and reload electrolytes following events, especially if you are stacking events.
Feeling chills during warm weather running is a sign of exhaustion, dehydration, and low electrolyte levels. I actually had a wobble after the turn at Wintler Park, which I knew was electrolyte related. I will remember to push fluids and electrolytes after events from now on to adequately replenish.
Onward and upward and always learning!
Oh! One more lesson learned…ALWAYS print out your registration receipts and take them with you to packet pickup. This is the second event this season where I was not on the registration roster when I came to packet pickup. Had I not had copies of my receipts and registration confirmations, I would have had to pay again to participate in the event. I hope this isn't a sign for this year…
Big news and a celebrity encounter for the next blog. You won't want to miss it!
Safe training!
Do you like this post?  Please share....

If you liked this post, you might like one of these:
[Trī-māz-ing]
Cindy wants you to be Trimazing—three times better than amazing! After improving her health and fitness through plant-based nutrition, losing 60 pounds and becoming an adult-onset athlete, she retired from her 20-year firefighting career to help people just like you. She works with people and organizations so they can reach their health and wellness goals.
Cindy Thompson is a national board-certified Health and Wellness Coach, Lifestyle Medicine Coach, Master Vegan Lifestyle Coach and Educator, Fitness Nutrition Specialist, Behavior Change Specialist, and Fit2Thrive Firefighter Peer Fitness Trainer. She is a Food for Life Instructor with the Physicians Committee for Responsible Medicine, Rouxbe Plant-Based Professional, and Harvard Medical School Culinary Coach, teaching people how to prepare delicious, satisfying, and health-promoting meals.
She provides health and lifestyle coaching at Trimazing! Health & Lifestyle Coaching. Cindy can be reached at info@trimazing.com.
Subscribe to the Trimazing Blog
Receive occasional blog posts in your email inbox.
Subscribe to the Trimazing Blog
Receive occasional blog posts in your email inbox.