You Like to Think that you're Immune to the Stuff…
Oh yeah!
I was driving home this morning from work and Robert Palmer's "Addicted to Love" came on Pandora and it seems so fitting right now, in the context of triathlon for me.
And believe it or not, the line that caught my attention was "You like to think that you're immune to the stuff" not the addicted to love [tri]…
Let me explain…
Sadly, race season 2012 is done for me…and I'm having a really hard time about it! Mostly because I wasn't mentally ready to be done, but my body has different plans. I'm actually registered for a long course tri at Black Diamond in Enumclaw, Washington, the Portland Olympic Tri, and the Portland Marathon, and been registered for them for months, but I'm not going to be able to compete.
First it's been a full frontal attack by strep… The day after the Wahine relay I did as part of "The Afters" team I developed a sinus infection. Miserable. I really didn't think it was going to be a big deal, figured it was a little swamp water effect from Blue Lake, but it really knocked me on my butt. I couldn't sleep, worked my firefighter shifts and I know my crew made voodoo dolls in my likeness and tore them to pieces for keeping THEM up all night tossing and turning and coughing. But I took one shift off, got back on my feet and figured I was fine. Then…full on strep throat. The nurse told me, "No one gets strep in summer, after this test comes back negative I'll tell you how to deal with a sore throat." Well, I proved her wrong! I was in bed for a whole week, penicillin and the works. This was all four weeks post-Vineman.
Finally, when strep was clearing up, my left knee decided it really didn't like what I did during Vineman, riding on a flat for all that distance. Now I have developed pain in that knee with walking and especially up and down stairs or when carrying heavy objects. It comes and goes, sometimes feels so sharp that the knee feels unstable. I can feel a rub through the skin when holding my hand over the lateral knee and out of curiosity, auscultated it with a stethoscope and I have a pleuritic-like rub sound when I articulate that knee. It's like I'm the Tin Man from the Wizard of Oz and I need an oil port in my knee.
I saw my primary care who was certain I had a lateral epicondyle stress fracture, but this did not show up on x-ray. He gave me a knee sleeve to wear, but that increases the pain significantly, more than without a brace, so I'm not wearing it. I have a PT appointment tomorrow. He does not think it is from my IT band, does not think it's meniscal, but doesn't know what it is. So now I'm in an email debate with him over whether or not he will refer me to an orthopedic physician who specializes in endurance athletes.
I'm pretty devastated about having to quit my season. I realized it when I got the strep throat diagnosis. And I started GRIEVING! Seriously, that day was awful. I felt miserable, I got into a hot bubble bath and cried my eyes out. Friends and family helped a lot, but I'm still sad about it, although I've accepted it now. But, as I told a tri friend the other night at a reception for Chrissie Wellington, it's taking a lot to keep my spirits up at the moment, especially with this fight with my health provider over my knee. And really, I just want to be ready to start training for Ironman Tahoe. I know it's over a year away, but my mind is ready to start.
The thing is, even though I'd heard about athletes getting really sick after long endurance races, I really "felt immune to the stuff" and that it wouldn't happen to me. And that's really ridiculous as pretty much all of my triathlon friends who have done half and full Ironman races have gotten strep, bronchitis, and other infections the weeks following their events–and we've talked about it at length. Here is an article I found about this: http://triathlete-europe.competitor.com/2011/10/06/the-physiological-impact-of-an-ironman-on-the-human-body/
Why do I have to learn so much the hard way? My friend, Wyatt, said, "I think it doesn't stick otherwise." And then I also forget I'm new at this. This is only my second season, and I don't know what to expect. So I'm taking the rest of my season off, resting, healing, recuperating, enjoying time with friends and family and doing some traveling, things I wouldn't have time for otherwise. In my lowest of lows when I lamented to one friend, "I don't have any races to look forward to now.." he reminded me that we have an upcoming trip to Vegas…"You have THAT to look forward to now."
And, somehow, people come into your life at the right time to help you through rough patches. Chrissie Wellington came to Portland this week and I had the great opportunity to see her at Athlete's Lounge. She showed up in a walking cast on her left leg due to stress fractures. She's not racing Kona this year. And she's not sure what she'll do for next season, not sure she's racing even. What is she doing? She's spending time with family and friends, traveling. I think she was sent just when I needed her. I got a copy of her new book, A Life Without Limits.
So in tribute to my Addiction to Tri…a little celebration of where I've come in these two seasons! Sing along!
Addicted to Tri
Your lights are on, but you're not home
Your mind is not your own
Your heart sweats, your body shakes
Another kiss is what it takes
You can't sleep, you can't eat
There's no doubt, you're in deep
Your throat is tight, you can't breathe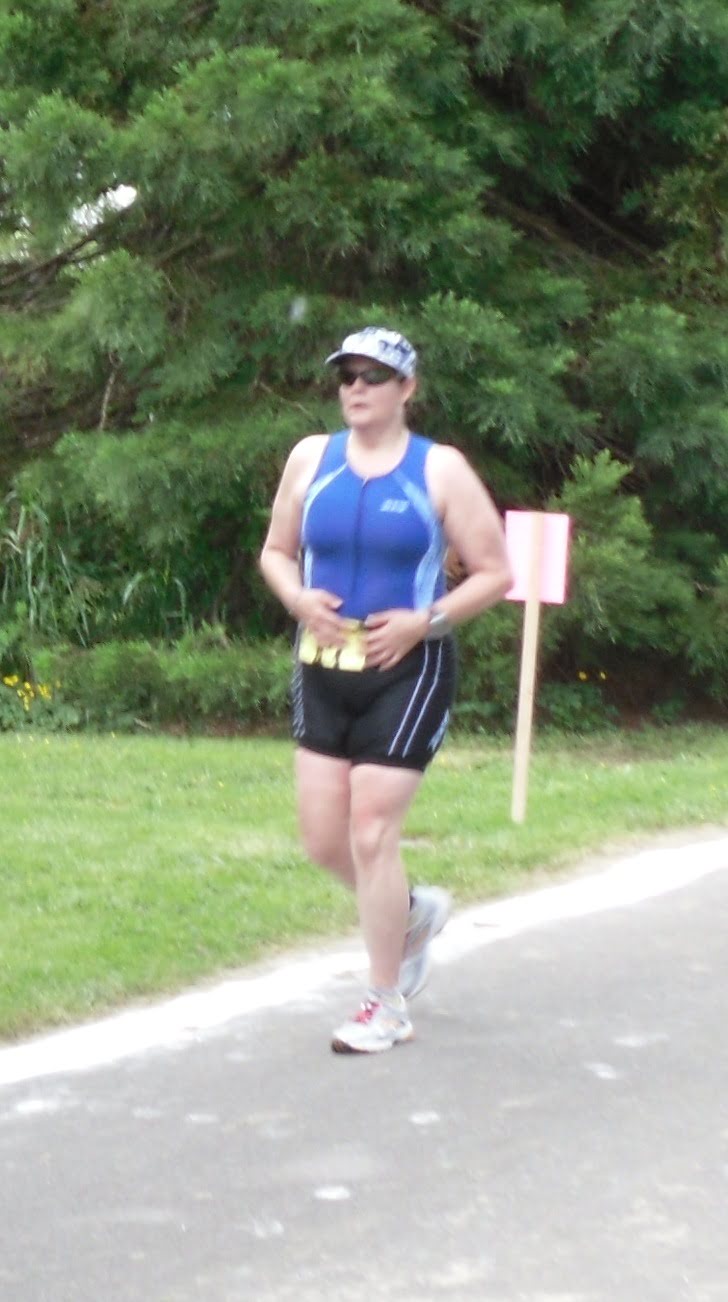 Another kiss is all you need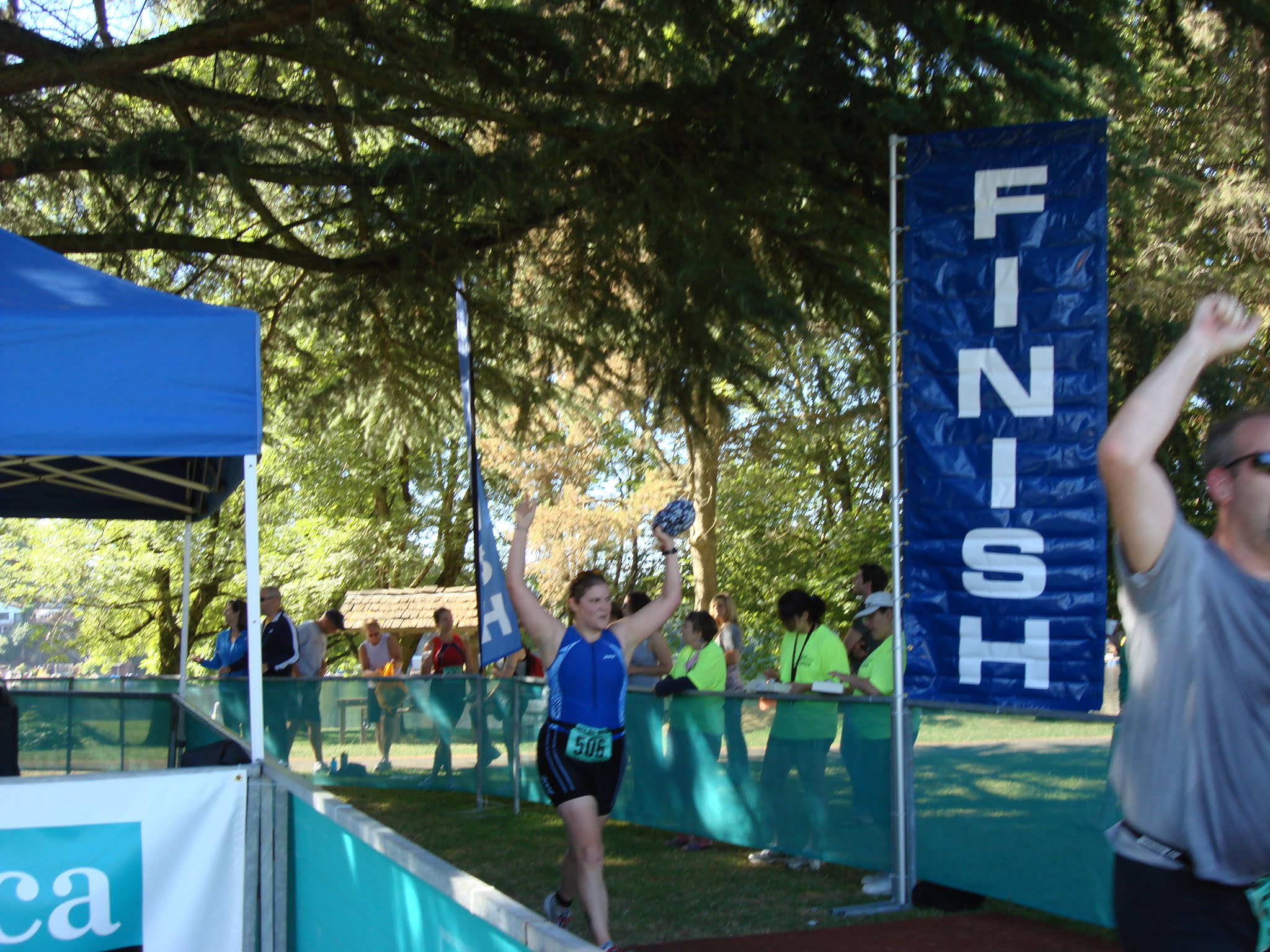 Whoa, you like to think that you're immune to the stuff, oh yeah
It's closer to the truth to say you can't get enough

You know you're gonna have to face it, you're addicted to tri…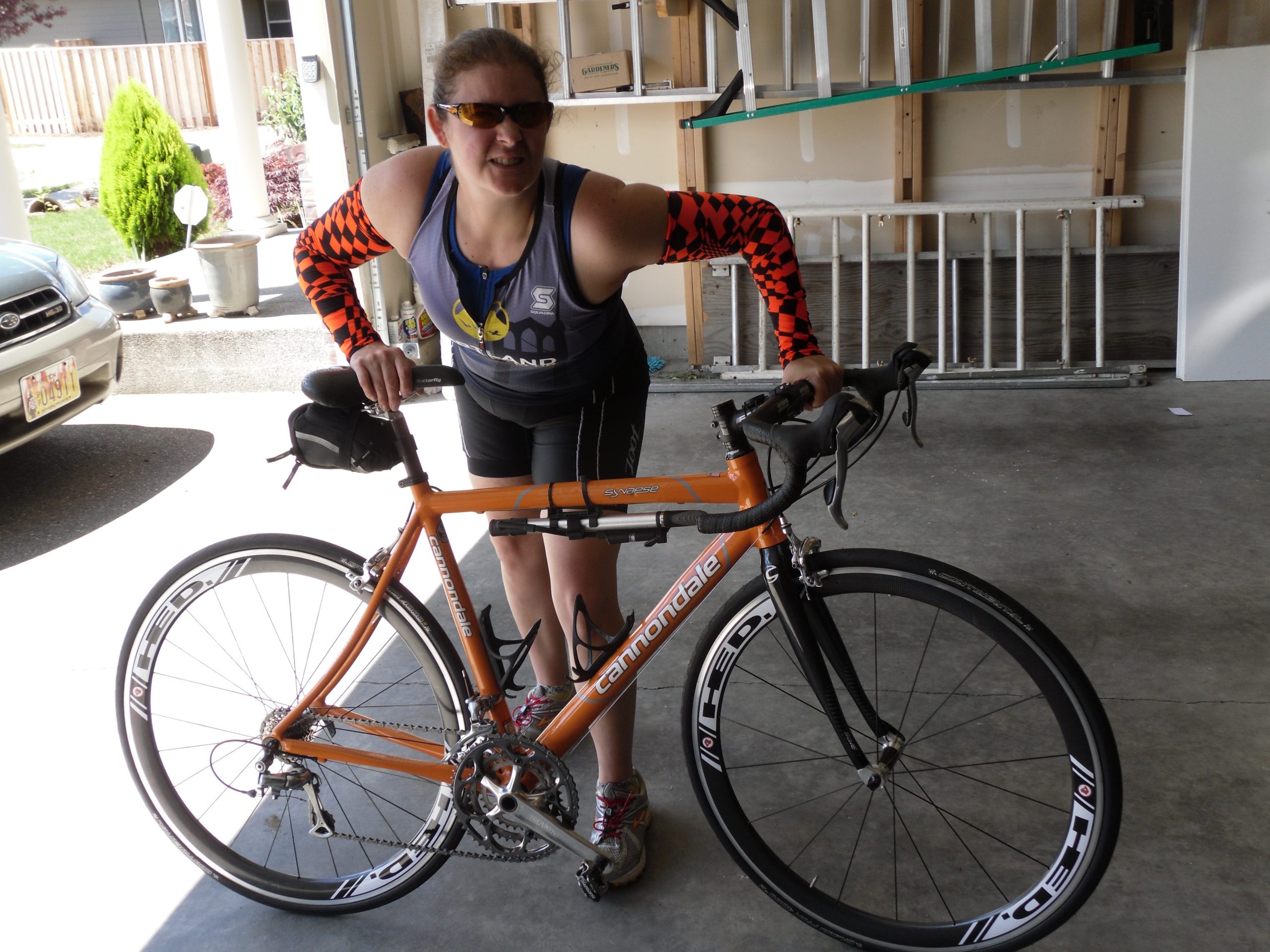 You see the signs, but you can't read
You're runnin' at a different speed
Your heart beats in double time

Another kiss and you'll be mine, a one track mind
You can't be saved

Oblivion is all you crave
If there's some left for you
You don't mind if you do
Might as well face it you're addicted to tri!
Do you like this post?  Please share....

If you liked this post, you might like one of these:
[Trī-māz-ing]
Cindy wants you to be Trimazing—three times better than amazing! After improving her health and fitness through plant-based nutrition, losing 60 pounds and becoming an adult-onset athlete, she retired from her 20-year firefighting career to help people just like you. She works with people and organizations so they can reach their health and wellness goals.
Cindy Thompson is a national board-certified Health and Wellness Coach, Lifestyle Medicine Coach, Master Vegan Lifestyle Coach and Educator, Fitness Nutrition Specialist, Behavior Change Specialist, and Fit2Thrive Firefighter Peer Fitness Trainer. She is a Food for Life Instructor with the Physicians Committee for Responsible Medicine, Rouxbe Plant-Based Professional, and Harvard Medical School Culinary Coach, teaching people how to prepare delicious, satisfying, and health-promoting meals.
She provides health and lifestyle coaching at Trimazing! Health & Lifestyle Coaching. Cindy can be reached at info@trimazing.com.
Subscribe to the Trimazing Blog
Receive occasional blog posts in your email inbox.
Subscribe to the Trimazing Blog
Receive occasional blog posts in your email inbox.