Welcome to the New and Updated Trimazing! Website and Blog!
I am so excited to announce the launch of my new and updated website! Not only is the website modern, stylish, and has more information than ever before, the Trimazing! Blog is now integrated into the site. Now you can get all of your Trimazing information in one spot without moving to an external site.
New Features
There are some new features on this site I'm excited to share about.
Free Downloadable What's for Breakfast E-Cookbook
We're thrilled to introduce our new e-cookbook, What's for Breakfast! It's full of some of my favorite whole food plant-based no oil (WFPBNO) breakfast meals. You're going to want to make the Sun Butter Oatmeal Cookie Granola, trust me, and you can get it here in the e-cookbook!
Simply click this link to download your own copy and get started today adding delicious and healthy breakfasts to kick start your day into feeling awesome and full of energy!
Subscribe to the Trimazing! Blog
Unbeknownst to me, Feedburner wasn't working on my old blog for the last couple of years! Now I have a reliable means of sharing my posts and you can get updates in your email when they're posted. Each week I'll have posts covering health, zero waste, gardening, food and recipes, triathlon, and more, delivered right to you!
Simply enter your details in the subscription form here or on the blog page to sign up and never miss a beat!
All of the old content was migrated over, so you don't have to go to the old site to find any of your favorite posts.
And, we now have a great recipe plug-in so you can easily print recipe cards from the blog posts rather than printing the entire post to get the recipe–much more Earth-friendly!
Recipes
Speaking of recipes, you can now easily find Trimazing! recipes on the website without having to search the blog. Find our recipes on the Recipes page and even use the the filter function to sort by Courses, Cuisines, and Ingredients! More recipes will be added and I am in the process of updating old blog posts to add past recipes to the page.
Resources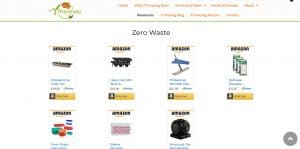 You've messaged me asking for resources and a list of my favorite things for eating Whole Food Plant-Based, transitioning to Zero Waste, gardening, and more. To make it easier, I now have a Resources page with links to my favorite things I use. This is just a start and I will be adding more as time goes on.
Also on the Resources page is my referral code to Azure Standard, so you can start ordering bulk supplies in more zero waste-friendly packaging and earn cash back for your purchases! Learn more about Azure Standard in my blog post about purchasing in bulk with them.
Links to my Official Bio, Head Shots, and Speakers Bureau Info
If you're interested in having me speak at an event or present one of my classes or workshops to an organization you're involved with, you can now see what offerings I have available. My bio and head shots are also available for any media needs you may have for events we have scheduled. These are available on my Classes & Speaking page.
Testimonials
Wow! So many of you have sent me such wonderful feedback and reviews on my classes, coaching, and other services and I've never had a way to share those before. I'm so honored by your kind words and have loved working with you all! If you'd like to add to my Testimonials, please send me an email or submit one through my Contact page.
Tried and True Features
If you're looking for my event calendar, information about me and what Trimazing! offers, services and rates, my contact, and more, that is still available on my website.
The Mastermind Behind the Scenes
I cannot thank my amazing, no, my Trimazing web designer, Ann Marie Gill of Cascade Valley Designs, enough! She has done a brilliant job migrating all of my content from my web page, blog, image files, documents, etc. and turning it all into a cohesive, user-friendly, and beautiful website! Not only did she create a beautiful website, but she recorded hours of custom video walking me through the steps of managing my website—I'm simply blown away! I cannot recommend her enough. If you like what you see here and are looking to update your website or blog, please contact her. Oh, and she's VEGAN, so if you love supporting like-minded vegan businesses, please contact Ann Marie today. I promise, you will be so glad you did!
Thank you so much for your support and feedback through the years of Trimazing! We are working hard to make this a site you can use as a resource to be Trimazing! Three Times Better than Amazing!
Your feedback is important to us. What do you love here? What would you like to see more of in this blog and on the website?
Do you like this post?  Please share....

If you liked this post, you might like one of these:
[Trī-māz-ing]
Cindy wants you to be Trimazing—three times better than amazing! After improving her health and fitness through plant-based nutrition, losing 60 pounds and becoming an adult-onset athlete, she retired from her 20-year firefighting career to help people just like you. She works with people and organizations so they can reach their health and wellness goals.
Cindy Thompson is a national board-certified Health and Wellness Coach, Lifestyle Medicine Coach, Master Vegan Lifestyle Coach and Educator, Fitness Nutrition Specialist, Behavior Change Specialist, and Fit2Thrive Firefighter Peer Fitness Trainer. She is a Food for Life Instructor with the Physicians Committee for Responsible Medicine, Rouxbe Plant-Based Professional, and Harvard Medical School Culinary Coach, teaching people how to prepare delicious, satisfying, and health-promoting meals.
She provides health and lifestyle coaching at Trimazing! Health & Lifestyle Coaching. Cindy can be reached at info@trimazing.com.
Subscribe to the Trimazing Blog
Receive occasional blog posts in your email inbox.
Subscribe to the Trimazing Blog
Receive occasional blog posts in your email inbox.