I Think I Might be a Witch!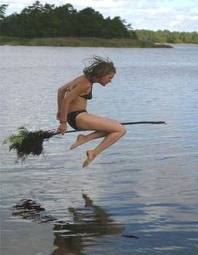 It's been a good week…some recovery from the Shamrock Run, some training! Continuing to learn how to train, working on skills and form, and learning what equipment I need.
I'm going to be heading to Fit Right NW this week for new running shoes. After the Shamrock Run I discovered two little blisters on my toes and I never get blisters. I don't know whether it's due to how soaked my feet were in my shoes during that run or if my shoes are wearing out (my tread looks find), but I don't want to have to break in new shoes during the Triathlon season, so I'll go now. I'd like to have my running gait analyzed again, which they do there, since it's been almost three years since I had that done last. I'm sure my running has changed, as last time I was just getting started and now I have been running for the past few years and am training for triathlons. I loved the shoes I got there after being analyzed, so much so that I went online and purchased several more after they were no longer available at Fit Right NW. I've now run out of my supply of new running shoes and they are not available on-line anymore!
Today I attended a Tri Athlete Open Water Swimming Clinic put on by Jon Anderson, Adult Swim Coach of the Tornadoes Swim Team here in Vancouver–it was great! It was held at The Kennedy Center Pool at the Washington State School for the Blind. The Kennedy Pool is a beautiful new saline pool, another facility in Vancouver I did not know existed! The Tornadoes have a masters swim team and have training swims nearly every night of the week, most of them coached, some open swim, for a mere $30 a month! Jon took us through about a dozen different drills he uses to create muscle memory for freestyle swimming effectiveness:
Kick Drills
Kick-on-Side (KOS) Drill
KOS with One Stroke Drill
KOS with Five Stroke Drill
Catch-up Drill
Single-Arm Drill
Human (as opposed to doggie) Paddle Drill
Treading Water Drill
Vertical Kicking Drill
Open Water Peak Drill
Another drill we did was an exhalation drill. We started from floating face-down in the deep end and slowly exhaled all of our air to sink to the bottom and then stay there until we needed a breath. This was to practice exhaling all of our air, using our lungs to their capacity. Do you think I could sink? NO! It was a riot, which led to me exclaiming, "I think I'm a WITCH!" That pretty much concluded that drill!
I did learn that I need to swim more often than I am in order to create muscle memory needed to be a more efficient swimmer. I will be participating in the Tornadoes training sessions on my non-work days now. The price is great, the pool awesome, and with the couple of hours of training I had today I can already see improvement in my swimming. And, I know it was a better training session than what I do on my own because my arms are tired tonight, and that's a GREAT thing!
Til next time!
Do you like this post?  Please share....

If you liked this post, you might like one of these:
[Trī-māz-ing]
Cindy wants you to be Trimazing—three times better than amazing! After improving her health and fitness through plant-based nutrition, losing 60 pounds and becoming an adult-onset athlete, she retired from her 20-year firefighting career to help people just like you. She works with people and organizations so they can reach their health and wellness goals.
Cindy Thompson is a national board-certified Health and Wellness Coach, Lifestyle Medicine Coach, Master Vegan Lifestyle Coach and Educator, Fitness Nutrition Specialist, Behavior Change Specialist, and Fit2Thrive Firefighter Peer Fitness Trainer. She is a Food for Life Instructor with the Physicians Committee for Responsible Medicine, Rouxbe Plant-Based Professional, and Harvard Medical School Culinary Coach, teaching people how to prepare delicious, satisfying, and health-promoting meals.
She provides health and lifestyle coaching at Trimazing! Health & Lifestyle Coaching. Cindy can be reached at info@trimazing.com.
Subscribe to the Trimazing Blog
Receive occasional blog posts in your email inbox.
Subscribe to the Trimazing Blog
Receive occasional blog posts in your email inbox.