<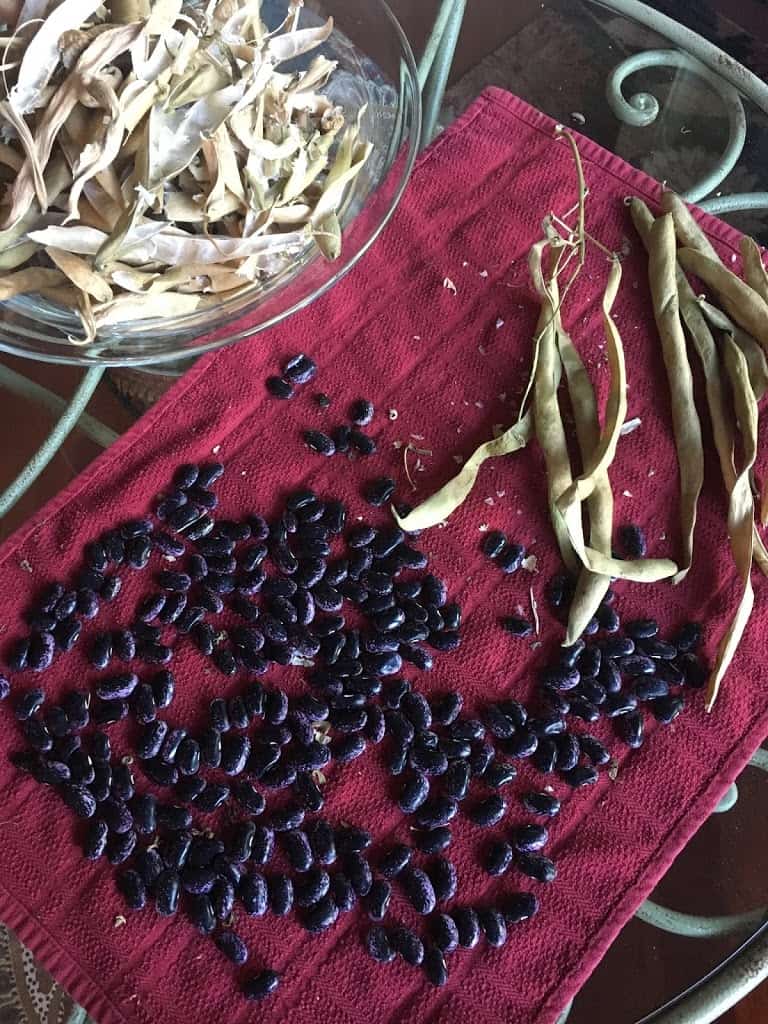 #VeganMoFo18 Day 23 – Scarlet Runner Beans
I've grown scarlet runner beans for several years now. They were recommended to me by a friend and I've been hooked since the first year. They are easy to grow, really care-free, fun for kids, attract pollinators and hummingbirds, and are very showy in your garden. And being in the Pacific Northwest, it is a dried bean that I can actually grow here in my own garden, making a great zero-waste option! You can learn more about what dried beans grow best in the Pacific Northwest from this article from the Washington State University Extension.
I love planting scarlet runner beans with kids, because they look like magic beans—in fact, that's what we call them when we're planting them. They are a large pink and black bean, so they're really easy for kids to handle. You can plant them in late spring once it starts to warm up and the nights are consistently above 50 degrees F. Stick them in the soil, an 1 inch deep, 3 inches apart, and tamp soil over them. These don't transplant well, so just start them in the ground. They'll germinate in about 5-10 days. You can thin to 6 inches apart, although I've left them in 3-inch spacing without problems.
The beans will need support to grow on, and they grow fast! I grow mine on a metal arch gate into my garden, but any trellis will do. You can also grow them on bamboo or wood teepees, but make sure you use very sturdy poles, as they will get heavy with the large bean pods. My arch is 7-feet high and they grow up and over that, as they are voracious growers.
There really isn't any maintenance you have to do with the bean plants as they're growing. They spontaneously wrap around any structure you grow them next to and just do their thing. During the summer the beans erupt in red blossoms that bees and hummingbirds love. These flowers are edible, so you can add them to your salads for a pop of color, if you'd like. They are crisp and taste like green beans.
The flowers then transition into green beans. The early, small pods are tender and edible as fresh green beans, just like green bean varieties like Blue Lake, etc. Pick these when they are small, similar in size to normal green beans, and cook them like you would the others.
But I like to let them grow all summer, and let the pods grow a foot long, allowing the beans inside to grow large and full. In late summer, early fall, the pods turn brown and dry out. Harvest these pods when are dry and brittle, leave the half green/half brown softer ones until they are dry and brittle, as the beans are still developing and are not yet dry. If you pick them too early, when the pod is green, the beans are a fuschia color (see left), not the pink and black color, as they are not ready yet. I find that the pods are generally ready for picking mid- to late September. If it starts raining, don't worry, the beans pods will still dry out. They will get a bit mottled grey and look like they are getting moldy, but they aren't, the pods just change that way after fall rain. You will want to harvest them before the first frost, even if the pods aren't ready yet. Just let them continue to dry out inside your house if you need to pick them before they're dry.
I pick the pods and bring them inside to completely dry out for a couple of days in the warm house. Once the pods are completely dry and brittle, I break them open and lay the shelled beans on towels. The beans can be a little damp still, so I leave them on towels to dry out, two to three days, before transferring to a glass canning jar to store in my pantry.
You can plant the beans you harvest this way too! These dried beans are viable for 3-4 years. Just store them in an airtight container in a cool place and plant them in spring.
Scarlet runner beans are one of my favorite beans to eat! I think they are really under-utilized in American cooking. They are beautiful and meaty beans, hold their form when cooked but are deliciously creamy inside. They almost have a smoky flavor to them when cooked too. We love to eat them warm as a snack, nothing on them at all.
Like other dried beans, scarlet runner beans need to be reconstituted and cooked before eating. First, soak your beans in water, approximately four times the amount of water for the measure of beans you are soaking, for 5-6 hours, or overnight. Some people say you don't have to soak the beans if you're cooking them right after harvesting in the fall, but I do anyway. I prefer to soak them because they cook faster after being soaked.
Drain and rinse your soaked beans and then cook them. If you're using an Instant Pot, add water to just cover the soaked beans and set your Instant Pot to 10 minutes on manual setting, high pressure. Let them natural pressure release and check. Depending on the age of your beans, you may have to run them a second time for them to be soft and creamy inside (the beans I grew last year take 18 minutes). Then use as you would other dried beans.
If you don't have an
Instant Pot
, cover the soaked beans in water in a stock pot, bring to a boil, and then simmer about two hours, or until tender.
Do you like this post?  Please share....

If you liked this post, you might like one of these:
[Trī-māz-ing]
Cindy wants you to be Trimazing—three times better than amazing! After improving her health and fitness through plant-based nutrition, losing 60 pounds and becoming an adult-onset athlete, she retired from her 20-year firefighting career to help people just like you. She works with people and organizations so they can reach their health and wellness goals.
Cindy Thompson is a national board-certified Health and Wellness Coach, Lifestyle Medicine Coach, Master Vegan Lifestyle Coach and Educator, Fitness Nutrition Specialist, Behavior Change Specialist, and Fit2Thrive Firefighter Peer Fitness Trainer. She is a Food for Life Instructor with the Physicians Committee for Responsible Medicine, Rouxbe Plant-Based Professional, and Harvard Medical School Culinary Coach, teaching people how to prepare delicious, satisfying, and health-promoting meals.
She provides health and lifestyle coaching at Trimazing! Health & Lifestyle Coaching. Cindy can be reached at info@trimazing.com.
Subscribe to the Trimazing Blog
Receive occasional blog posts in your email inbox.
Subscribe to the Trimazing Blog
Receive occasional blog posts in your email inbox.