Foods for a Healthy Heart
Sold Out. Repeats January 22, 2022
Live Cooking Event via Zoom!
Does heart disease run in your family?
Have you been told you're at risk for a cardiovascular event due to elevated cholesterol or blood pressure?
Did you have a heart attack and want to know how to prevent having another one?
Do you have a cardiac stent and want to know how to protect that stent?
Research shows a plant-based diet doesn't just prevent heart disease, but it can manage and sometimes even reverse it. A plant-based diet can also help improve several risk factors for heart disease, including high cholesterol, atherosclerosis, and high blood pressure. Includes heart-healthy options for breakfast, lunch, and dinner!
Learn proactive things you can start right now to reduce your risk and improve survival!
Join Cindy from Trimazing! November 18, 6-8 pm Pacific, for Foods for a Healthy Heart. 
In this upcoming Foods for a Healthy Heart class, you'll learn steps you can take right now to reduce your risk of cardiovascular disease. And if you've been diagnosed with or treated for heart disease, high blood pressure, elevated cholesterol, or other cardiovascular issues, the information in this class can lower your risk factors and maybe even reverse your disease. Here's what you'll get:
Current research on heart disease prevention reversal
How your diet and can significantly reduce cardiovascular risk
Resources to get you started
Recipes for easy and delicious heart health promoting dishes, including: Lemon-Berry Pancakes, Irresistible White Bean Dip, and Sesame Quinoa Salad!
And I'm doing a live cooking demo to show you how!
Everyone who attends has a chance to win a copy of Prevent and Reverse Heart Disease by Dr. Caldwell Esselstyn!
And guess what? Not only will you reduce your risk for heart disease, but also cancer, diabetes, Alzheimer's disease, COVID-19, and other chronic illness. How's that for an all-in-one package? This class can save your life or the life of someone you love.
If you've never taken a Trimazing! online cooking class before…you're in for a real treat! It's a safe way to gather. Come play with like-minded people who enjoy cooking (and eating)! We have a blast, having fun while we learn! Past students have lost weight, lowered their cholesterol, improved their fitness, reduced their waist and waste, and come back for additional classes to learn even more! I can't wait to meet you and learn about your success after taking a Trimazing! class.
Cost: $25, includes recipes, live cooking demo, physician-lead information.
**ALL SALES ARE FINAL UNLESS OTHERWISE STATED**
About Your Instructor: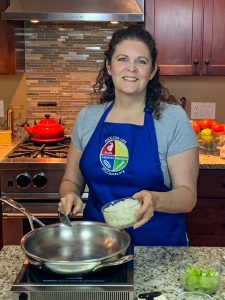 Cindy Thompson is a retired 20-year fire captain and paramedic, creator of Trimazing! Health and Lifestyle coaching. Ten years ago, she was overweight and unhealthy. After changing her way of eating, she dropped 60 lbs, seven pant sizes, and lowered her cholesterol and blood pressure in just the first year! And she's maintained this for a decade without dieting or deprivation! Cindy is now a licensed Food for Life Instructor, certified Health Coach, Harvard Medical School Culinary Coach, Fitness Nutrition Specialist, Peer Fitness Trainer, and a licensed paramedic. She loves helping people meet their health and fitness goals!
[Trī-māz-ing]
: three times better than amazing
Important note: The information provided during this program is not intended to advise or counsel individuals on nutrition, nor diagnose any disease. It is important to seek the advice of your medical doctor or other health care professional for your individual health concerns. Those who take medications for diabetes or high blood pressure may find these medications start working better than ever or even too well while participating in this program, and we encourage them to be in touch with their health care provider about evaluating their personal medication needs.