WIN a Copy of JL Fields' NEW, "Fast & Easy Vegan Cookbook"!
I am so very excited! My friend, JL Fields, has a fabulous new cookbook coming out, Fast & Easy Vegan Cookbook: 100 Mouthwatering Recipes for Time-Crunched Vegans, and not only did I get a copy for a sneak peak, but I've got an exclusive copy to give away! That's right, you could win a copy even before it's available to buy online or in stores. Don't you just love great friends?!? JL's definitely one of those!
And this is a great kick off to VeganMoFo (Vegan Month of Food) 2019, where I will have great new recipe posts every day in August!
I have all the details on how to enter to win the Fast & Easy Vegan Cookbook at the end, because first I want to share just one of the great recipes in this cookbook.
As many of you know, kabocha squash is one of my favorite foods. I eat them plain, turn them into amazing whole food tortillas, make into soup, and even grow them because I eat so many.  So when I saw JL's recipe for Roasted Kabocha Squash with Chickpeas, I just had to make it. It's sooo good! And it really is fast and easy too, in fact, I'd worked on priming and painting our deck railing all day and was able to put this delicious meal together faster than getting cleaned up and going out (which is what Alan offered)!
Roasted Kabocha Squash with Chickpeas
Kabocha (also called Blue Hokkaido) squash is a sweet, meaty winter squash that you can often find at farmers markets, in the pile of winter squashes in your grocer's produce department, and at most Asian markets. It has a green exterior, sometimes with some streaks of yellow or orange. While that skin looks tough and menacing, it actually cooks up so tender that you can eat it too, making it a zero waste and time-saving option! So make sure to buy organic kabocha squash to avoid pesticide sprays on the outer skin.
Start by washing the outside of your squash really well, since you'll be eating the skin. Cut in half and scoop out the seeds (save these seeds and stringy pulp for making veggie stock later). Then cut the halves lengthwise into 1-inch thick wedges. Put them on a baking tray lined with a silicone baking sheet, toss with aquafaba (liquid from a can of chickpeas), and sprinkle with salt and pepper. Aquafaba is a great way to roast vegetables without oil!
Pop this into a preheated 400˚F oven for 20 minutes.
Meanwhile, toss drained chickpeas with smoked paprika, garlic powder, and a little more aquafaba so they are evenly coated.
After the 20 minutes are up on the squash, remove the pan from the oven, flip the wedges, and pour the spiced chickpea mixture over the top, spreading them out into a single layer between the pieces of squash. I also spread some of the spice mixture from the bowl over the squash.
Bake for another 20 minutes until the squash is tender and the chickpeas are starting to brown. Remove from the tray and serve!
We had ours in tacos, using some of my tortillas I had in our freezer, and serving with shredded speckled trout lettuce and sliced stupice tomatoes from our garden. I also made up the Tzatziki recipe from JL's cookbook (you'll have to get the book for that recipe), which was the perfect creamy complement to these perfectly spiced tacos.
They were so good that all Alan could say was, "Mmmmm Mmmmmph Mmmmph" as he was shoving it into his mouth! That's a pretty great recommendation from a guy who used to not like winter squash or chickpeas!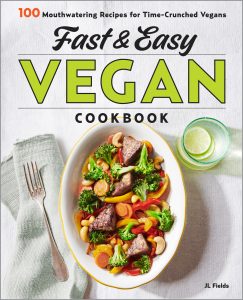 I'll draw one winner August 21, 2019 for JL Fields' new Fast & Easy Vegan Cookbook, so hurry and enter by August 20th. Open to U.S. residents only.
You want this cookbook, because you're going to need to make the Tzatziki Sauce that goes with this recipe (and all the other great recipes in this cookbook as well)!
You can also pre-order the book or order it after the contest is over on Amazon.
JL Fields Fast and Easy Cookbook Giveaway
Roasted Kabocha Squash with Chickpeas
This awesome recipe comes from JL Fields, included in her Fast & Easy Vegan Cookbook. I just adore kabocha squash, it's one of my favorites, and this sheet pan dish gets a delicious meal on the table in 45 minutes, no kidding! Serve with tortillas, shredded lettuce, sliced tomatoes and red onion, along with hot sauce and vegan sour cream (or JL's Tzatziki sauce, also from this cookbook) for a fast dinner the whole family will love!
Ingredients
2

15-ounce cans

chickpeas

approximately 3 cups of cooked chickpeas

1

kabocha squash

2 to 3 pounds

2

tbsp

olive oil or aquafaba

(the liquid in a chickpea can), divided

½

tsp

salt

¼

tsp

black pepper

2

tsp

smoked paprika

2

tsp

garlic powder
Instructions
Open both cans of chickpeas and drain, reserving aquafaba in a small bowl. Transfer the chickpeas to a medium bowl.

Wash the squash very well. Cut the squash in half. Remove the seeds with a spoon and discard. Remove the stem and then slice each half lengthwise to create 1-inch-thick-wedges. Place the wedges on the baking sheet. Drizzle 1 tablespoon of the olive oil (or 1 tablespoon aquafaba) over the squash. Toss with tongs to coat all sides. Sprinkle with salt and pepper. Bake for 20 minutes.

While the squash bakes, add the remaining 1 tablespoon olive oil (or aquafaba), paprika, and garlic powder to the bowl with the chickpeas. Toss gently, coating well.

Remove the sheet pan from the oven. Flip the squash over and pour the chickpeas onto the sheet pan, spreading them into a single layer around the squash. Bake until chickpeas are just beginning to brown and the squash is tender, 15 to 20 minutes more.
Substitution Tips:
Play with the flavor profiles. Use a total of 4 teaspoons of ground spices; consider using a Japanese 7-spice blend with ground ginger and shichimi togarashi or an Indian-inspired version with curry powder, turmeric, and garam masala.
Oil-free option:
Use aquafaba instead of the oil as indicated in the recipe.
Notes
Shared with permission from JL Fields.
Nutrition
Calories:
417
kcal
|
Carbohydrates:
65
g
|
Protein:
18
g
|
Fat:
11
g
|
Sodium:
303
mg
|
Fiber:
16
g
|
Sugar:
16
g
If you liked this post, you might like one of these:
[Trī-māz-ing]
: three times better than amazing
Cindy wants you to be Trimazing—three times better than amazing! After improving her health and fitness through plant-based nutrition, losing 60 pounds and becoming an adult-onset athlete, she retired from her 20-year firefighting career to help people just like you. She works with people and organizations so they can reach their health and wellness goals. Cindy Thompson is a certified Health Coach, Vegan Lifestyle Coach and Educator, Fitness Nutrition Specialist, and Firefighter Peer Fitness Trainer. She is a Food for Life Instructor with the Physicians Committee for Responsible Medicine and Rouxbe Plant-Based Professional, teaching people how to prepare delicious, satisfying, and health-promoting meals.
She provides health and lifestyle coaching at Trimazing! Health & Lifestyle Coaching. Cindy can be reached at info@trimazing.com.
Do you like this post?  Please share....

Subscribe to the Trimazing Blog
Receive occasional blog posts in your email inbox.
Subscribe to the Trimazing Blog
Receive occasional blog posts in your email inbox.