Many of us have heard about the health benefits of spices due to their high levels of antioxidants. Turmeric, in particular, has gotten a lot of buzz. According to Dr. Greger of
nutritionfacts.org
and the book
How Not to Die: Discover the Foods Scientifically Proven to Prevent and Reverse Disease
, turmeric has been found to decrease the risk of multiple types of cancer, including lung, colon, pancreatic, and blood cancers, Alzheimer's disease, osteo- and rheumatoid arthritis and other inflammatory diseases, and can aid in recovery from surgery. Interestingly enough, black pepper will boost the effects of the curcumin in turmeric, increasing blood levels dramatically (note, red pepper does not have this same effect). Ginger is helpful in reducing pain and nausea. Cloves are the spice with the highest levels of antioxidants. Cinnamon has been touted as a way to decrease blood sugars, but those trials were done with cassia (Chinese) cinnamon and found to have high levels of coumarin which is tied to liver toxicity. Therefore it is best to avoid Chinese or unidentified cinnamon and use Ceylon cinnamon. Cardamom has been found to attack cancer cells in petri dishes and is being studied further.
Spices can be quite powerful, however, so it helps to be aware of their effects before adding large amounts to your diet. In particular, high doses of turmeric can increase problems associated with gallstones and kidney stones, and nutmeg can be toxic in large doses. Dr. Greger recommends limiting turmeric to 1/4 teaspoon per day. Nutritionfacts.org has a plethora of information on different spices for you to do research on their specific responses.
I do like to start my day with the antioxidant boost of a Turmeric Chai latte. I make the chai spice in a large amount and only use a half of a teaspoon per serving. It's warming and lovely and, when paired with dandelion root, makes a great non-caffeinated beverage. I only have one cup of this a day, however, so I don't go over my turmeric threshold.
My favorite thing is to use roasted dandelion root powder (I use Dandy Blend brand) and this mix—it's a great un-caffeinated alternative to coffee. I put a heaping spoonful of Dandy Blend powder in the cup, add 1/2 teaspoon of the chai spice mix, pour boiling water over, then add a splash of plant milk and sweetener. You could also use hot coffee in place of the dandelion tea, pour it over the spice mix and add plant milk and sweetener. It's so good and good for you.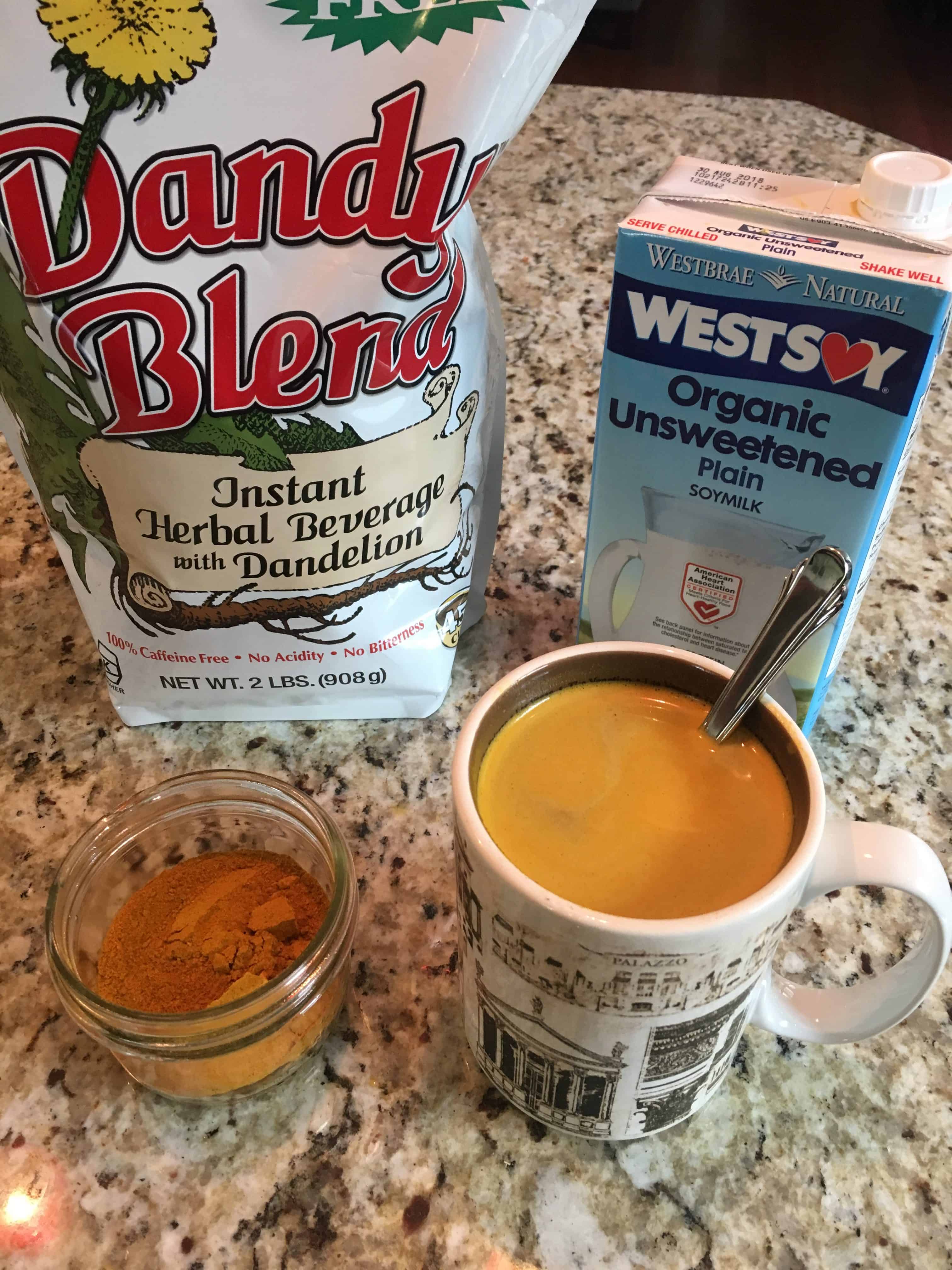 Turmeric Chai Spice Mix
A warming and lovely way to start your day with an antioxidant boost!
Ingredients
1/4

Cup

turmeric powder

2

teaspoons

ground ginger

2

teaspoons

ground Ceylon cinnamon

2

teaspoons

ground cardamom

1

teaspoon

ground nutmeg

1

teaspoon

ground black pepper

about 40 turns from peppermill

1/2

teaspoon

ground cloves
Instructions
Mix and store in a glass container with a tight-fitting lid.
Notes
Use about ½ teaspoon per mug of hot plant milk. Add sweetener of choice (I use coconut sugar or maple syrup, but you could use date sugar or other sweetener). Also add splash of vanilla if you want.
Do you like this post?  Please share....

If you liked this post, you might like one of these:
[Trī-māz-ing]
Cindy wants you to be Trimazing—three times better than amazing! After improving her health and fitness through plant-based nutrition, losing 60 pounds and becoming an adult-onset athlete, she retired from her 20-year firefighting career to help people just like you. She works with people and organizations so they can reach their health and wellness goals.
Cindy Thompson is a certified Health Coach, Vegan Lifestyle Coach and Educator, Fitness Nutrition Specialist, and Firefighter Peer Fitness Trainer. She is a Food for Life Instructor with the Physicians Committee for Responsible Medicine and Rouxbe Plant-Based Professional, and Harvard Medical School Culinary Coach, teaching people how to prepare delicious, satisfying, and health-promoting meals.
She provides health and lifestyle coaching at Trimazing! Health & Lifestyle Coaching. Cindy can be reached at info@trimazing.com.
Subscribe to the Trimazing Blog
Receive occasional blog posts in your email inbox.
Subscribe to the Trimazing Blog
Receive occasional blog posts in your email inbox.