Last month I participated in a video challenge to learn about taking videos, editing them, uploading them, and being more comfortable in front of the camera so that I could use them in my blog posts and in health coaching. One of the challenges included discussing a tip I share with my clients. Of course, I have lots of tips, but I chose one of my favorite ones for this: Turning your refrigerator into a great salad bar!
For a lot of people, eating vegetables is hard, not necessarily because they don't like eating them, but because it can take time to prep veggies, not really fast food. They know they should eat a salad, but in order to do this, they have to wash, peel, and chop everything and then clean the mess up afterward. I get it!
But think about a great salad bar in a grocery store or restaurant. Isn't it great to go with a big plate and grab a little bit of this and a little bit of that and easily have a big gorgeous salad? Everything looks so good and before you know it, you've run out of room on your plate! What made it easy was having everything ready and at hand. And you can do that at home too!
Here are my tips for turning your refrigerator into a great salad bar:
1. It starts with great shopping.
You're going to need veggies, fruits, nuts, salad dressings, beans, grains, etc. to build your salad bar. Pick out things that are in season, a variety of colors (eat the rainbow), and things you want to eat.  You don't necessarily have to buy pounds and pounds of something, get bits of many different things so that your salad bar is full of variety. A bunch of little things add up quick! And don't be afraid to try new or different veggies. 

Consider:
Brussels sprouts – they can be thinly shredded into a chiffonade and mixed in with your greens.

Fennel – crunchy like celery but with a licorice-like flavor. You can use the bulbs for crunch and the feathery fronds like an herb or flavor.

Winter squash and sweet potatoes – cut into cubes, roast, then chill for added sweetness to your salad. Or, grate or spiralize raw—yes, you can eat raw winter squash and sweet potatoes and they're delicious!

Pomegranate seeds – give a pop to your salad and excellent antioxidants.

Apples and oranges – chopped fresh apple and sectioned oranges go great on salads.

Greens – there are a world of greens out there! Try mixing a whole bunch of different kinds, such as rainbow chard, arugula, different lettuce, spinach, kale, etc.
2. Prep everything at once and put in containers in your refrigerator.
Unwashed, bagged up, whole vegetables tend to stay that way when you're in a hurry. So when you come home from grocery shopping, or on a prep day, take the time to prep all your fruits and veggies so they're ready in snap later and throughout your week. This gets all the work out of the way later and you only have to clean up a big mess once from all that prepping.
Find containers that you like and are convenient for you. I love Pyrex Simply Store containers because they stack well, are freezer and microwave safe, are clear, and have several sizes. I also use canning jars, because I have a ton of them, and miscellaneous glass jars with lids. Whatever you use, put your prepared veggies, fruits, and grains in your containers as you go and store them in your fridge.

Now's a good time to consider roasting some of your veggies too! Take some of your prepped veggies, toss with a little balsamic vinegar or soy sauce thinned out with a little water, add some herbs, put on a parchment paper or silicone baking mat (like Silpat) on a baking sheet, and pop in a preheated 400 degree oven for 30-45 minutes, turning a couple times during baking. Allow to cool when done and then store in containers in the fridge.

A note on avocados. They don't store well cut up. Keep your avocados whole and then cut up when you want to add them to your salad.


3. Make grains ahead of time.
Grains are really hearty and satisfying and make a big impact on a salad. Cook your grains while you're prepping your veggies, either on the stove, in a rice cooker, or in an Instant Pot (note, Amazon generally marks Instant Pots waaaayyyy down for the Thanksgiving sale, so keep your eye out for that coming up!).
Here are some of my favorite grains:
Brown rice
Quinoa
Barley
Millet
Bulgar
Couscous
Wheat berries
And here's a tip within a tip: When you cook grains, ALWAYS cook up more than you need and pop the excess amount in the freezer! Grains freeze great and it's a HUGE time saver to be able to grab a package of already cooked grains out of the freezer and either thaw in the fridge or pop in the microwave for a few minutes when you're crunched for time. They even sell bags of cooked grains in the freezer section of grocery stores now, but why pay $3.00 for four servings of pre-cooked frozen organic brown rice when you can pay $5.00 for 45 servings of uncooked organic brown rice you can cook and freeze yourself at home? And you can do this with any grains, not just rice.

Whole grain pastas are fantastic in salads too. Try cooking up some orzo, spirals, or small macaroni shapes to add.
4. Have cooked beans on hand.
Beans are so good for us! And they're easy to have on hand. Stock up on canned beans, choosing a variety of low-sodium options. During your prep time, simply drain, rinse, and store your beans in a container to use later.
Like grains, you can cook beans from dry and have in the fridge or freeze. You can also can your own if you're so inclined. And like grains, if you cook some up, always make more than you need now so you have some later. I freeze a lot of beans and then simply pull a frozen container out and put in my fridge to have with my salads during the week.
5. Prep some hearty add-ons.
Maybe you want some added heartiness to your salad. Cube, marinate, and bake some firm tofu and then store in the fridge. Or do the same with tempeh. There are some great recipes out there for making tempeh bacon which you can cut up and have in the freezer for instant whole food, plant-based bacon bits! Make Mexican jackfruit (find recipe in the blog post about using the herb Papalo) or no-tuna salad. Want chef salad? Consider seitan, available in many grocery stores.
6. Use your freezer to supplement great salad ingredients.
So I've eluded to this in the previous sections with grains and beans, but have frozen veggies on hand too. Frozen vegetables are a fantastic option because frozen veggies you buy at the store are flash-frozen right after picking, preserving a lot of their nutrients, better than their canned counterparts. And they're easy to freeze at home! To use, you can simply put frozen veggies into a colander and run cold water over to thaw, or put in a container from frozen into your fridge and let them thaw. I do like to blanch and freeze a lot of my own veggies so I don't have the plastic freezer bag to deal with. You can find out more in my blog about keeping a zero waste fridge and freezer.
My favorites:
Petite green peas
Corn kernels
Shelled edamame
7. Keep nuts, seeds, dried fruit, fermented foods on hand for toppings.
A lot of nuts and seeds contain Omega-3 fatty acids we need. They also have healthy phytonutrients and antioxidants, and are pretty dang tasty too! Keep them in your fridge or freezer to prevent the oils from going rancid. Some good ones to consider:
Pumpkin seeds
Hemp seed
Sunflower seeds
Ground flax
Pecans
Walnuts
Have leftover or stale bread? Make croutons by cubing it up and toasting in an oven. A great zero-waste solution!
Fermented foods, like sauerkraut and kimchi are excellent in salads and so good for you. Fermented foods provide healthy probiotics that our gut microbiome needs for optimal health.
8. Have great salad dressing at the ready, or flavored vinegars that you love.
Look for oil-free salad dressings as much as possible. You're going to fill yourself up with all this healthy goodness, why foul it all up with unnecessary refined oil? There are some excellent oil-free options out there, even at the grocery store, you just need to check labels. You can also check out my Pinterest for simple oil-free dressings you can make at home. Flavored vinegars are a great option as well!
9. Keep prepped veggies at eye level.
Now that you've gone to all this work, put your containers of veggie love where you see them in your fridge. That way when you open the fridge at mealtime or in search of a snack, you'll see all these goodies and will think to grab them!
It's also a reminder that you need to use them so they don't spoil. Having veggies in your main area of the fridge rather than hidden in opaque crisper drawers helps reduce food waste because you know what's in there.
You've got everything chopped…Now what?
Build your salad! Simply pull out containers and pile it on! Or…
Make Salad in a Jar.
These are great for grab-and-go lunches and snacks for school or work. Simply layer your salad, with the dressing at the bottom, to keep everything fresh and prevent things from getting soggy. You can build these at the beginning of the week and have them all ready for the next several days. They keep about three days. To serve, shake and dump onto a plate or into a bowl.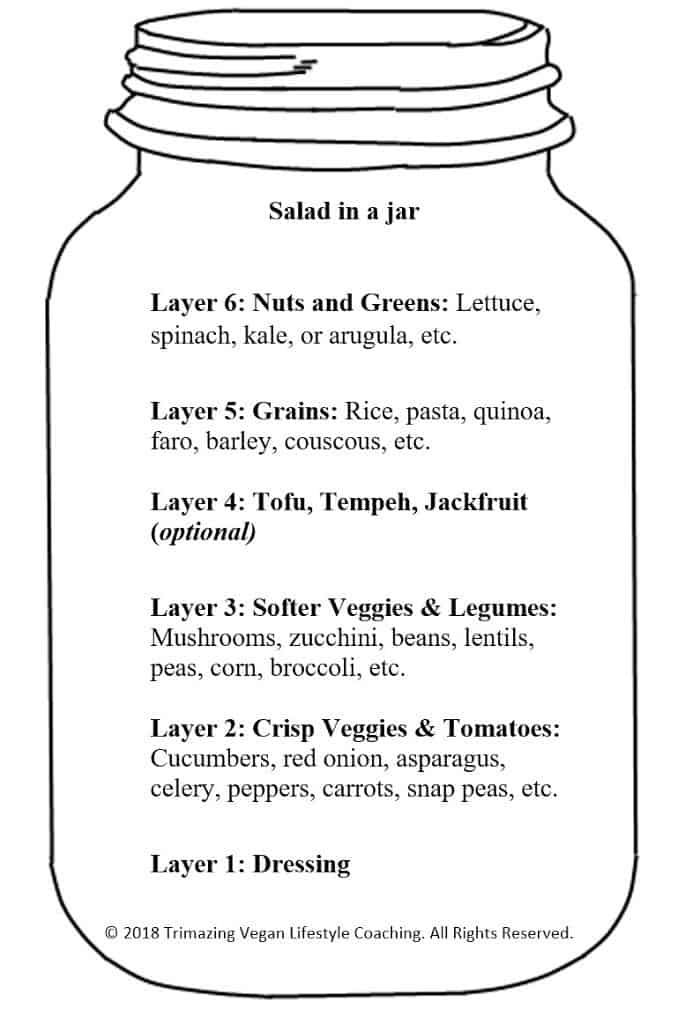 Make a Buddha Bowl!
Buddha bowls are awesome! The key to a great Buddha bowls is that they have:
A Grain – this includes noodles, like udon or soba!
A Green – any type you like
A Protein – tofu, tempeh, seitan
2-3 Colors of Veggies
A Healthy Fat – seeds, avocado, nuts
Flavor – dressing, fermented foods, herbs, spices
Need some Buddha bowl ideas? Check my post on Buddha Bowls for some great recipes and links! But some of my favorite include vegan sushi salad with rice, nori rice seasoning, pickled ginger, baked tofu, veggies, and avocado; burrito bowl with rice, beans, greens, roasted fajita veggies, salsa, and guacamole.
Use those scraps!
During prep day, save the peels, root ends, stems, and leaves and make veggie stock! For more information on making veggie stock, check out my blog post, Vegetable Broth from Scraps (Note, you don't have to can it, you can use right away or freeze. All options are in the post). If you don't have time to make the stock during prep day, just freeze all those scraps! I stuff scraps into quart canning jars and put them in my freezer until I'm ready to make stock. Then, when I'm ready, I put warm water into the jars to release all the scraps, pour into my Instant Pot or stock pot, add any additional water, and simmer away! Simply compost or vermicompost your cooked scraps after your strain off your scraps. It's a great zero waste option.
Make soup!
I've always loved the days after throwing a party because, inevitably, there was always a portion of the veggie platter leftover and I'd chop the vegetables all up and make vegetable soup. Having a refrigerator salad bar is just like having an after-party veggie platter. If it's getting to the end of the week and end of your veggies lifespan, simply turn them into soup, adding some of your homemade stock from the scraps, herbs and spices, beans, pasta or other grains, and voila! In fact, they're great for making my Rainbow Minestrone Soup. Homemade vegetable soup is surprisingly one of our grandkids' favorite things, next to applesauce, that is! And, if you have more soup than you can handle, portion it off into your containers and freeze for a quick meal another day.
The convenience and waste reduction of prepared veggies.
Beyond having the ease of quick salads, bowls, soups, etc., having chopped vegetables on hand really speeds up cooking, especially weeknight dinners or morning tofu scrambles. I don't have to worry about taking the time to clean and chop veggies—I have instant mis en place, the fancy French word chef's use for having everything chopped, measured, and ready for efficient cooking. It also makes making smoothies faster!
I find that if I have cut up fruits and veggies available, I grab them for snacks. Dressing can serve as a dip. Crunchy pieces of celery work great for a snack bowl and is so much better for me than a bowl of granola.
And here's a great tip for families with kids. Our grandkids love what we call Snack Trays. We use ice cube trays or mini muffin tins and fill the compartments with yummy, healthy snacks. They can choose from the fruits, veggies, nuts, and dips we have and it makes it really simple when we've got things already prepped. Dips, like hummus, dressings, or nut butters, can go in them too. Then they've got a fun little tray they can carry around. Nothing touches, they don't have to share, and it doesn't fall off a plate! Plus, it's super fun and different for them, which kids like.
Finally, having veggies prepped and at eye means you're more likely to use them and can monitor their freshness. Crisper drawers, while great for keeping fruits and vegetables together, are also great vegetable concealers. How many times have you opened your crisper to discover a mushy pile of some veggie you completely forgot about? I know that's happened to me on more than one occasion, but prepped veggies early in the week has exponentially cut down on this problem.
I hope you find this tip helpful. A little bit of work on the front end really does make life easier and helps to make healthy eating choices.
Do you like this post?  Please share....

If you liked this post, you might like one of these:
[Trī-māz-ing]
Cindy wants you to be Trimazing—three times better than amazing! After improving her health and fitness through plant-based nutrition, losing 60 pounds and becoming an adult-onset athlete, she retired from her 20-year firefighting career to help people just like you. She works with people and organizations so they can reach their health and wellness goals.
Cindy Thompson is a national board-certified Health and Wellness Coach, Lifestyle Medicine Coach, Master Vegan Lifestyle Coach and Educator, Fitness Nutrition Specialist, Behavior Change Specialist, and Fit2Thrive Firefighter Peer Fitness Trainer. She is a Food for Life Instructor with the Physicians Committee for Responsible Medicine, Rouxbe Plant-Based Professional, and Harvard Medical School Culinary Coach, teaching people how to prepare delicious, satisfying, and health-promoting meals.
She provides health and lifestyle coaching at Trimazing! Health & Lifestyle Coaching. Cindy can be reached at info@trimazing.com.
Subscribe to the Trimazing Blog
Receive occasional blog posts in your email inbox.
Subscribe to the Trimazing Blog
Receive occasional blog posts in your email inbox.